Music Biz 2017 Speaker Spotlight: Stella Psaroudakis, Warner Music Artist Services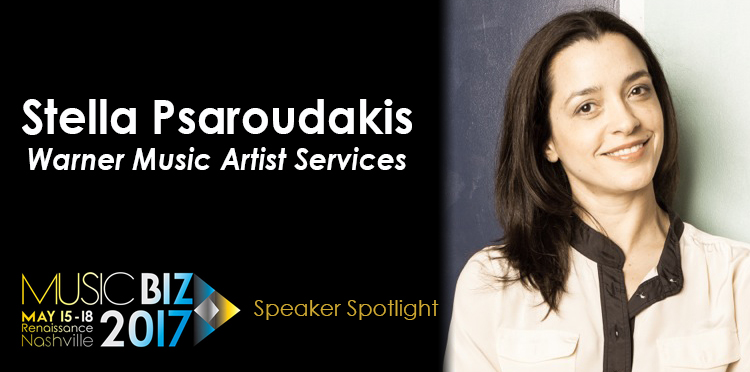 The Music Business Association is excited to welcome Stella Psaroudakis, Sr. Director of E-Commerce at Warner Music Artist Services for 'E-Commerce Marketing: Driving Connection & Revenue' on Wednesday, May 17 at 12 PM during the Music Biz 2017 convention in Nashville! Check out the fun Speaker Spotlight below to get to know Stella little more before her Music Biz panel!
Have you ever been to the Music Biz Convention? If so, what's your favorite memory from the event? (panels, awards, performances, location, funny story, etc.)?
Yes – and I was thrilled to get the chance to briefly speak with one of my favorite musicians, Rick Nielsen of Cheap Trick, after the band was awarded the Chairman's Award last year (2016).
What's the first concert you ever attended OR what's the best concert you've ever attended? What did it mean to you and can you describe the experience?
One of my first and most memorable concerts was seeing June Carter Cash with special guest Johnny Cash at The Bottom Line in NYC. Johnny and June performed "Ring of Fire" and "Jackson" together; I'll never forget it.
How did you know you wanted to get into the music industry? Or maybe you didn't?
I've pretty much only ever worked in the music business. I started out interning at independent labels and music venues, and my first paid gigs were at CMJ Music Marathon and MCA Records. I've worked in most parts of the industry, and across most genres (and have been a performer throughout). Wherever I can connect directly with fans always feels like home to me.
Who do you predict will be the biggest breakout artist in the next year or years ahead?
At Warner Music Artist Services, we're starting to see things really heat up for clients like Logic, Jon Bellion, Highly Suspect, RaeLynn and Michael Ray. A super-talented group with invested, smart, creative fans AND management teams.
What's your favorite thing to do in Nashville — besides attend the Music Biz Convention?
Once off the plane, I try to head straight to the counter at Biscuit Love for biscuits, grits and fresh juice. I also try to sneak in Five Daughters' donuts and DeSano Pizza. I try to catch a show at the Ryman or at one of the many other terrific Nashville venues. And I always try to stay at the Hutton – one of my favorite hotels anywhere.
What panel, presentation, event, etc. (other than your own) are you looking forward to the most at Music Biz 2017?
This year, I'm seeking inspiration from these panels: All the World's a Stage: Marketing to International Live Music Fans; The Untapped Market: The Hispanic Music Consumer; and the Featured Presentation: Music's Leading Ladies Speak Out powered by Nielsen Music and featuring Atlantic Records' Julie Greenwald.
---
Music Biz 2017, the industry's premier convention, is set to bring together 1,500+ music industry professionals from across the globe Monday, May 15 to Thursday, May 18 in Nashville at the Renaissance hotel. The "four most important days on the industry calendar" will include 100+ panels; workshops with Apple, Amazon, Google/YouTube, SoundCloud, Spotify, and Pandora; meetups; mixers; live music; awards honoring Reba McEntire, Adele, Lukas Graham, Maren Morris, Paula Abdul, Hamilton & more; keynotes from Spotify's Troy Carter & Atlantic's Julie Greenwald with Kelly Clarkson; and so much more.
Visit musicbiz2017.sched.com for the full schedule and musicbiz2017.eventbrite.com to register!
Questions? Reach out to Music Biz's VP of Communications Nicole Hennessey at nicole.hennessey@musicbiz.org today!