Music Biz 2017 Speaker Spotlight: Molly Neuman, Kickstarter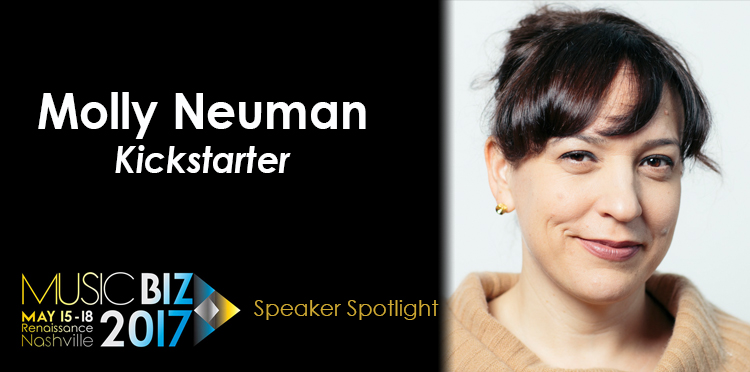 The Music Business Association is excited to welcome Molly Neuman, Head of Music, Kickstarter for 'Beyond the 1%: Democratizing Music Industry Funding' on Tuesday, May 16 at 3 PM during the Music Biz 2017 convention in Nashville! Check out the fun Speaker Spotlight below to get to know Molly little more before her Music Biz panel!
Have you ever been to the Music Biz Convention? If so, what's your favorite memory from the event?
I have been to so many! Las Vegas, San Antonio, San Francisco, Kissimmee, Chicago, San Diego, LA and Nashville. I may have missed one or two but a few were multiple years in those cities. One of my favorite memories was a special dinner with Jon Cohen and James Cho from Vagrant (James may have been elsewhere at the time) in San Antonio in the space-needle style restaurant. One of the fantastic aspects of our business is the friendships and relationships we make and nurture over the years. Music Biz always gives me a chance to see old friends and maintain those strong connections.
Have you ever struck an important business deal at Music Biz? If so, can you share you some insight with us?
Not specifically "struck" but deals are always in progress, recently completed or nearing completion. The chance to speak in person and ratify our collective objectives and celebrate has been a wonderful opportunity.
What's the first concert you ever attended OR what's the best concert you've ever attended? What did it mean to you and can you describe the experience?
The first concert I remember my parents taking me to was Judy Collins at Wolf Trap near Washington D.C. The first concert I bought a ticket to was Ziggy Marley and the I-Threes at Constitution Hall. One of my most memorable shows was Bikini Kill and L7 at a Rock for Choice benefit in D.C. in 1991. I am grateful to having seen hundreds (thousands?) of amazing shows in my career as a musician and in the industry. I never take it for granted!
How did you know you wanted to get into the music industry? Or maybe you didn't?
I started my career as a musician in my band Bratmobile. I was still in college so it was always a matter of putting one foot in front of the next and taking each opportunity as it came. When I graduated and after I spent a year touring for 9 months I wanted to slow down a bit and was lucky enough to get a job at Lookout Records just as Green Day's first Reprise record "Dookie" was exploding which had resonating results for their first label and the entire punk community. Since then I've been able to do pretty much every job there is to do and I don't think I'm done!
What song is currently stuck in your head? AND What is your "album of the year"?
Well… I have a three-year-old so Moana is relatively omnipresent. Those songs are good! I know the album of the year will be Ted Leo's Kickstarted new album! Out in September.
Who do you predict will be the biggest breakout artist in the next year or years ahead?
My world doesn't focus on huge hits as much as artists getting their start and career artists celebrating their independence. Some I'm excited about are Digital Wild, Nocturnal Habits and Beth Ditto.
What's your favorite thing to do in Nashville — besides attend the Music Biz Convention?
I love catching up with old friends, eating the amazing food and making a 5″ record at Third Man in the booth!
What panel, presentation, event, etc. (other than your own) are you looking forward to the most at Music Biz 2017?
The Untapped Market: The Hispanic Music Consumer. I am always looking for more women led and representationally diverse panels and speakers!
---
Music Biz 2017, the industry's premier convention, is set to bring together 1,500+ music industry professionals from across the globe Monday, May 15 to Thursday, May 18 in Nashville at the Renaissance hotel. The "four most important days on the industry calendar" will include 100+ panels; workshops with Apple, Amazon, Google/YouTube, SoundCloud, Spotify, and Pandora; meetups; mixers; live music; awards honoring Reba McEntire, Adele, Lukas Graham, Maren Morris, Paula Abdul, Hamilton & more; keynotes from Spotify's Troy Carter & Atlantic's Julie Greenwald with Kelly Clarkson; and so much more.
Visit musicbiz2017.sched.com for the full schedule and musicbiz2017.eventbrite.com to register!
Questions? Reach out to Music Biz's VP of Communications Nicole Hennessey at nicole.hennessey@musicbiz.org today!