Music Biz 2017 Speaker Spotlight: Meryl Johnson, Country Music Association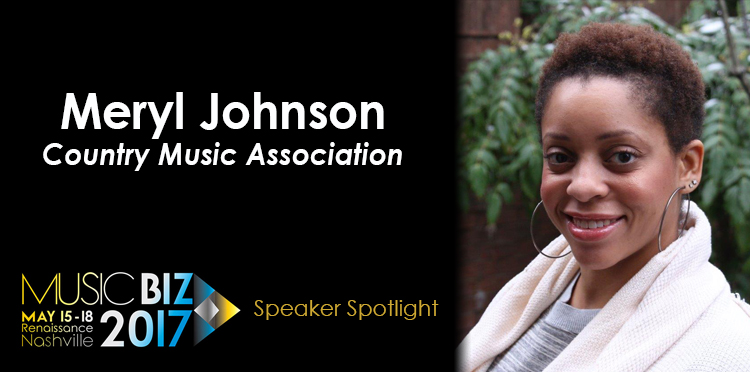 The Music Business Association is excited to welcome Meryl Johnson, Director of Digital Strategy at Country Music Association (CMA) for 'Using Digital Firsts To Attract Big Brand $$$' on Wednesday, May 17 at 2:30 PM during the Music Biz 2017 convention in Nashville! Check out the fun Speaker Spotlight below to get to know Meryl little more before her Music Biz panel!
What's the first concert you ever attended OR what's the best concert you've ever attended? What did it mean to you and can you describe the experience?
The best concert I ever attended, aside from my first CMA Fest, was pretty much every time I saw Prince live at Staples Center in LA. I grew up listening to my Aunt play Prince records and pretty much melted my VHS of "Purple Rain" and "Graffiti Bridge" from watching it so much. So to see him live was one of the most cathartic experiences of my life. I mean I cried and literally sobbed like a crazy fangirl during most of the concert. No words can describe the talent and musical genius that resonated from watching him on stage, I'm not sure any future concert experience will compare and I'm okay with that.
How did you know you wanted to get into the music industry? Or maybe you didn't?
I played the violin for 7 years and grew up obsessed with musical theater. I spent my summers watching old musical films: The King and I, Oklahoma!, The Sound of Music, Seven Brides for Seven Brothers, Carmen Jones; attended theater camps and continued in theater throughout high school, dreaming of performing on stage. So from a very young age I knew I wanted to be in entertainment and music had to be included in that journey.
What song is currently stuck in your head? AND What is your "album of the year"?
Song currently stuck in my head: "Flesh and Bones" by The Sweeplings. I'm the worst at "album of the year" because it's always a tie. As of today it's a tie between Keith Urban's "Ripcord" and Kendrick Lamar's "DAMN."
What's your favorite thing to do in Nashville — besides attend the Music Biz Convention?
Take my son to Centennial Park and/or run there on a beautiful Fall day.
---
Music Biz 2017, the industry's premier convention, is set to bring together 1,500+ music industry professionals from across the globe Monday, May 15 to Thursday, May 18 in Nashville at the Renaissance hotel. The "four most important days on the industry calendar" will include 100+ panels; workshops with Apple, Amazon, Google/YouTube, SoundCloud, Spotify, and Pandora; meetups; mixers; live music; awards honoring Reba McEntire, Adele, Lukas Graham, Maren Morris, Paula Abdul, Hamilton & more; keynotes from Spotify's Troy Carter & Atlantic's Julie Greenwald with Kelly Clarkson; and so much more.
Visit musicbiz2017.sched.com for the full schedule and musicbiz2017.eventbrite.com to register!
Questions? Reach out to Music Biz's VP of Communications Nicole Hennessey at nicole.hennessey@musicbiz.org today!