Music Biz 2017 Speaker Spotlight: Megan West, Soundcloud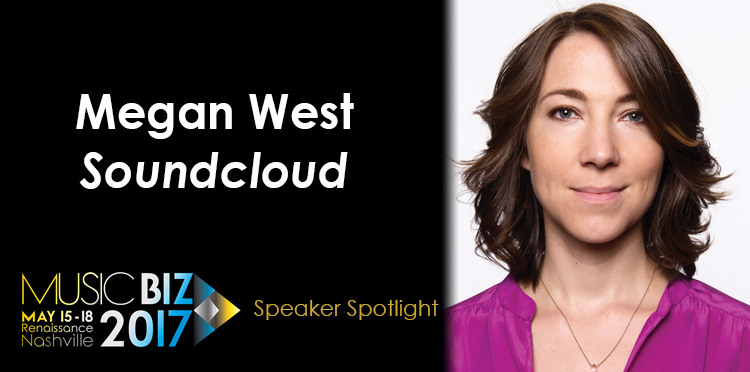 The Music Business Association is excited to welcome Megan West, Director of Client Relations for SoundCloud for 'The Startup Deal: What Happens After You Sign?' on Thursday, May 18 at 10 AM during the Music Biz 2017 convention in Nashville! Check out the fun Speaker Spotlight below to get to know Megan little more before her Music Biz panel!
What's the first concert you ever attended OR what's the best concert you've ever attended?
My first concert was either the Wisconsin State Fair or FarmAid (I can't remember exactly). It was Willie Nelson, and as a 7/8 year old, I was mostly taken by the fact that he had amazing braids and I was more than a little jealous that the man on stage singing had better braids than I did! Ha!  
How did you know you wanted to get into the music industry?
I was lucky enough to grow up around musicians. I think my parents would have happily had me become one, but I realized pretty early on that 1. My skills when making music were average at best and 2. I had no desire to get up on stage and sing/play in front of an audience. From there, it was a natural transition to try to find a way to work in the industry and support musicians and creators in a way that made use of the skills/interests I did have. I can't imagine working in any other business!
What's your favorite thing to do in Nashville — besides attend the Music Biz Convention?
I'm a big fan of Nashville (I graduated from Vandy). There has been so much that's changed over the years since I lived in Nashville, but I can't leave town without making a stop at Fido in Hillsboro Village (I used to study there all the time), and I always make a stop by The Station Inn, you can't find better spot for bluegrass!
---
Music Biz 2017, the industry's premier convention, is set to bring together 1,500+ music industry professionals from across the globe Monday, May 15 to Thursday, May 18 in Nashville at the Renaissance hotel. The "four most important days on the industry calendar" will include 100+ panels; workshops with Apple, Amazon, Google/YouTube, SoundCloud, Spotify, and Pandora; meetups; mixers; live music; awards honoring Reba McEntire, Adele, Lukas Graham, Maren Morris, Paula Abdul, Hamilton & more; keynotes from Spotify's Troy Carter & Atlantic's Julie Greenwald with Kelly Clarkson; and so much more.
Visit musicbiz2017.sched.com for the full schedule and musicbiz2017.eventbrite.com to register!
Questions? Reach out to Music Biz's VP of Communications Nicole Hennessey at nicole.hennessey@musicbiz.org today!