Music Biz 2017 Speaker Spotlight: Matt Yazge, Nielsen Music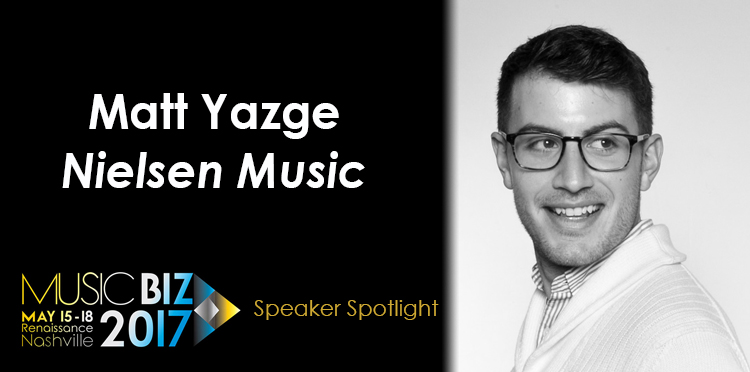 The Music Business Association is excited to welcome Matt Yazge, Head of Brand Partnerships at Nielsen Music for 'LIVE — Experience, Engagement & Economy,'  'LGBTQ in the Music Business: Where is the Representation?' and 'Brand Partnerships That Sing: A Road Map to Creating Authentic Music Experiences' during the Music Biz 2017 convention in Nashville! Check out the fun Speaker Spotlight below to get to know Matt little more before his Music Biz panel!
Have you ever been to the Music Biz Convention? If so, what's your favorite memory from the event?
Yes, this is my second year at Music Biz. My favorite memory was being able to work with GLAAD on the Value of the LGBT Music Fan presentation, and showing how artists can have a positive impact on the world. 
What's the first concert you ever attended OR what's the best concert you've ever attended? What did it mean to you and can you describe the experience?
Beyoncé was the best concert I've attended — the woman is a machine! Full vocal and dance for two and a half hours, and she still looks #flawless.
What song is currently stuck in your head? AND What is your "album of the year"?
Right now I've been listening to a lot of The XX — I usually wake up with either "On Hold" or "Dangerous" stuck in my head. But Ed Sheeran is hands down my album of the year for 2017. Divide is pure magic.
What panel, presentation, event, etc. (other than your own) are you looking forward to the most at Music Biz 2017?
 I am really looking forward to the Leading Ladies sessions with Julie Greenwald, Kelly Clarkson, and our very own Erin Crawford.
What's your favorite thing to do in Nashville — besides attend the Music Biz Convention?
Eat! So much good food in Nashville, I couldn't make it to all my favorite restaurants in a week even if I did nothing but eat all day!
What can attendees expect from your Brand Summit panel?
For our Brand Partnerships that Sing panel, expect to get inside the brain of brand marketers and see how they think about music as a brand opportunity. We'll hear directly from the global marketing team at Chevrolet about their journey in music and how they use data to inform their strategy. 
---
Music Biz 2017, the industry's premier convention, is set to bring together 1,500+ music industry professionals from across the globe Monday, May 15 to Thursday, May 18 in Nashville at the Renaissance hotel. The "four most important days on the industry calendar" will include 100+ panels; workshops with Apple, Amazon, Google/YouTube, SoundCloud, Spotify, and Pandora; meetups; mixers; live music; awards honoring Reba McEntire, Adele, Lukas Graham, Maren Morris, Paula Abdul, Hamilton & more; keynotes from Spotify's Troy Carter & Atlantic's Julie Greenwald with Kelly Clarkson; and so much more.
Visit musicbiz2017.sched.com for the full schedule and musicbiz2017.eventbrite.com to register!
Questions? Reach out to Music Biz's VP of Communications Nicole Hennessey at nicole.hennessey@musicbiz.org today!