Music Biz 2017 Speaker Spotlight: Mary Spio, CEEK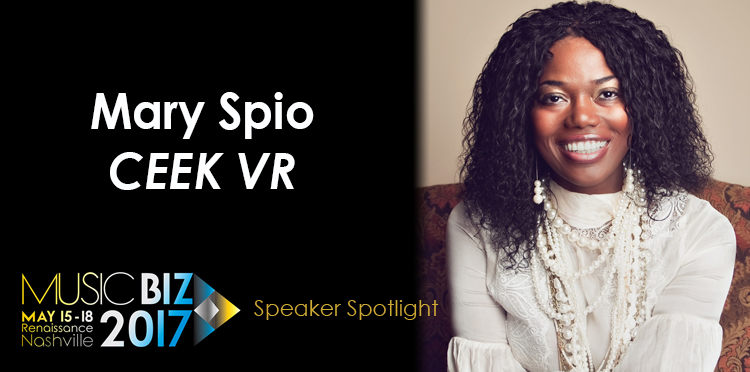 The Music Business Association is excited to welcome Mary Spio, CEO & President at CEEK for 'VR: The New Frontier' on Thursday, May 18 at 4PM during the Music Biz 2017 convention in Nashville! Check out the fun Speaker Spotlight below to get to know a little more about Mary before her Music Biz panel!
Have you ever been to the Music Biz Convention? If so, what's your favorite memory from the event? (panels, awards, performances, location, funny story, etc.)?
My first time at Music Biz was over 10 years ago. My favorite memory from the last decade was meeting Jerry Leiber of Leiber & Stoller, he was receiving the Outstanding Achievement Award; we talked about his work with Elvis, and the state of music in general. He was very warm; sadly he passed less than a year later. I also had a great time with Cyndi Lauper, we walked the red carpet together, she was incredibly fun and amazing, it felt like we had known each other for a while even though that was our first time meeting.
What's the first concert you ever attended OR what's the best concert you've ever attended? What did it mean to you and can you describe the experience?
The most memorable concert I've ever attended was Janet Jackson's 1990 Rhythm Nation World Tour. I was in the Air Force living in Germany at that time, had just gotten back from Desert Storm full of appreciation to be back from the War. I was front row at the concert; it was simply remarkable to see Janet and her dancers. The feeling stayed with me forever. Fast forward to 2014 working in VR, and found myself wanting to create this same feeling for others who can't afford to be front row or travel to see their favorite band. Today, my company — CEEK Virtual Reality is working with iconic artists to help fans around the globe live and relive moments like what I experienced. Our recent VR release of Megadeth's Dystopia won the prestigious CLIO Award in the same category as Disney's Star Wars, and the Album also won the GRAMMY for Best Performance. I can't help but think we've managed to tap into the magic I felt at the Janet concert in Frankfurt almost 27 years ago.
How did you know you wanted to get into the music industry? Or maybe you didn't?
I started out as a deep space scientist, so that definitely qualifies as not knowing I wanted to get into music. Music has always been a part of my life however, even as a scientist I worked with music. Looking back, I was the child who broke the radio trying to figure out where the sounds were coming from, and made a makeshift radio so that I could share my music with my neighbors. I didn't know it was sound triangulation then as I know now, but the love has always been there.
I always find a way to include music in everything that I do. I got the rare opportunity to work on NASA's SETI (Search for Extraterrestrial Intelligence) project and part of my contribution was creating algorithms to look for musical patterns in space. I worked with XBOX creating music content for gamers, then with Coca Cola Company capturing music concerts, then creating motion graphics for the award shows and the list goes on. My journey to the music business started on the tech side but it was inevitable.

What song is currently stuck in your head? AND What is your "album of the year"?
I just discovered "Sunset" by Camilla Destiny and the song is stuck in my head. It's a really upbeat fun song. Sunset by Camilla Destiny is my album of the year too; she has so many other songs on there that I play constantly.
Who do you predict will be the biggest breakout artist in the next year or years ahead?
I'm sounding like a broken record now; I believe Camilla Destiny is going to be HUGE in the years ahead. I had an instant reaction to her music, and she seems like a really cool person, awesome vibe, insightful and lyrically masterful; she's a cross between Rihanna and Katy Perry.

What's your favorite thing to do in Nashville — besides attend the Music Biz Convention?
I'm looking forward to BB King's Blues Club. Always a great place for good music and soul food.
What panel, presentation, event, etc. (other than your own) are you looking forward to the most at Music Biz 2017?
I am looking forward to Standards vs. Practices session. I helped shape the Digital Cinema (DC) protocol years back, am very involved with standards for a lot of the new emerging standards especially as it relates to spatialized audio for virtual reality and other immersive formats.
What can attendees expect from your panel at Music Biz 2017?
Our VR: The New Frontier panel is going to be insightful and valuable. As the only virtual reality company that has monetized VR Music at retail, I'm looking forward to sharing best practices and insights with the industry on how to leverage virtual reality in creating new revenue streams and acquiring fans.
---
Music Biz 2017, the industry's premier convention, is set to bring together 1,500+ music industry professionals from across the globe Monday, May 15 to Thursday, May 18 in Nashville at the Renaissance hotel. The "four most important days on the industry calendar" will include 100+ panels; workshops with Apple, Amazon, Google/YouTube, SoundCloud, Spotify, and Pandora; meetups; mixers;live music; awards honoring Adele, Lukas Graham, Maren Morris, Paula Abdul & more; keynotes from Spotify's Troy Carter & Atlantic's Julie Greenwald; and so much more.
Visit musicbiz2017.sched.com for the full schedule and musicbiz2017.eventbrite.com to register!
Questions? Reach out to Music Biz's VP of Communications Nicole Hennessey at nicole.hennessey@musicbiz.org today!