Music Biz 2017 Speaker Spotlight: Marcus Cobb, Jammber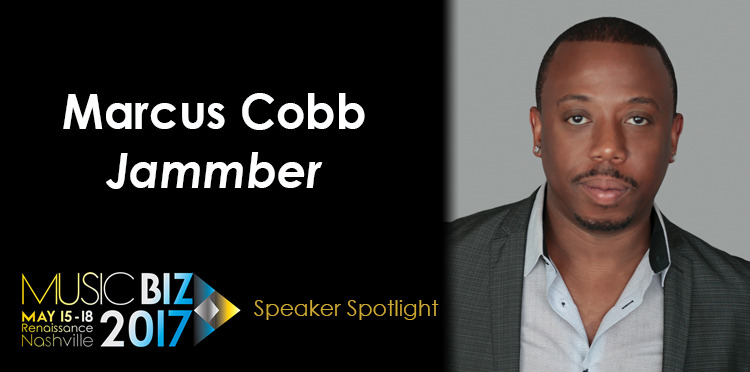 The Music Business Association is excited to welcome Marcus Cobb, CEO at Jammber for 'Metadata is Money: Understanding How Revenue Flows' on Wednesday, May 17 at 2 PM during the Music Biz 2017 convention in Nashville! Check out the fun Speaker Spotlight below to get to know Marcus little more before his Music Biz panel!
Have you ever been to the Music Biz Convention? If so, what's your favorite memory from the event?
NO, it's going to be my first time!
What's the first concert you ever attended OR what's the best concert you've ever attended? What did it mean to you and can you describe the experience?
I had a blast at Bonnaroo last summer. All these amazing musicians on stage and their ability to reach the hearts of so many people simultaneously, getting us to groove and sway, creating a personal connection. The vibe out there was really special… And of course, the brownies.
What song is currently stuck in your head? AND What is your "album of the year"?
Shawn Mendes is incredible. I think he's going to be huge.
What song is currently stuck in your head? AND What is your "album of the year"?
Starboy by The Weeknd, and it's also my favorite album this year.

What's your favorite thing to do in Nashville — besides attend the Music Biz Convention?
Eating Tacos at Bakersfield!
---
Music Biz 2017, the industry's premier convention, is set to bring together 1,500+ music industry professionals from across the globe Monday, May 15 to Thursday, May 18 in Nashville at the Renaissance hotel. The "four most important days on the industry calendar" will include 100+ panels; workshops with Apple, Amazon, Google/YouTube, SoundCloud, Spotify, and Pandora; meetups; mixers; live music; awards honoring Reba McEntire, Adele, Lukas Graham, Maren Morris, Paula Abdul, Hamilton & more; keynotes from Spotify's Troy Carter & Atlantic's Julie Greenwald with Kelly Clarkson; and so much more.
Visit musicbiz2017.sched.com for the full schedule and musicbiz2017.eventbrite.com to register!
Questions? Reach out to Music Biz's VP of Communications Nicole Hennessey at nicole.hennessey@musicbiz.org today!