Music Biz 2017 Speaker Spotlight: Linda Edell Howard, Adams and Reese, LLP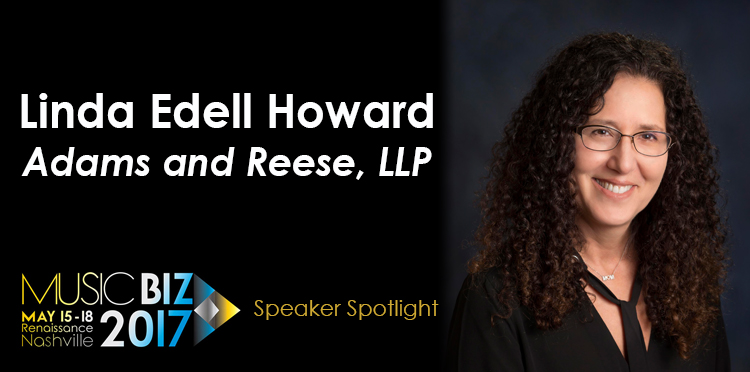 The Music Business Association is excited to welcome Linda Edell Howard, Partner at Adams and Reese, LLP for 'Reclaim Your Copyright!' on Monday, May 15 at 2 PM during the Music Biz 2017 convention in Nashville! Check out the fun Speaker Spotlight below to get to know Linda little more before her Music Biz panel!
What's the first concert you ever attended OR what's the best concert you've ever attended? What did it mean to you and can you describe the experience?
The best concert I ever attended was Hall and Oates at the Fastlane in Asbury Park, NJ in April 1980. I had loved the duo since 1974 when the single "She's Gone" was released from the abandoned luncheonette album. I was just 13 years old when I first fell in love with them and tried to get to see them in concert at the Carlton Theatre (now called the count Basie Theatre) in Red Bank, NJ in July 1974. But when I begged anyone to take me (by then I was 14) they thought I was crazy — wanting to see someone "hauling oats" across the stage — not many had heard of the band yet. So six years later when I was finally able to see them, I was thrilled. The venue was small. I went by myself because I worked that club as a rock photographer since 1975 and I knew everyone there. I got there early enough for soundcheck. I was too scared to talk to daryl or john. I sat in the back by myself during the concert until a young man named Paul Chachko asked to sit with me. I had made a special doodle escher-type art piece for the band where I hid the names of all their songs and albums inside the doodles, but again was too scared to approach them to give it to them. So this stranger I had just met picked me up and carried me to the stage during the show and forced me to hand it to Daryl between songs. I literally swooned when I met Daryl's eyes. After the show was over I hung around and this same stranger introduced me to John and Daryl. Again, I was unable to speak. Fast forward to the Songwriter's Hall of Fame in Nashville in 2015. My friends were there sitting at an adjacent table with John Oates. I did something I rarely do and went over to just shake his hand.
How did you know you wanted to get into the music industry? Or maybe you didn't?
I started out as a rock photographer (and surf photographer) down the Jersey Shore in the mid-1970's. I basically lived at the Stone Pony, Fast Lane, Wonder Bar, Stony End and many other clubs in Long Branch and Asbury Park, NJ. I loved surfers and musicians/songwriters because they have such a free spirit about them. My friends were all older surfers or musicians. I had little in common with my classmates. I loved being around these free and creative spirits. I was hell bent on becoming a rock photographer and wanted to design album covers. That was my grand desire to get into the music industry. The plan I hatched when I was 15 was a bit crazy. I didn't want to start out at the bottom as a photographer (holding lights and getting coffee) so it made sense to me that I would become a music lawyer. As a music lawyer, I thought I could gain enough power and prestige to get my foot in the door at a record label and work my way up the ladder there, and then somehow shift to the art department and become an album designer and photographer. But something strange happened on the way to the art department… I fell in love with the law, being a lawyer, helping people especially the creative community who I watched closely as they were cheated and ripped off time and time again. So, instead, I remained steady on the road of being an entertainment/copyright lawyer focusing on the music business.

What song is currently stuck in your head? AND What is your "album of the year"?
It's an older song, but ever since I discovered One Direction (very late to the game in 2015), I can't get "Drag Me Down" out of my head. My album of the year is and will always be my favorite album of all time — the soundtrack to "Out of Africa" — that music will be playing at my funeral and bring my soul to heaven.
What can attendees expect from your panel at Music Biz 2017?
The laws of copyright applicable to terminations of grants is very esoteric. You can expect to be confused beyond imagination and surprised by how many unanswered questions remain. You will learn the benefits of exercising these legal rights and the practical realities of how it all works.
---
Music Biz 2017, the industry's premier convention, is set to bring together 1,500+ music industry professionals from across the globe Monday, May 15 to Thursday, May 18 in Nashville at the Renaissance hotel. The "four most important days on the industry calendar" will include 100+ panels; workshops with Apple, Amazon, Google/YouTube, SoundCloud, Spotify, and Pandora; meetups; mixers; live music; awards honoring Reba McEntire, Adele, Lukas Graham, Maren Morris, Paula Abdul, Hamilton & more; keynotes from Spotify's Troy Carter & Atlantic's Julie Greenwald with Kelly Clarkson; and so much more.
Visit musicbiz2017.sched.com for the full schedule and musicbiz2017.eventbrite.com to register!
Questions? Reach out to Music Biz's VP of Communications Nicole Hennessey at nicole.hennessey@musicbiz.org today!