Music Biz 2017 Speaker Spotlight: Kent Underwood, LEO Events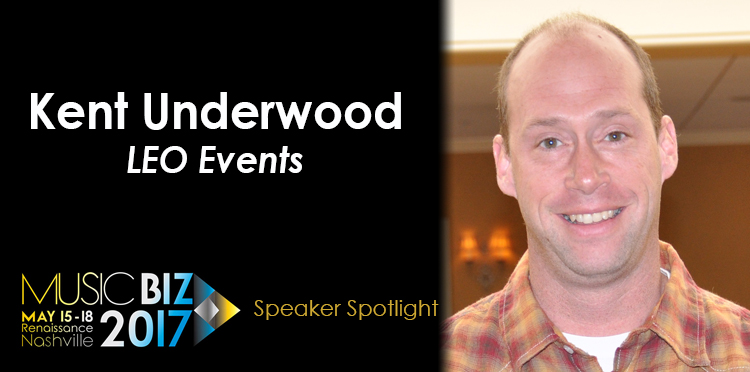 The Music Business Association is excited to welcome Kent Underwood, Principal, LEO Events for 'Fad vs. Future: Biggest Digital Trends Shaping the Music Industry' on Tuesday, May 16 at 3 PM during the Music Biz 2017 convention in Nashville! Check out the fun Speaker Spotlight below to get to know Kent little more before his Music Biz panel!
What song is currently stuck in your head? AND What is your "album of the year"?
The top recent songs in my head include Lorde's ​Green Light, New Pornographers High Ticket Attractions, and Conor Oberst's new album Salutations.  Personal album of the year for 2016 (little early for 2017), I would vote either Car Seat Headrest's Teens of Denial ​or Phantogram's ​Three. 
What's your favorite thing to do in Nashville — besides attend the Music Biz Convention?
There are so many great restaurants in Nashville​, I love trying something new every time I'm here. And visiting with friends and family is always a must.
What can attendees expect from your panel at Music Biz 2017?
I hope attendees of our panel will get a great idea of the importance of data from live events, not just from base metrics but for the ROI for many stakeholders — artists, promoters, corporate partners and attendees themselves.

What panel, presentation, event, etc. (other than your own) are you looking forward to the most at Music Biz 2017?
Lots of great stuff on the panels this year. I am especially looking forward to the Metadata, Playlist & Voice Search presentation, the keynote by Barak Moffitt and of course Troy Carter's keynote.
---
Music Biz 2017, the industry's premier convention, is set to bring together 1,500+ music industry professionals from across the globe Monday, May 15 to Thursday, May 18 in Nashville at the Renaissance hotel. The "four most important days on the industry calendar" will include 100+ panels; workshops with Apple, Amazon, Google/YouTube, SoundCloud, Spotify, and Pandora; meetups; mixers; live music; awards honoring Reba McEntire, Adele, Lukas Graham, Maren Morris, Paula Abdul, Hamilton & more; keynotes from Spotify's Troy Carter & Atlantic's Julie Greenwald with Kelly Clarkson; and so much more.
Visit musicbiz2017.sched.com for the full schedule and musicbiz2017.eventbrite.com to register!
Questions? Reach out to Music Biz's VP of Communications Nicole Hennessey at nicole.hennessey@musicbiz.org today!