Music Biz 2017 Speaker Spotlight: Jon Bahr, CD Baby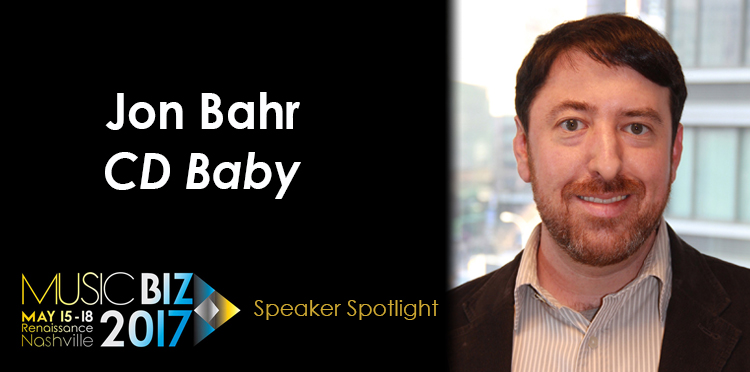 The Music Business Association is excited to welcome Jon Bahr, VP of Music Publishing at CD Baby for 'Be Your Own Publisher' on Thursday, May 18 at 10AM during the Music Biz 2017 convention in Nashville! Check out the fun Speaker Spotlight below to get to know Jon a little more before his Music Biz panel!
How did you know you wanted to get into the music industry? Or maybe you didn't?
I always know that I wanted to work on the business side of an industry and from a young age I knew that music was the industry I wanted to work in. It started with seeing tons of live concerts and then wanting to work in the live concert world. I got my start at booking agencies. Once I realized I didn't want to be a booking agent, my career took shape.
What song is currently stuck in your head? AND What is your "album of the year"?
I just signed the first band to CD Baby Publishing that wasn't distributed by CD Baby. They are a fantastic band called Rainbow Kitten Surprise and have millions of plays on Spotify. I got a chance to see them for the first time at SXSW surrounded by die-hard fans. They are great songwriters and their song "Goodnight Chicago" is stuck in my head these days.
It came out right after all of the 2016 "Best Of" charts were revealed, but Childish Gambino's "Awaken, My Love!" is a remarkable record. It is modern, but could have been released in the 70s. It is a huge, impressive departure for Donald Glover (Childish Gambino). It is great to hear it getting some mainstream radio play.
What's your favorite thing to do in Nashville — besides attend the Music Biz Convention?
It is a tie between the amazing food scene (um…hot chicken) and the songwriting community's Writers in the Round events. Everyone visiting town should catch a show at the Bluebird Café.
What can attendees expect from your panel at Music Biz 2017?
Our 'Be Your Own Publisher' panel is really about instilling how no song should go unpublished. If there is no publisher, the songwriter is guaranteed to be missing royalties around the world. Our goal at CD Baby is to make sure all of the money generated from a song makes it to the songwriters. We've proven that we can do this at the astounding scale of representing 100,000 songwriters.
---
Music Biz 2017, the industry's premier convention, is set to bring together 1,500+ music industry professionals from across the globe Monday, May 15 to Thursday, May 18 in Nashville at the Renaissance hotel. The "four most important days on the industry calendar" will include 100+ panels; workshops with Apple, Amazon, Google/YouTube, SoundCloud, Spotify, and Pandora; meetups; mixers;live music; awards honoring Adele, Lukas Graham, Maren Morris, Paula Abdul & more; keynotes from Spotify's Troy Carter & Atlantic's Julie Greenwald; and so much more.
Visit musicbiz2017.sched.com for the full schedule and musicbiz2017.eventbrite.com to register!
Questions? Reach out to Music Biz's VP of Communications Nicole Hennessey at nicole.hennessey@musicbiz.org today!