Music Biz 2017 Speaker Spotlight: Joey Elwood, Gotee Records/Emack Music Publishing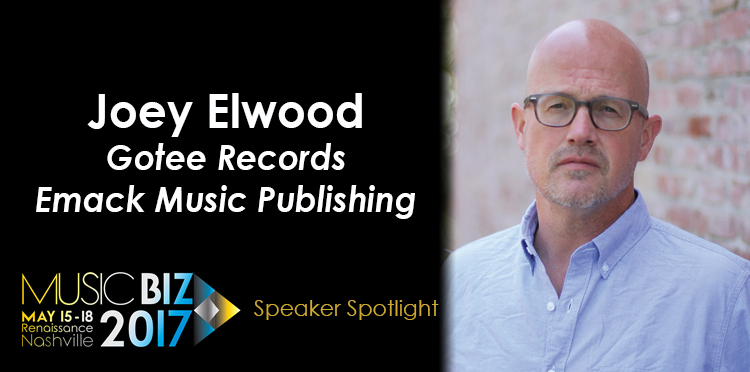 The Music Business Association is excited to welcome Joey Elwood, Co-Founder at Gotee Records and President at Emack Music Publishing for 'Cultivating Independence in Digital Operations & Intelligence' on Wednesday, May 17 at 2 PM during the Music Biz 2017 convention in Nashville! Check out the fun Speaker Spotlight below to get to know Joey little more before his Music Biz panel!
What's the first concert you ever attended OR what's the best concert you've ever attended? What did it mean to you and can you describe the experience?
Capital Centre (Landover, MD – Washington DC) 1981 – The Bruce Springsteen River Tour.
I was a 16 year old kid that had never been to an arena show, and that summer I saw 3.5 hrs of something that I was not really prepared for. I wasn't even a Bruce fan, but went to the show because one of my friends had an extra ticket to the show. I realized later just how fast Bruce would sell out on every major city on the East Coast, so I was not appreciating the moment at all as I walked into the arena.
I saw what almost felt like a preacher leading 15,000 people into a frenzy of musical emotions. He had the entire place in his hands and his band was pushing him and the rest of us along. I've never been to a show since that I felt like I could sit there for 3.5 hours and not either be bored or exhausted. The guy was unbelievable to watch. He was a storyteller and he was a performer and not many have come along like him since. Still can't believe that was my first BIG concert experience and it undoubtedly had an effect on me working my way into the music business…
Who do you predict will be the biggest breakout artist in the next year or years ahead?
I'm not good at predicting this stuff, but I can tell you who I hope the breakout artist of next year is, and that would be Anderson Paak. I know he could already be considered "broken out," but I'm hoping he becomes a household name. I love his songwriting, feel, and what I've seen on YouTube and videos. He seems like a great performer. And I think the UK is having a great Renaissance again. Seems like that scene comes and goes about every 10-15 years or so, and I'm liking what I'm hearing from that side of the ocean. 

How did you know you wanted to get into the music industry? Or maybe you didn't?
I was in banking, but wanted to pursue a life in literature/playwriting… I quit my job in D.C. and ventured to Nashville to travel with my cousin that had a deal and I did road management for him. Honestly, I saw Nashville as a transition rather than a destination. Had to recalibrate and I thought a year away from banking would get my mind in the proper space to pursue what was going on in my head and heart. Once I got to Nashville, I kinda fell into the community and into the industry and just stayed. Doesn't surprise me that music ended up being my destination as I grew up with a HUGE love of music. I was a Hip Hop kid from the suburbs in the early 80's, who had some of the D.C. hardcore scene brewing around me with my friends. BET came out of the D.C. area, and we had Go Go. D.C. doesn't get a lot of credit as a music city, but it's pretty vibrant and has had an impact on the music culture.
What can attendees expect from your panel at Music Biz 2017?
This panel on Cultivating Independence in Digital Operations and Intelligence is gonna be interesting because I think the subject will mean something different to everyone on the panel.  But I do believe that data collection, how we analyze that data, and then how we react to that data in this new technology age will be widely discussed.  Do we still lean on Nielsen/Billboard as our metrics for understanding success?  I also think subjects like Blockchain, Smart Contracts, and Transparency could come up during the discussion, but at the heart of all of this you should hear much about audience development and how each panelist is going about using new technology and platforms to make more informed decisions. 
---
Music Biz 2017, the industry's premier convention, is set to bring together 1,500+ music industry professionals from across the globe Monday, May 15 to Thursday, May 18 in Nashville at the Renaissance hotel. The "four most important days on the industry calendar" will include 100+ panels; workshops with Apple, Amazon, Google/YouTube, SoundCloud, Spotify, and Pandora; meetups; mixers; live music; awards honoring Reba McEntire, Adele, Lukas Graham, Maren Morris, Paula Abdul, Hamilton & more; keynotes from Spotify's Troy Carter & Atlantic's Julie Greenwald with Kelly Clarkson; and so much more.
Visit musicbiz2017.sched.com for the full schedule and musicbiz2017.eventbrite.com to register!
Questions? Reach out to Music Biz's VP of Communications Nicole Hennessey at nicole.hennessey@musicbiz.org today!