Music Biz 2017 Speaker Spotlight: Jimmy Chapin, Big Machine Label Group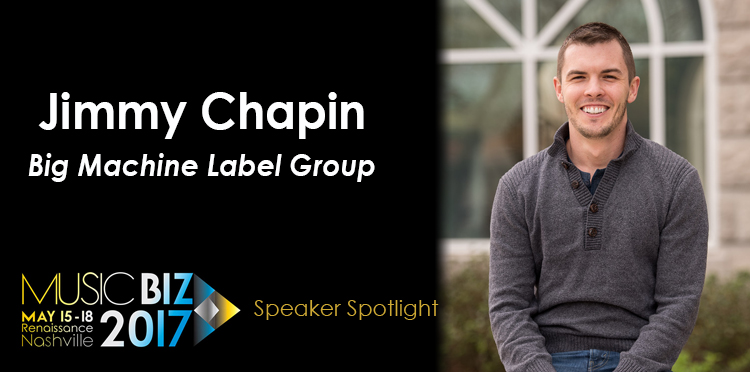 The Music Business Association is excited to welcome Jimmy Chapin, International Director at Big Machine Label Group for 'Thomas Rhett: Breaking an International Act' on Wednesday, May 17 at 12:15PM during the Music Biz 2017 convention in Nashville! Check out the fun Speaker Spotlight below to get to know Jimmy a little more before his Music Biz panel!
What's the first concert you ever attended OR what's the best concert you've ever attended? What did it mean to you and can you describe the experience?
The best concert I ever attended was when I was fortunate enough to travel for work to see Taylor Swift at the ANZ stadium in Sydney, Australia in 2015. It was the last concert of the 1989 tour and it was in a 70,000 person capacity stadium which was visually amazing. It meant a lot to have worked so closely with the international marketing campaign of the album & tour, and to see it come to life in such a huge way on the other side of the world.
How did you know you wanted to get into the music industry? Or maybe you didn't?
I knew I wanted to make music my profession since I was about 15. As is typical with many people working in the music industry, I thought it would be as a musician or songwriter, but I quickly learned that I unfortunately didn't have what they call "musical talent." I was really interested in the business end and decided to go Belmont University which ended up being the most important way for me to get my foot in the door.
Who do you predict will be the biggest breakout artist in the next year or years ahead?
Drake White is such an amazing talent, he has so much potential in my mind. He was just over in the UK for C2C this month and won so many people over. He has such a universal sound that I think could work all over the world once it breaks through.

What can attendees expect from your panel at Music Biz 2017?
I hope attendees can take aware an experience of understanding the challenges and obstacles that come when promoting an artist in a culture outside of the US. Everything from travel budgets, to smaller crowds at first, to culturally adjusting depending on the country. I also hope to present an understanding of the key markets that are possible for country music, and the structure of the industry in each market.
---
Music Biz 2017, the industry's premier convention, is set to bring together 1,500+ music industry professionals from across the globe Monday, May 15 to Thursday, May 18 in Nashville at the Renaissance hotel. The "four most important days on the industry calendar" will include 100+ panels; workshops with Apple, Amazon, Google/YouTube, SoundCloud, Spotify, and Pandora; meetups; mixers;live music; awards honoring Adele, Lukas Graham, Maren Morris, Paula Abdul & more; keynotes from Spotify's Troy Carter & Atlantic's Julie Greenwald; and so much more.
Visit musicbiz2017.sched.com for the full schedule and musicbiz2017.eventbrite.com to register!
Questions? Reach out to Music Biz's VP of Communications Nicole Hennessey at nicole.hennessey@musicbiz.org today!