Music Biz 2017 Speaker Spotlight: Jennifer Newman Sharpe, Law Offices of Jennifer Newman Sharpe PLLC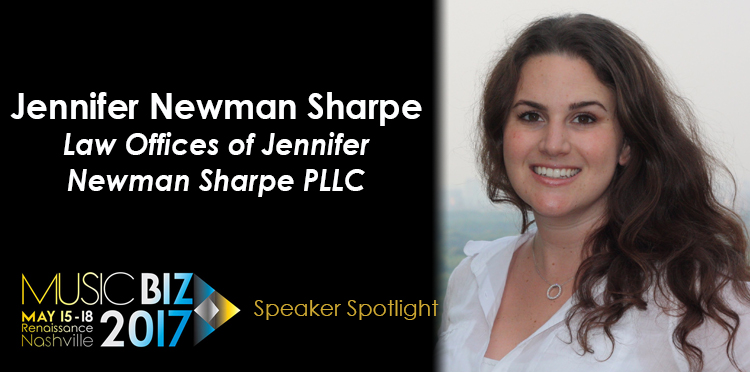 The Music Business Association is excited to welcome Jennifer Newman Sharpe, Principal Attorney at Law Offices of Jennifer Newman Sharpe PLLC for 'Weighing the Options: A Mock Negotiation Evaluating and Comparing Modern Record Deals' on Monday, May 15 at 4:50 PM during the Music Biz 2017 convention in Nashville! Check out the fun Speaker Spotlight below to get to know Jennifer little more before her Music Biz panel!
Have you ever been to the Music Biz Convention? If so, what's your favorite memory from the event? (panels, awards, performances, location, funny story, etc.)?
No, this is my first year and I can't wait! I've heard great things about the panels and community.

What song is currently stuck in your head? AND What is your "album of the year"?
I love the Alt J single "3WW," which has been in my head a lot these days. I'm most excited for some albums scheduled to be released in June: Alt J, Fleet Foxes, and London Grammar.

What's your favorite thing to do in Nashville — besides attend the Music Biz Convention?
My favorite thing to do is see local, live music. The Nashville music scene is unlike any other and I hope to catch some great local shows while I'm there. I also like trying local cuisine. From Meat & Three to hot chicken, the Nashville foodie scene is pretty awesome in its own right.
What panel, presentation, event, etc. (other than your own) are you looking forward to the most at Music Biz 2017?
The lawyer side of me is looking forward to seeing "Music Policies During the Trump Era." The panelists are an all-star line up and I'm very curious to hear their perspective on where music policies will head during the current administration. I'm also excited about Nielsen's Leading Ladies panel and Troy Carter's keynote.
What can attendees expect from your panel at Music Biz 2017?
We're going to play out the scenario where a band is considering two different offers for their next album release. Their attorney will negotiate and talk with both companies and then discuss with the band's manager to figure out which is the right choice for that artist. I will be the master of ceremonies — guiding the discussion and pausing where necessary to dive into the deal terms and issues in more detail.
---
Music Biz 2017, the industry's premier convention, is set to bring together 1,500+ music industry professionals from across the globe Monday, May 15 to Thursday, May 18 in Nashville at the Renaissance hotel. The "four most important days on the industry calendar" will include 100+ panels; workshops with Apple, Amazon, Google/YouTube, SoundCloud, Spotify, and Pandora; meetups; mixers; live music; awards honoring Reba McEntire, Adele, Lukas Graham, Maren Morris, Paula Abdul, Hamilton & more; keynotes from Spotify's Troy Carter & Atlantic's Julie Greenwald with Kelly Clarkson; and so much more.
Visit musicbiz2017.sched.com for the full schedule and musicbiz2017.eventbrite.com to register!
Questions? Reach out to Music Biz's VP of Communications Nicole Hennessey at nicole.hennessey@musicbiz.org today!