Music Biz 2017 Speaker Spotlight: Jamie Starling, Entertainment One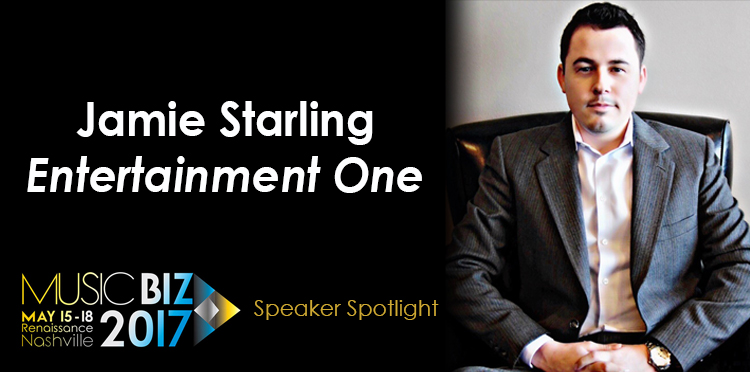 The Music Business Association is excited to welcome Jamie Starling, Director of Business & Legal Affairs at Entertainment One for 'What's Your Deal? Understanding Recording Agreements in 2017' on Thursday, May 18 at 5:15PM during the Music Biz 2017 convention in Nashville! Check out the fun Speaker Spotlight below to get to know Jamie a little more before his Music Biz panel!
What is the best concert you've ever attended? What did it mean to you and can you describe the experience?
The best concert I've ever attended would be J. Cole's "homecoming" show in Fayetteville, NC in 2015 as part of his Forest Hills Drive tour. We're both from Fayetteville, which is a small town without a lot going on. To some degree, he's changed that perception and brought incredible opportunities to the area. The show was broadcast on HBO and he brought Drake and Jay-Z as guests. It was a very special moment for our city.
How did you know you wanted to get into the music industry? Or maybe you didn't?
I'm grateful to my dad for giving me the gift of music, which has always been a big part of my life. I was set to go to law school in New York and had a sort of quarter-life crisis and bailed on that and moved to Nashville instead.
What song is currently stuck in your head? AND What is your "album of the year"?
It's hard to call it the Album of the Year just yet, but I'm really looking forward to Brad Paisley's album "Love and War," due out soon.
What's your favorite thing to do in Nashville — besides attend the Music Biz Convention?
I really enjoy taking my girlfriend to Sounds games, especially in the new stadium.
What can attendees expect from your panel at Music Biz 2017?
Even in 2017, the record deal is the centerpiece of the artist's career, and yet I'm constantly surprised at the number of people in the business who don't really understand how they work. I'm going to touch on some of the key concepts, and will be joined by two great panelists: one is a label executive, the other an artist representative, who will discuss how these concepts play into negotiating the deal.
---
Music Biz 2017, the industry's premier convention, is set to bring together 1,500+ music industry professionals from across the globe Monday, May 15 to Thursday, May 18 in Nashville at the Renaissance hotel. The "four most important days on the industry calendar" will include 100+ panels; live music showcases; workshops with Apple, Amazon, Google/YouTube, SoundCloud, Spotify, and Pandora; meetups; mixers; awards honoring Adele, Lukas Graham, Maren Morris, Paula Abdul & more; keynotes from Spotify's Troy Carter & Atlantic's Julie Greenwald; and so much more.
Visit musicbiz2017.sched.com for the full schedule and musicbiz2017.eventbrite.com to register!
Questions? Reach out to Music Biz's VP of Communications Nicole Hennessey at nicole.hennessey@musicbiz.org today!