Music Biz 2017 Speaker Spotlight: Jackie Otero, Full Sail University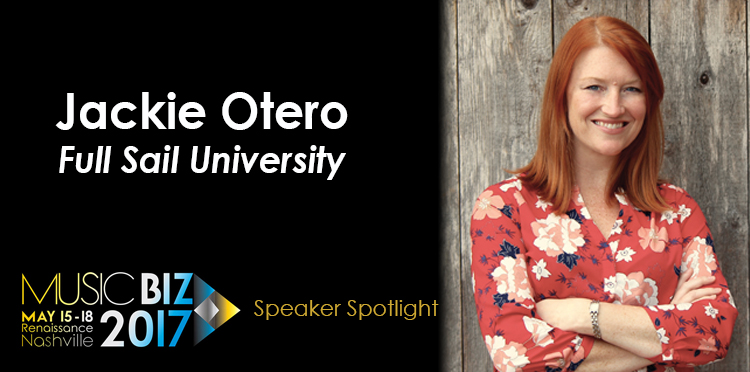 The Music Business Association is excited to welcome Jackie Otero, Program Director, Entertainment & Music Business at Full Sail University for 'Kickstarting Your Music Biz Career' on Tuesday, May 16 at 11 AM during the Music Biz 2017 convention in Nashville! Check out the fun Speaker Spotlight below to get to know Jackie little more before her Music Biz panel!
What's your favorite thing to do in Nashville — besides attend the Music Biz Convention?
Walking down Music Row and looking at all the music companies side by side is always inspirational to me. Having worked in San Francisco and New York, there are music companies scattered throughout the city, without a community feel like you see here in Nashville.

What song is currently stuck in your head?
Having two kids under the age of 6, I have to say that the entire Moana soundtrack is permanently stuck in my head. But, it's the best kids' soundtrack to come along since the Lion King! Lin-Manuel Miranda is a genius, and the island vibes and themes of empowerment are definitely in my wheelhouse.
How did you know you wanted to get into the music industry? Or maybe you didn't?
When I was 8, I formed a "girl band" with my friends and wrote songs to the tune of "Wake Me Up Before You Go-Go" – which was the demo song on my keyboard. We recorded them onto cassette tapes, and I made album art for the cover. When I realized years later that I had absolutely no talent in performing, but loved working with artists, I decided to become an artist manager
What can attendees expect from your panel at Music Biz 2017?
My panel this year is focused on exploring the skill sets that are currently most in-demand in the music industry, and how students and recent grads can best prepare for a lucrative career in a highly competitive industry. We'll also look at some research on the types of jobs that major music companies are hiring for, and how to find your way into the business.
---
Music Biz 2017, the industry's premier convention, is set to bring together 1,500+ music industry professionals from across the globe Monday, May 15 to Thursday, May 18 in Nashville at the Renaissance hotel. The "four most important days on the industry calendar" will include 100+ panels; workshops with Apple, Amazon, Google/YouTube, SoundCloud, Spotify, and Pandora; meetups; mixers; live music; awards honoring Reba McEntire, Adele, Lukas Graham, Maren Morris, Paula Abdul, Hamilton & more; keynotes from Spotify's Troy Carter & Atlantic's Julie Greenwald with Kelly Clarkson; and so much more.
Visit musicbiz2017.sched.com for the full schedule and musicbiz2017.eventbrite.com to register!
Questions? Reach out to Music Biz's VP of Communications Nicole Hennessey at nicole.hennessey@musicbiz.org today!