Music Biz 2017 Speaker Spotlight: Donna Ross, Ingrooves Music Group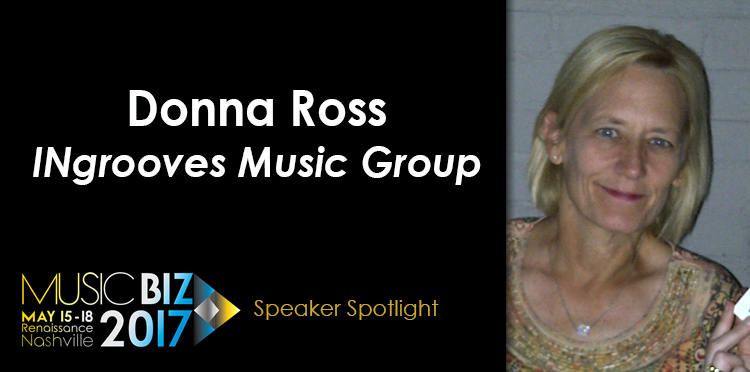 The Music Business Association is excited to welcome Donna Ross, Sales Strategist at INgrooves Music Group for 'Student Preparedness: Straight Talk from the Industry' at 11 AM and 'The Record Store of the Future: Imagine What Could Be' at 5:10PM on Wednesday, May 17 during the Music Biz 2017 convention in Nashville! Check out the fun Speaker Spotlight below to get to know Donna little more before her Music Biz panels!
Have you ever struck an important business deal at Music Biz? If so, can you share you some insight with us?
We premiered a new Beastie Boys track in our Capitol Records Suite to all retailers who were essential to their career development. It was played so loud we had a hotel guard shoosh us! Needless to say we sold millions of records. We also had Fitz and the Tantrums perform in front of all retail community several years ago and the next thing you knew, the band was on The Ellen Show!

What's the first concert you ever attended OR what's the best concert you've ever attended? What did it mean to you and can you describe the experience?
Best concert I ever attended was Radiohead at Glastonbury. We were there with a group of retailers. It was dark, late, raining and cold but one of the best moments of our lives right at the release of OK Computer, 1997.
How did you know you wanted to get into the music industry? Or maybe you didn't?
I wanted to play in a band but stumbled on a job at a record store in Detroit not even knowing there was a record business. The band broke up but my career took off! It's the only career I've known and it's been a wonderful ride. I remain a student of the record business to this day.

What song is currently stuck in your head? AND What is your "album of the year"?
My album of the year is Hamilton Leithauser and Rostam "I Had a Dream You Were Mine." The track is same title. Also followed by the Lemon Twigs "Do Hollywood," but the year is young!
Who do you predict will be the biggest breakout artist in the next year or years ahead?
Elliot Moss. He is amazing and underrated.
What's your favorite thing to do in Nashville — besides attend the Music Biz Convention?
My favorite things are to shop at Grimey's, visit the Ryman Auditorium and walk to the waterfront.

What panel, presentation, event, etc. (other than your own) are you looking forward to the most at Music Biz 2017?
I am looking forward to celebrating Terry Currier's Independent Spirit Award. He's been a friend for 20 years and so well deserving. I've never met anyone as committed to their passion.

What can attendees expect from your panel at Music Biz 2017?
For the Student Preparedness Panel, you can expect great panelists who will give it to you straight. If you are thinking about working in the music industry or starting an internship, this is essential! As for the Future of Record Stores panel, you can expect great panelists who will do their best to peer into the future and lay out their visions for keeping the culture of record stores alive and well!
---
Music Biz 2017, the industry's premier convention, is set to bring together 1,500+ music industry professionals from across the globe Monday, May 15 to Thursday, May 18 in Nashville at the Renaissance hotel. The "four most important days on the industry calendar" will include 100+ panels; workshops with Apple, Amazon, Google/YouTube, SoundCloud, Spotify, and Pandora; meetups; mixers;live music; awards honoring Adele, Lukas Graham, Maren Morris, Paula Abdul, Reba McEntire, Hamilton & more; keynotes from Spotify's Troy Carter & Atlantic's Julie Greenwald with Kelly Clarkson; and so much more.
Visit musicbiz2017.sched.com for the full schedule and musicbiz2017.eventbrite.com to register!
Questions? Reach out to Music Biz's VP of Communications Nicole Hennessey at nicole.hennessey@musicbiz.org today!