Music Biz 2017 Speaker Spotlight: Christy Crowl, ProMusicDB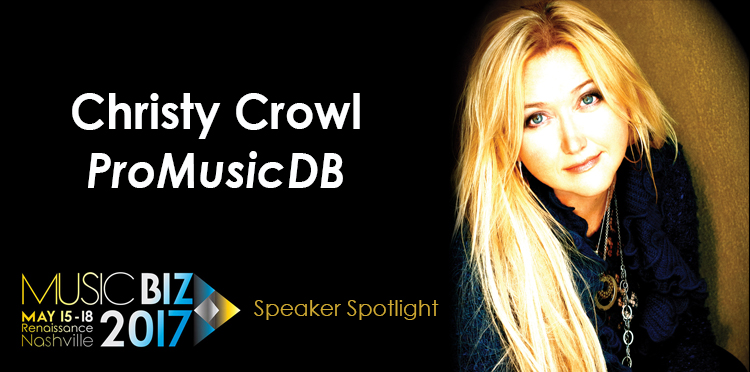 The Music Business Association is excited to welcome Christy Crowl, Founder, ProMusicDB for Standards vs. Practices on Tuesday, May 16 at 2 PM and 'Metadata is Money: Understanding How Revenue Flows' on Wednesday, May 17 at 2 PM during the Music Biz 2017 convention in Nashville! Check out the fun Speaker Spotlight below to get to know Christy little more before her Music Biz panel!
Have you ever been to the Music Biz Convention? If so, what's your favorite memory from the event? (panels, awards, performances, location, funny story, etc.)?
My first Music Biz was in 2012 in Los Angeles, where I was invited by a colleague who was advising me on ProMusicDB development to attend the Metadata Working Group session. I was the only "artist" in a room full of data and technology leaders, with this big idea and life mission to present for feedback: that an entity in the industry should be taking on the task of helping music creators collectively preserve their legacy in the form of a database of credits and digital archives – and that their information in the database should then be multipurpose for doing business and verifying that they should be paid for their work. What on earth did I think I was doing? Well, the feedback from that session opened my eyes on so many levels as to who and what could be helped if ProMusicDB came out of the ether and into reality — I just had to keep going and make it happen. It's a favorite memory as it solidified what I was going to do for the next five years, and now, here I am, sitting on my first panels at Music Biz 2017 as Founder of ProMusicDB.
How did you know you wanted to get into the music industry? Or maybe you didn't?
I never remember thinking I would be anything other than a musician. Growing up, I was the girl that played the piano for everything in my community, for my school, for church events, for my dad's pretty popular and active community music troupe. I competed and won some pretty big piano competitions, attended Tanglewood as a high-schooler (for Bernstein's 70th Birthday celebration), and went to college for piano performance on a full scholarship. I listened to Elton John, Billy Joel, Rush, Pink Floyd, Queen, Michael Jackson, and everything in-between, learning all the keyboard parts to everything, never really considering the possibility of not being in music for the rest of my life. What else could I possibly do that could give me what music gives me? I've always believed I was supposed to find a way. Somehow, it's in my very breath to be in music, and I've never let myself consider anything else. Sure, I've broadened my musical skill set over my education and career — from filmscoring to songwriting to music directing and music supervision — but my life has truly been centered around music, and finding a way to sustain the feeling of "I'm doing what I'm born to do."
What's your favorite thing to do in Nashville — besides attend the Music Biz Convention?
Be with musicians! Be with my people! I've been lucky enough to have played in some of Nashville's biggest venues with some of Nashville's finest musicians and I look forward to it every time. Learning about their year, their career, their stories from the road – and playing music onstage with them, it's just an incredible atmosphere of musical camaraderie. I have some amazingly talented friends here, too, who treat me to some of Nashville's hippest "hangs" when I'm visiting — I can't wait to see what new places I'll get to check out this trip during Music Biz.
What can attendees expect from your panels at Music Biz 2017?
The music industry is expanding every day and can seem overwhelming and all-powerful, but at the very core of it is the talent and the work of music creators. I want music creators to have the tools and comprehension they need to manage their music business overwhelm, and I want to empower their confidence when managing their musical livelihood in the digital world. It's hard, time-consuming, and certainly not very fun to spend your days fighting with technology or trying to track down every penny you're owed in addition to marketing yourself, getting gigs, practicing, and showing up with your game face on in the studio or onstage. The industry has created puzzles within puzzles for music creators to comprehend and solve on their own regarding how to make a living in music, how to get paid and by whom, and how parts of the industry function with other parts. I hope through the panel discussion some of the puzzles begin to get solved in the minds of music creators, and that the road to success as a music creator is demystified in some way.
I'd love to have questions from Music Biz attendees that I can answer during the sessions, as I think that's really important. Should anyone wish to connect with me at Music Biz or send me a question for these panels, please email me: christy@promusicdb.org
---
Music Biz 2017, the industry's premier convention, is set to bring together 1,500+ music industry professionals from across the globe Monday, May 15 to Thursday, May 18 in Nashville at the Renaissance hotel. The "four most important days on the industry calendar" will include 100+ panels; workshops with Apple, Amazon, Google/YouTube, SoundCloud, Spotify, and Pandora; meetups; mixers; live music; awards honoring Reba McEntire, Adele, Lukas Graham, Maren Morris, Paula Abdul, Hamilton & more; keynotes from Spotify's Troy Carter & Atlantic's Julie Greenwald with Kelly Clarkson; and so much more.
Visit musicbiz2017.sched.com for the full schedule and musicbiz2017.eventbrite.com to register!
Questions? Reach out to Music Biz's VP of Communications Nicole Hennessey at nicole.hennessey@musicbiz.org today!