Music Biz 2017 Speaker Spotlight: Christina Holding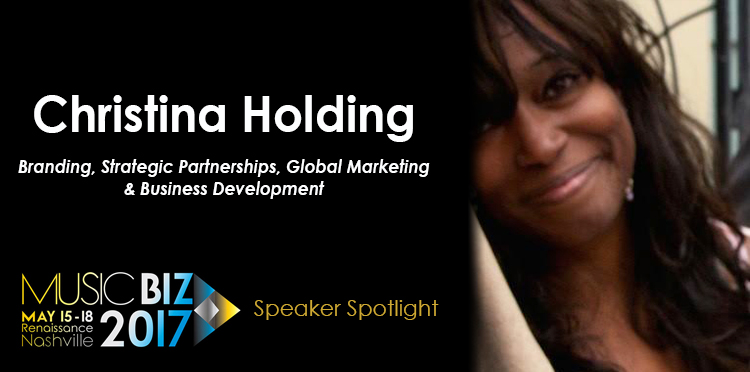 The Music Business Association is excited to welcome Christina Holding, a Branding, Strategic Partnerships, Global Marketing & Business Development professional for 'LIVE: Experience, Engagement & Economy' on Tuesday, May 16 at 9 AM during the Music Biz 2017 convention in Nashville! Check out the fun Speaker Spotlight below to get to know Christina a little more before her Music Biz panel!
Have you ever been to the Music Biz Convention? If so, what's your favorite memory from the event?
Yes. My favorite part is really how it brings everyone together. Music Biz is a brilliant opportunity to reunite with colleagues, meet new ones, share stories and bounce new ideas off of each other. The best part has been seeing some of my mentors in the industry being honored for their immense contributions to the industry and to all of us. This year I'm especially thrilled for two marvelous and generous men who helped shape my career — Mike Dungan and Terry Currier.
Have you ever struck an important business deal at Music Biz?
Yes I have. It is a place where ideas and collaborations can really take root and blossom into partnerships.
What's the first concert you ever attended OR what's the best concert you've ever attended? What did it mean to you and can you describe the experience?
My first concert was U2 on the Boy tour. My dad took me and it blew my little mind. I formed a band with some friends as soon as we got back home. I think it solidified how important music really is to me.
How did you know you wanted to get into the music industry? Or maybe you didn't?
It just kind of unfolded. I started writing about bands, going to shows, playing in bands and that eventually brought me to working in records stores like Wax n Facts and Newbury Comics which turned into internships at indie labels, stints on college radio, and then working at some of the major labels then back to indies and so on. The industry becomes a part of your DNA in a way… even after straying into other industries, I keep coming back to music. I love it.

What's your favorite thing to do in Nashville — besides attend the Music Biz Convention?
For starters, the beautiful parks including Hamilton Creek, Fannie Mae Dees Park, Shelby Park. I also love that RCA Studio B still has the Christmas lights up that Elvis put there. I enjoy yummy coffee and those cinnamon buns at the Bongo Java (after 10k steps it's ok to share one, right?!?). There's always something new to discover The Country Music Hall of Fame and Museum and of course you have to visit The Ryman, The Bluebird Café & the Grand Ole Opry.
What panel, presentation, event, etc. (other than your own) are you looking forward to the most at Music Biz 2017?
I definitely have these panels on my must see list: The Startup Deal: What Happens After You Sign?; The Record Store of the Future: Imagine What Could Be; Likes, Spikes & Snaps: Licensing for Social; Getting Tickets to Your True Fans; Tech Tools: Using Digital Tools for Teaching and Tech Tools: Using Digital Tools for Teaching and Student/Industry Exploration; and VR: The New Frontier.
What can attendees expect from your panel at Music Biz 2017?
What do these live streaming platforms and new innovations, combined with traditional lucrative touring methods, mean for the future of the music business? Live is like the deep end of the swimming pool. Whether you are gliding through like Michael Phelps or cannon balling or treading or survival floating or wading in with water wings or just dipping your toes in to test the waters, there's a place for you in the pool. Join us — dive into the conversation about ways to leverage the live experience in an authentic way that suits you and your fans.
---
Music Biz 2017, the industry's premier convention, is set to bring together 1,500+ music industry professionals from across the globe Monday, May 15 to Thursday, May 18 in Nashville at the Renaissance hotel. The "four most important days on the industry calendar" will include 100+ panels; live music showcases; workshops with Apple, Amazon, Google/YouTube, SoundCloud, Spotify, and Pandora; meetups; mixers; awards honoring Adele, Lukas Graham, Maren Morris, Paula Abdul & more; keynotes from Spotify's Troy Carter & Atlantic's Julie Greenwald; and so much more.
Visit musicbiz2017.sched.com for the full schedule and musicbiz2017.eventbrite.com to register!
Questions? Reach out to Music Biz's VP of Communications Nicole Hennessey at nicole.hennessey@musicbiz.org today!