Music Biz 2017 Speaker Spotlight: Bram Bessoff, Indiehitmaker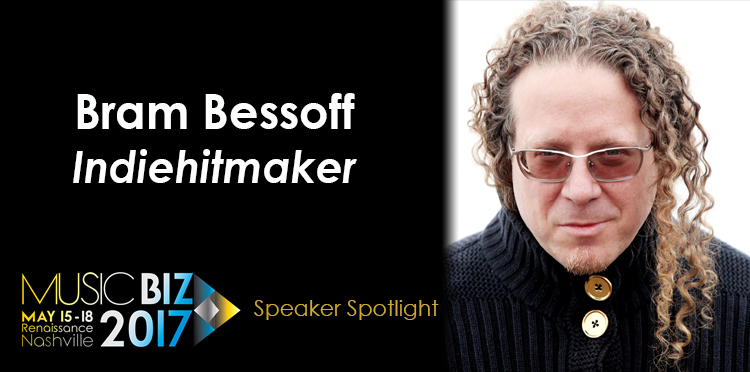 The Music Business Association is excited to welcome Bram Bessoff, Founder & President of Indiehitmaker for 'Using the Power of Direct-to-Fan Engagement to Build Artist Momentum & Fuel Success' on Tuesday, May 16 at 2 PM during the Music Biz 2017 convention in Nashville! Check out the fun Speaker Spotlight below to get to know Bram little more before his Music Biz panel!
Have you ever struck an important business deal at Music Biz? If so, can you share you some insight with us?
My best deals always happen at Music Biz. There is no better music conference to meet other like minded folks in the industry who are looking to partner and develop business opportunities. After trying to connect for months across several conferences nationwide, we finally connected with the folks at BuzzAngle our first year attending. We are now the only direct-to-fan sales reporting service that provides data to both Soundscan and BuzzAngle giving our artists ultimate charting placement across the industry. Music Biz has also brought me several professional friendships. Most of the industry professionals I choose for conference panels across the country have come from people I have met at Music Biz. 
What song is currently stuck in your head? AND What is your "album of the year"?
For me it's too early to pick an album of the year, but I predict Rock is on it's way back. As of first quarter, the best new album I've heard to date is Georgia supergroup Giraffe Tongue Orchestra featuring Brent Hinds of Mastodon along with members of Alice In Chains, The Mars Volta, Dethklok and The Dillinger Escape Plan. These guys nail the hard rock song with great melodic sense, powered by proficient musicianship and showmanship. I was lucky to catch their debut show at SXSW in March. In my seven years attending, I have never seen more rock acts at official SXSW showcases. 2017 delivered everything from Mastodon and Otep to noise pop sensation Sleigh Bells, up & coming Alt-Rock artist Mondo Cosmo and many more. Interesting how whenever a Republican conservative gets into office, Rock surges.
As far as best single, The new Missio song "Middle Fingers" is my "Royals" of 2017. It instantly grabbed me on first listen and drew me in each time listening thereafter. The hook is undeniable, lyrical content compelling and arrangement and strong structure simple but powerful. Everything about this song sounds great!
What's your favorite thing to do in Nashville — besides attend the Music Biz Convention?
If I'm not shopping at King Baby, find me hanging at Acme Feed & Seed checking out the music, having drinks on their killer patio overlooking the river and talking music with my boy Carl Gatti while he broadcasts live from the radio station at the front of the restaurant. I would love to see an official Music Biz event held at this venue, food is great, people are awesome and location is second to none. 
---
Music Biz 2017, the industry's premier convention, is set to bring together 1,500+ music industry professionals from across the globe Monday, May 15 to Thursday, May 18 in Nashville at the Renaissance hotel. The "four most important days on the industry calendar" will include 100+ panels; workshops with Apple, Amazon, Google/YouTube, SoundCloud, Spotify, and Pandora; meetups; mixers; live music; awards honoring Reba McEntire, Adele, Lukas Graham, Maren Morris, Paula Abdul, Hamilton & more; keynotes from Spotify's Troy Carter & Atlantic's Julie Greenwald with Kelly Clarkson; and so much more.
Visit musicbiz2017.sched.com for the full schedule and musicbiz2017.eventbrite.com to register!
Questions? Reach out to Music Biz's VP of Communications Nicole Hennessey at nicole.hennessey@musicbiz.org today!