Music Biz 2017 Speaker Spotlight: Antony Bruno, Royalty Exchange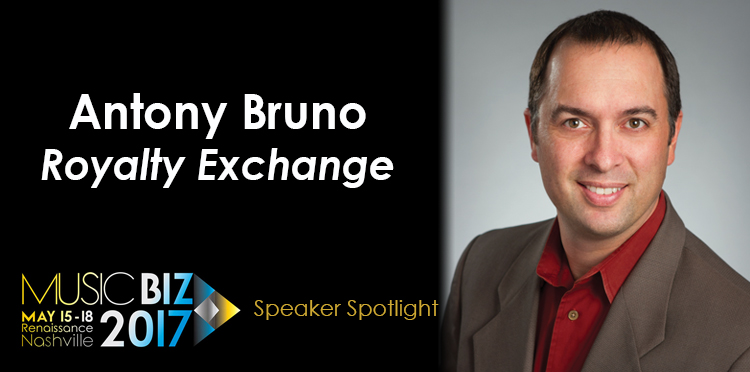 The Music Business Association is excited to welcome Antony Bruno, Director of Communications at Royalty Exchange for 'Beyond the 1%: Democratizing Music Industry Funding' on Tuesday, May 16 at 3 PM during the Music Biz 2017 convention in Nashville! Check out the fun Speaker Spotlight below to get to know Antony little more before his Music Biz panel!
Have you ever been to the Music Biz Convention? If so, what's your favorite memory from the event? (panels, awards, performances, location, funny story, etc.)?
I consulted for the convention when it was still NARM and attended several when it was held in LA. My favorite memory was attending a short Brandi Carlile showcase in one of the suites.
What's the first concert you ever attended OR what's the best concert you've ever attended? What did it mean to you and can you describe the experience?
I live in Denver so I get to see shows at Red Rocks pretty much every summer. Choosing just one is next to impossible. But the ones that stand out are:
Soundgarden's 1994 Superunknown tour: There was an electrical storm off in the distance that you could see above the stage which rivaled the light show. It was mesmerizing.
Rage Against the Machine, 1996: The entire multi-level amphitheater was bouncing so hard that entire rows of people would just fall over into the tier below.
Rave on the Rocks, 1999: Fat Boy Slim, The Chemical Brothers, and a light rain to cool things off. Incredible.
The Decemberists, 2015: A huge thunderstorm hit that caused a temporary evacuation and delayed the start of the show. The band was so appreciative for those who returned after the all clear that they played a short but incredibly intense set.
LCD Soundsystem, 2016: Amazing performance. The crowd just erupted at the drop in "Dance Yourself Clean."
How did you know you wanted to get into the music industry? Or maybe you didn't?
I completely fell into it by accident. I was a reporter covering the wireless industry when Billboard hired me to cover ringtones. That expanded into covering this emerging thing called "digital music" and the rest his history.
What's your favorite thing to do in Nashville — besides attend the Music Biz Convention?
Eat Hot Chicken!
What panel, presentation, event, etc. (other than your own) are you looking forward to the most at Music Biz 2017?
The Troy Carter keynote.
What can attendees expect from your panel at Music Biz 2017?
We're going to shatter some long-held money myths that have hurt artists financially for decades, and show how artists can raise money outside the traditional label/publisher advance system.
---
Music Biz 2017, the industry's premier convention, is set to bring together 1,500+ music industry professionals from across the globe Monday, May 15 to Thursday, May 18 in Nashville at the Renaissance hotel. The "four most important days on the industry calendar" will include 100+ panels; workshops with Apple, Amazon, Google/YouTube, SoundCloud, Spotify, and Pandora; meetups; mixers; live music; awards honoring Reba McEntire, Adele, Lukas Graham, Maren Morris, Paula Abdul, Hamilton & more; keynotes from Spotify's Troy Carter & Atlantic's Julie Greenwald with Kelly Clarkson; and so much more.
Visit musicbiz2017.sched.com for the full schedule and musicbiz2017.eventbrite.com to register!
Questions? Reach out to Music Biz's VP of Communications Nicole Hennessey at nicole.hennessey@musicbiz.org today!