Music Biz 2017 Speaker Spotlight: Annie Lin, Loudr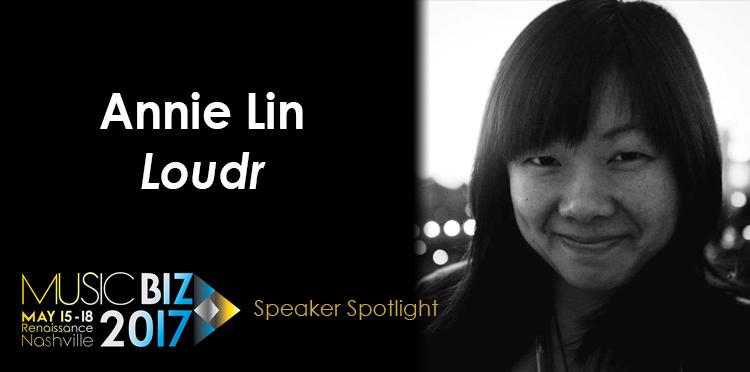 The Music Business Association is excited to welcome Annie Lin, General Counsel at Loudr for 'Hello vs. Hello: Collecting Global Songwriting Royalties' on Tuesday, May 16 at 10:30AM during the Music Biz 2017 convention in Nashville! Check out the fun Speaker Spotlight below to get to know Annie a little more before her Music Biz panel!
How did you know you wanted to get into the music industry? Or maybe you didn't?
When I was touring and playing shows both solo as a singer-songwriter and as part of a band, I found that I really loved booking shows and handling all the business that comes with being an independent musician. Later I learned this was an uncommon, self-selecting trait, which I think is the reason why you always end up with that one person in the band who handles all the business stuff.
Anyway, I loved the push and pull of negotiation and the excitement of locking down deals. This led me to realize I very much wanted to work in the music business, which is the reason I went back to school for a law degree.
Here I must give credit to some really good mentors, teachers, and heroes I encountered early on: entertainment law professor Don Tomlinson, IP law professor Greg Vetter, music exec Patrick Sullivan, music exec Dan Rosenbaum, and indie rocker/attorney Elizabeth Elmore.
What song is currently stuck in your head? AND What is your "album of the year"?
I'm currently obsessed with the song "Two Fish and an Elephant" by Khruangbin, a Houston-based band that plays funk and jazz-inflected instrumental rock. They were apparently heavily influenced by cassettes of Thai and Cambodian funk from the 1970s, and the end result is something in between surf rock and soul.
It's too early to say what the album of the year might be, but I'll give you an update when all the data comes in.
Who do you predict will be the biggest breakout artist in the next year or years ahead?
Maggie Rogers. "Alaska" (also known as that one song that made Pharrell cry in that viral video), was a decent tune but it doesn't adequately capture the scope of her talents. I had the pleasure of being blown away by her performance at a show in a tiny church at SXSW and was pleasantly surprised to discover that she's not just a solid songwriter and producer, but also a powerful singer with a very compelling stage presence.

What can attendees expect from your panel at Music Biz 2017?
You'll learn about the role that music metadata plays in powering the digital music rights economy and the challenges of aggregating, organizing, sharing, and disambiguating this data. You'll also learn about how the data problem impacts a variety of stakeholders in the ecosystem, from publishers and songwriters to music services and rights societies.
---
Music Biz 2017, the industry's premier convention, is set to bring together 1,500+ music industry professionals from across the globe Monday, May 15 to Thursday, May 18 in Nashville at the Renaissance hotel. The "four most important days on the industry calendar" will include 100+ panels; workshops with Apple, Amazon, Google/YouTube, SoundCloud, Spotify, and Pandora; meetups; mixers;live music; awards honoring Adele, Lukas Graham, Maren Morris, Paula Abdul & more; keynotes from Spotify's Troy Carter & Atlantic's Julie Greenwald; and so much more.
Visit musicbiz2017.sched.com for the full schedule and musicbiz2017.eventbrite.com to register!
Questions? Reach out to Music Biz's VP of Communications Nicole Hennessey at nicole.hennessey@musicbiz.org today!