Music Biz 2017 Speaker Spotlight: Amanda Cates, Maverick Nashville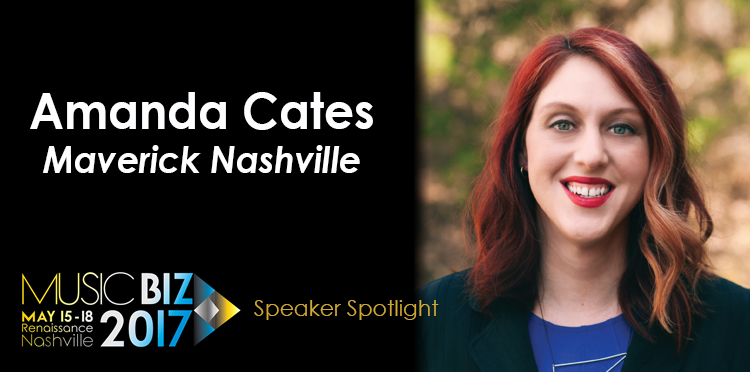 The Music Business Association is excited to welcome Amanda Cates, Head of Marketing & Digital Strategy at Maverick Nashville for 'The Startup Deal: What Happens After You Sign?' on Thursday, May 18 at 10 AM during the Music Biz 2017 convention in Nashville! Check out the fun Speaker Spotlight below to get to know Amanda little more before her Music Biz panel!
What's the first concert you ever attended OR what's the best concert you've ever attended? What did it mean to you and can you describe the experience?
My first concert was a Vince Gill show in Greensboro, NC. My aunt was a huge fan and instilled the love of his smooth voice in anyone she met. I've been so lucky to have had many amazing concert experiences since then. Mumford & Sons, Coldplay, Tom Petty, James Taylor, Guns N Roses, and Adele are just a few that can still give me goosebumps when I think about their shows.
What's your favorite thing to do in Nashville — besides attend the Music Biz Convention?
I always tell out of town guests that they need to take a tour and see a show at the Ryman if they are able to. That place is truly the mother church of Country music. There's nothing like experiencing a show there.

What panel, presentation, event, etc. (other than your own) are you looking forward to the most at Music Biz 2017?
There are a lot of panels and speakers that will be great to hear; however, I'm really looking forward to hearing Chris Frankenberg, Mike Pegan and Ryan Redington discuss scaling playlists and ways to effectively leverage metadata with Emmanuel Legrand in the "Some Day We'll Find It: The Metadata, Playlist and Voice Search Connection." This is such an important part of the future of music marketing. Knowing how to leverage seemingly ever changing and growing streaming platforms in the best ways to help your song/album cut through the noise is essential in today's release landscape.
What can attendees expect from your panel at Music Biz 2017?
There's so much more to creating a great music partnership than just getting a deal signed. We're going to be discussing best practices and approaches for long-lasting and mutually beneficial relationships with artists, labels, and songwriters.
---
Music Biz 2017, the industry's premier convention, is set to bring together 1,500+ music industry professionals from across the globe Monday, May 15 to Thursday, May 18 in Nashville at the Renaissance hotel. The "four most important days on the industry calendar" will include 100+ panels; workshops with Apple, Amazon, Google/YouTube, SoundCloud, Spotify, and Pandora; meetups; mixers; live music; awards honoring Reba McEntire, Adele, Lukas Graham, Maren Morris, Paula Abdul, the Hamilton Original Cast Recording & Mixtape, and more; keynotes from Spotify's Troy Carter & Atlantic's Julie Greenwald with Kelly Clarkson; and so much more.
Visit musicbiz2017.sched.com for the full schedule and musicbiz2017.eventbrite.com to register!
Questions? Reach out to Music Biz's VP of Communications Nicole Hennessey at nicole.hennessey@musicbiz.org today!