Music Biz 2017 Speaker Spotlight: Adam Parness, Pandora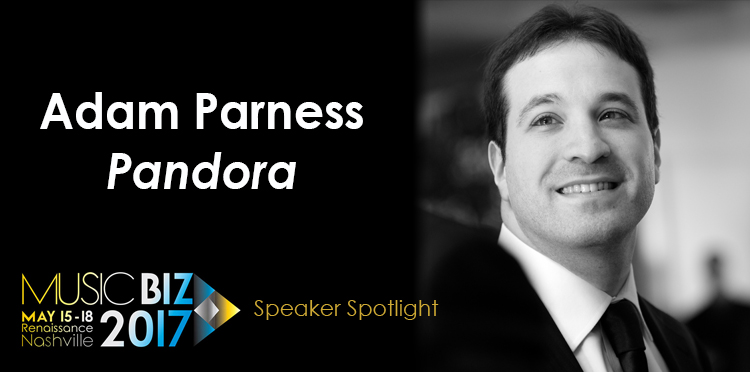 The Music Business Association is excited to welcome Adam Parness, Head of Publisher Licensing & Relations at Pandora for 'Hello vs. Hello: Collecting Global Songwriting Royalties' on Tuesday, May 16 at 10:30 AM during the Music Biz 2017 convention in Nashville! Check out the fun Speaker Spotlight below to get to know Adam little more before his Music Biz panel!
What's your favorite thing to do in Nashville — besides attend the Music Biz Convention?
I've been in love with Nashville ever since my first visit to Music City in 2006. Music is everywhere, and my absolute favorite thing to do is go see live music. My standby is going to Robert's Western World and sitting in front of the pedal steel player all night, but I'm absolutely in love with all of Nashville's varied music venues. And, no trip to Nashville is complete without some hot chicken and a visit to Gruhn's Guitars.

Who do you predict will be the biggest breakout artist in the next year or years ahead?
Lemon Twigs! They played at Pandora's SXSW event and absolutely brought the house down with their combination of Beatles-esque trippy vocals and prog influences. You're going to be hearing a lot from them in 2017.
What's the first concert you ever attended OR what's the best concert you've ever attended? What did it mean to you and can you describe the experience?
The best show I ever attended was Queen with Adam Lambert at Wembley Arena in London. I miss Freddie and nobody can ever replace him, but what a tribute to the man this hometown show was! Queen were childhood heroes to me and this was one of the best days of my life.
How did you know you wanted to get into the music industry? Or maybe you didn't?
I've been playing guitar since I was 10 years old and originally planned to be a full-time independent music producer/engineer. While working in New York City recording studios throughout my teenage years and early 20s, I became fascinated with the proliferation of home recording technology but noticed that there was still a massive distribution problem for independent artists. The advent of the original subscription streaming services was a huge moment for me in democratizing distribution channels and giving all artists a chance to have their music heard. This remains a big part of what my team does every day at Pandora.

What panel, presentation, event, etc. (other than your own) are you looking forward to the most at Music Biz 2017?
The Industry Jam!
What can attendees expect from your panel at Music Biz 2017?
Technology, metadata, and accurate ownership information is critical to ensuring that songwriters and publishers are paid accurately for the use of their musical compositions. Given the recent and expected future growth in global music streaming services, this topic is more important than ever.
---
Music Biz 2017, the industry's premier convention, is set to bring together 1,500+ music industry professionals from across the globe Monday, May 15 to Thursday, May 18 in Nashville at the Renaissance hotel. The "four most important days on the industry calendar" will include 100+ panels; workshops with Apple, Amazon, Google/YouTube, SoundCloud, Spotify, and Pandora; meetups; mixers; live music; awards honoring Reba McEntire, Adele, Lukas Graham, Maren Morris, Paula Abdul, Hamilton & more; keynotes from Spotify's Troy Carter & Atlantic's Julie Greenwald with Kelly Clarkson; and so much more.
Visit musicbiz2017.sched.com for the full schedule and musicbiz2017.eventbrite.com to register!
Questions? Reach out to Music Biz's VP of Communications Nicole Hennessey at nicole.hennessey@musicbiz.org today!