Music Biz 2017 Business Awards Breakfast Scripted Remarks from Music Biz President James Donio, Chair of the Board Fred Beteille, and Vice Chair Steve Harkins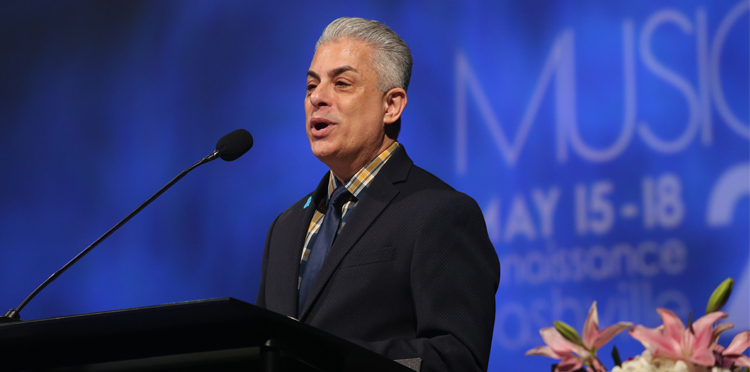 Music Biz President James Donio
When we decided to move the convention to Nashville three years ago, we had a really strong sense that bringing Music City and Music Biz together would be, as they say, a match made in heaven. Well, the results speak for themselves. I am elated to tell you that Music Biz 2017 is a milestone for us. It's our largest convention since 2001! The biggest in 16 years. 
We have over 2,000 attendees from 750 unique companies, organizations, schools, plus related professionals, from virtually every facet of the business. More than 400 are here for the first time. Our members realize the value of this experience and continue to increase the number of staffers afforded the opportunity to attend. And the buzz we've built is clearly reaching new constituents who are finding out they just can't afford NOT to be here.
We all benefit from the fresh energy and excitement added to the event, not to mention opportunities for everyone to find and cultivate new alliances and partnerships, which is what we're all about.​
And our community is more global than ever before. We have delegates from Australia, Brazil, Canada, Denmark, France, Germany, Malaysia, Mexico, Sweden, United Kingdom, and Ukraine.

I think a big reason for this growth is our expansive and extremely eclectic program, with more than 100 different sessions and over 250 speakers. There really is something for everybody! We are deeply committed to expand and change Music Biz to fill your needs and interests, and to set it apart with meetings and programming you cannot get anywhere else.

That's why on Monday we showcased an unprecedented series of workshops and presentations by top music ​services at such a pivotal time in our business. Our members Amazon, Apple, Google/ YouTube, Pandora, SoundCloud, and Spotify hosted a full day of interactive workshops and presentations that drew standing room only crowds.

What's more, our new Physical Biz Action Committee ​is ensuring that the role of the physical marketplace is front and center this year. We have scheduled a series of action-oriented meetings with the management community, and panels focusing on vinyl and catalog sales.

The second edition of our Leading Ladies program, powered this year by Nielsen, with Julie Greenwald, Kelly Clarkson and an impressive line-up of top female executives was a standout on Tuesday afternoon. They shared their inspiring career journeys and explored their creative partnerships. Today, Troy Carter will talk about his role at Spotify with The Tennessean's Nate Rau and answer questions submitted by attendees.
It's apropos that this year's event is a milestone for Music Biz, and there are a host of other milestones I want to speak about this morning.
It's been a long time since I've been able to say this at our convention. According to the IFPI, the global recorded music market grew by 5.9% in 2016, its highest rate of growth since IFPI started tracking 20 years ago, to $15.7 billion dollars. At the end of 2016, there were 112 million users of paid music streaming subscriptions driving year-on-year streaming revenue growth of 60.4%.

Digital income accounted for half the global recorded music industry's annual revenue for the first time. And growth in streaming more than offset a 20.5% decline in downloads and a 7.6% decline in physical revenue. In order to maintain sustainable growth after a 15-year period during which revenues dropped by nearly 40%, we will obviously face some challenges. But we will build a sound future… together.

Actionable data will be ever more vital as access models add to their domination of the market. Stateside, RIAA is helping provide that data. They estimated retail revenues from recorded music in the United States grew 11.4% in 2016 to $7.7 billion. The primary driver of that growth was a doubling of paid streaming music subscriptions, which helped the American music business reach its own milestone… the biggest gain in almost two decades. The transition from sales to access as the predominant method of music consumption continues its upward momentum from 2016 into 2017.
Data graciously provided to us from both BuzzAngle Music and Nielsen Music indicates that year-to-date overall album consumption is up more than 7% and overall audio on-demand streams are up more than 60% compared to last year. As the year continues to unfold, I am sure the conversations will heat up about what's next for the industry. There are exciting new developments in voice-activated discovery, artificial intelligence, and augmented and virtual reality. While I am sipping Mai Tais on a beach in Tahiti, maybe my hologram will deliver next year's speech.
Not to be outdone as Q2 unfolded, Record Store Day 2017 celebrated its 10th Anniversary milestone around the world. The resulting stats from Nielsen underscore the unquestionable vitality and importance to the marketplace of the independent music community.
Total album sales at indie retailers rose almost 200%.

The 649,000 albums sold at indie record stores during the week was the highest non-Christmas season sales week for the retail sector since 2006.

Overall, vinyl sales had their biggest week outside of the Christmas season since Nielsen began tracking in 1991.

Indie stores represented 31% of physical sales…the best week ever!
Let's congratulate Record Store Day on 10 amazing years of priceless service to this industry, and show our appreciation for not only its commercial contributions, but for the tremendous global goodwill generated by this event for all of us. The Record Store Day Town Hall will take place tomorrow at 9 AM to debrief and start planning for 2018.
 Music Biz has been focused on executing its own 3-Year Plan which places our primary emphasis on creating the best events possible to provide members and the industry with access to information, networking and new business opportunities.

This little face-to-face get-together is certainly proof of that, along with the eclectic menu of virtual get-togethers that form our Common Ground webinar series…

…and our Entertainment & Technology Law Conference series, which is completing its 7th year.
Our strategic plan also includes a bigger emphasis on building the Music Biz brand internationally. With that in mind, our Vice President of Digital Strategy & Business Development Bill Wilson cultivated a partnership with Music:Ally to mount a brand-new event called NY:LON Connect. It was envisioned as a new high-level, limited attendance, executive summit taking place in January, alternating between New York and London, to provide a forum to assemble leaders from the international music industry to discuss and debate key issues and trends. Feedback from this year's very successful debut in London was extremely positive. Our discussions with Music: Ally are currently underway for the second edition to take place in January 2018 in New York. So stay tuned for our announcement about dates and venue.
Another pillar of our strategic plan focuses on education. Our Academic Partnership Program continues to flourish, encompassing 20 colleges and universities across the country that are preparing the next generation of music business creators and leaders. The most recent additions are the Bandier Program at Syracuse University, and Temple University in Philadelphia. The latter is particularly special for me as it is my alma mater.
That translates into almost 2,000 students who are active members of the Music Biz community. Almost 200 are taking full advantage of their affiliation by attending our event here this week. I know you'll make them feel welcome as you always do. We've expanded our Career Day opportunity for students to be introduced to companies at which they may find internships or jobs. Last year, students were hired by CAA, Redeye and SESAC among others. You'll hear about how student members are benefiting from our Scholarship Foundation later this morning.

Of course, as we reflect on the high points of the last year, we cannot help but think about our saddest moments. It's not easy to accept the painful and heartbreaking loss of members of our music community. Over the past year, we've had to say far too many good-byes.
Last August, we were truly devastated to learn of the death of our Board Treasurer John Trickett of immergent. He was a renaissance man in the music business — a producer, engineer, publisher, and record label and commerce executive, not to mention an accomplished songwriter and musician.

During John's years of service to NARM and Music Biz, he brought great vision, creativity, passion, innovative spirit, and good humor, as well as a solid grounding and experience in business finance and strategic planning. His dedication to the Association was exemplary, always contributing the generous gift of his time and talents in the most selfless way possible. We cannot thank him enough for all that he did.
From my personal perspective, over the more than a decade that I had the pleasure of knowing him, John became not only a trusted adviser, but a wonderful friend, and I miss him more than I can say.

The passing of former Trans World Entertainment CEO Bob Higgins was also a shock to all of us. Bob was
a longtime and very supportive Association member and a legendary music and entertainment retail pioneer. Bob received our Presidential Award for Sustained Executive Achievement in 2009.
That Award underscored his four decades as a visionary entrepreneur who truly made a positive impact on music retailing. Under his leadership, Trans World evolved and embraced multimedia convergence, progressively blending the realms of brick-and-mortar and digital experiences for consumers.
And most recently, we lost Gary Arnold after a long and heroic battle with cancer. Gary was a former Board member, and accepted many awards on behalf of Trans World and Best Buy during his tenures with each company. I think we'd all agree that Gary's person and persona certainly loomed large in our business… and, like John, Bob and so many others… is gone too soon.
Let's have a moment of silence for all of the artists and executives whose contributions we valued and whose memory we will cherish forever.
As always, I want to express my deep appreciation to our Board of Directors and, of course, my amazing staff for their brilliant and tireless efforts creating this year's convention. Please join me in a round of applause for the Music Biz Board and staff.

And, naturally, none of this would be possible without the terrific support of our generous sponsors, advertisers and promotional partners. Thank you all so much.
Before I conclude, I want to extend our congratulations to others who are celebrating milestones this year. The Orchard on its 20th Anniversary, which will be commemorated at a special happy hour tonight. The Nashville Songwriters Association International on its 50th Anniversary, that will be honored at a Songwriters Round tomorrow afternoon. The Country Music Hall of Fame's 50th Anniversary. 
Capitol Records 75th Anniversary, supported by their generous gift of commemorative Beatles mugs and glasses you've all received. The Nashville Symphony's 70th Anniversary, and we were so pleased to have members of that esteemed group perform at the Industry Jam on Monday evening. And how about the Ryman's 125th. Don't miss the chance to stop there during your time here. Next year, Music Biz will reach another milestone of its own, as we mark 60 years of serving the industry.
Next week, I will begin my 30th year working for the Association. For those of you who may be keeping track, yes, that's exactly half of my age. No one starts a job thinking that they'll end up spending half of their life doing it… certainly not in today's business climate.
I am so grateful for being given the gift of this amazing, unpredictable and ever-challenging adventure by the late, great Mickey Granberg, and for being mentored by my predecessor Pam Horovitz and two other exceptional leaders who chaired our Board — the inimitable Rachelle Friedman and Sue Peterson. Without their guidance, advice, support, and encouragement, I would not be here today. Nor would I have the unforgettable memories of the past three decades… and the promise of what's to come. How very fortunate are we all to get to spend our lives with music. And, I believe that good fortune comes with an important responsibility.
As I said when I stood at this podium last year, our business and our Association value acceptance, diversity, equality, and inclusion — for everyone. It seems even more important in these tumultuous times. I urge us all to stand in unity and each consider what we can say or do to underscore our commitment to these values.
The Ampersand pin you received this morning was provided by the GLAAD organization. Wear it to demonstrate your commitment.
It's also vital that music education, and support for all the arts, maintains its rightful place in our culture. We all have to do whatever we can to make certain that's the case. Thank you again for being here, and I hope this experience is everything you want it to be.
Before our next speaker comes to the podium, I want to acknowledge him for his efforts to create the spectacular concept now known as the Industry Jam, which we all enjoyed on Monday evening. Ladies and gentleman, our Vice Chairman of the Board, from Baker & Taylor…Steve Harkins. 
— 
Vice Chair Steve Harkins

Good morning. I am happy acknowledge the good work of the Association's Scholarship Foundation.
Since 1966, the Foundation has awarded almost eight million dollars in financial assistance to deserving students. All of the recipients have been employees or children of employees at our member companies, or students at our academic partner institutions. The Foundation is truly assisting our future industry leaders.
It is only because of the continued generosity of our donors that the Foundation is able to continue
this valuable member benefit. Thank you Atlantic Records, Big Machine Label Group, Sony Music Entertainment, Redeye, Spotify, Trans World Entertainment, Universal Music Group, and WEA for your support. And a special thanks to Apple Music for graciously donating gift cards to all of this year's winners.

This year alone, contributions to the Foundation have resulted in 25 outstanding students receiving scholarships. That's $47,000 in assistance just this year! Two winners are present here today: Sarah Gutierrez-Riera from University of Texas San Antonio and Carla Hendershot from Ferris State.  Let's have a round of applause for Sarah, Carla and the entire Scholarship Foundation's Class of 2017.

I also want to take a moment to thank all of you who came out Monday evening for Industry Jam 2 that benefitted the Scholarship Foundation, which is near and dear to my heart. Thanks to all my colleagues who rocked out with me on stage and the many legendary musicians who also came out in support.
Also a shout out to all the companies who donated raffle items. I'm pleased to say that we raised another $10,000 for the Foundation — double what we made last year — and these monies will be awarded to students applying for scholarships in 2018.
I would like to take a moment to also thank those members that serve on the Scholarship Committee, and year-after-year devote their time to the selection process.
Duncan Browne from Newbury Comics

Glenn Dicker from Redeye

Laura Dion from Smithsonian Folkways

Rachelle Friedman from J&R Music World

Mitch Imber from WEA

Clay Pasternack from Clay Pasternack, Inc.

Dilyn and John Radakovitz from Dimple Records

Patty Schreiber from Sony Music Entertainment

Mavis Takemoto from Universal Music Group

And, last but not least, the Foundation's longtime Executive Director Pat Daly, whose dedication
and passion for this organization has set an example for us all for four decades!
—
Chair of the Board Fred Beteille
Good morning.
First off, on behalf of all of us, thanks to Jim and the Music Biz staff for all they do. They are amazing and are the reason this event is what it is. Let's give them a round of applause.
2 years ago, I spoke about collaboration. About how it was wrong for leaders in the music business to pit access models and digital commerce entities against ownership models and the traditional music industry. My warning was that us vs. them mentalities lead to retraction, not growth. Or put another way, only our collaboration leads to growth. We have a long way to go and a litany of challenges still to tackle, but we should take a second to be proud of what we've achieved so far. Our business is growing because we all worked together to make it so. Our vision for Music Biz is to be the manifestation of that collaboration, our collective spirit.
Last year, I spoke about Innovation. About how we can take nothing for granted, to never accept the status quo and that no matter if you were an intern or a CEO, an indie record store or a digital platform… that in today's world, the success of almost everything is rooted in the ability to quickly adapt and iterate. Our world is changing with dizzying speed… faster than any one person can see and internalize. In a world of exponential change, the people and companies that are the best at innovation will have the opportunity for success. This week, we're seeing our innovation manifest in the Industry Jam, workshops with digital companies, amazing keynotes, songwriter panels, and of course, like no other business, we innovate at the bar. There's nothing like innovating over a whiskey in Nashville. But, in all seriousness, our vision for Music Biz is to be the manifestation of that innovation, our collective spirit.
This year, for many reasons, is different than all the rest. These are confusing and troubling times. How do we navigate through this world? We do it with hope. We do it by knowing that no matter what they say on the news, no matter how bad it seems, nobody controls what you do every day. You wake up and do the best you can, and while we do our best in this business, we need to remember that music brings hope to people. At its root, this is what we do. This is our way of making the world a better place – bringing hope to people. Our vision for Music Biz is to be the manifestation of this hope, our collective spirit.
In this spirit, I am pleased to announce
that the Board has voted to undertake the next big, new project for the Association. We've decided to create the first Music Business Hall of Fame. Honorees will be recognized for making significant contributions to the industry in a variety of areas. The Board has formed a committee to work on the particulars of the nomination and induction process.
At this point, we expect the process to culminate with an annual induction ceremony, the first of which will be at next year's convention.
We're all really excited about the potential of this new initiative, and believe this will give our industry and our future something to aspire to… we look forward to sharing more details as we have them.
Lastly, please join me in recognizing Music Biz's Board of Directors. I ask that each Board member stand when I read your name.
From Universal Music Group,

Candace Berry

From The Sound Garden,

Bryan Burkert

From Redeye,

Glenn Dicker

From INgrooves Music Group,

Amy Dietz

From Sony Music Entertainment,

Bob Garbarini

From Spotify,

Rob Harvey

From Entertainment One,

Michael Healy

From Schoolkids Records,

Stephen Judge

From Pandora,

Elizabeth Moody

From Super D/Alliance,

Bruce Ogilvie

From Dimple Records,

Dilyn Radakovitz

From Big Machine Label Group,

Mike Rittberg

From Google/YouTube,

Gwen Shen

; and

From Apple Music,

Colin Young
Serving with me on the Executive Committee are:
Vice Chairman, from Baker & Taylor,

Steve Harkins

Treasurer, from Warner Music Group,

Matt Signore

And Secretary, from Amazon,

Ryan Redington

.
How about another round of applause for the entire Board.
I would like to personally thank all of the Board members for the gift of their time, their candor and especially their experience during my second year as Chairman. It has been invaluable. Stay tuned for further details.