Music Biz 2016 Convention Brings Industry Leaders Back to Nashville May 16-18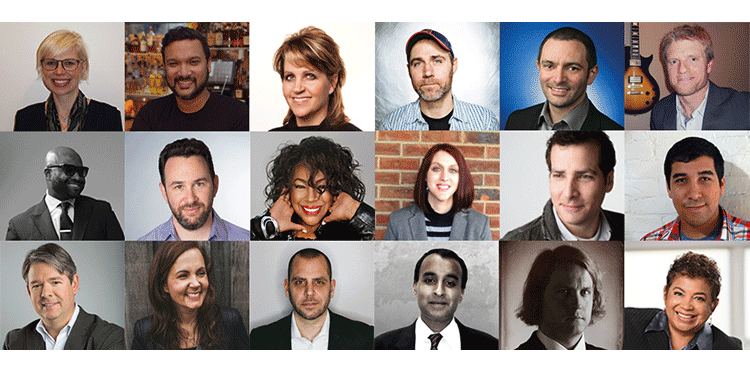 More than 200 speakers to present at Music's Leading Ladies event, Metadata Summit, Music Startup Academy, Entertainment & Technology Law Conference, specialized Town Halls and Summits, plus much more
Special session to address importance of LGBT community with data from GLAAD and Nielsen Music
Little Big Town, Sam Hunt, Halsey, Cheap Trick, The Monkees, T.J. Martell Foundation, John Esposito of Warner Music Nashville, and Redeye to receive awards
Live performances from Brett Eldredge, KONGOS, The Strumbellas, Jon Pardi, and more
---
May 4, 2016 – The Music Business Association (Music Biz) will return to Nashville May 16-18 for Music Biz 2016, the music industry's premier convention. Held at the Renaissance Nashville Hotel, the 58-year-strong event gathers retailers, subscription services, record labels, publishers, artists, songwriters, managers, startups, branding professionals, music educators, and representatives from all other facets of the industry to discuss some of the most pressing topics facing the music business today, including the explosion of streaming, importance of metadata, collection and utilization of fan data, legal issues around copyright and touring, creation of sustainable startups, direct-to-fan initiatives, music education, and much more. The all-inclusive program, featuring more than 200 speakers, is made up of events geared to those at all levels of the music business, from students to independent artists to startup founders to high-level music industry executives. This provides a unique opportunity for everyone in the industry, regardless of age or experience, to meet, mingle, and share ideas on how best to bring the business into the future.
"Music Biz 2016 is the best place for those in the industry, or looking to have a future in the industry, to come together, form new partnerships, strengthen existing ones, and discover the future of music," said James Donio, President of Music Biz. "Each year, we tackle the toughest issues facing our business with targeted programming presented by some of the biggest names and brightest minds around. We also make sure to remember what it's really all about by featuring live performances from promising new artists, and rewarding accomplishments of those who defined the previous year in music. We're looking forward to another great event in Nashville."
Prior to the official start of the convention, Music Biz will host the first-ever Industry Jam on Sunday, May 15. The centerpiece of the event will be a live performance from house band The R.A.T.S (Rock Against Terrorism), featuring a lineup that includes both big-name musicians and top industry executives, which will be joined throughout the night by special guests, including John Densmore of The Doors. The event will also feature the presentation of an Outstanding Achievement Award to The Wrecking Crew, a legendary collective of L.A. studio musicians. The cost of attendance is $20 per ticket, with college students admitted free. All proceeds will benefit Music Biz's Scholarship Foundation. To purchase a ticket in advance, visit http://industry-jam.eventbrite.com.
Music Biz 2016 will kick off on Monday, May 16, with the fourth annual Metadata Summit, which will feature a keynote presentation from SOCAN's Michael McCarty and Jeff King as well as sessions on international infrastructure, new business models tied to metadata, and global publishing data. The Summit will run concurrently with this year's Music Startup Academy, which will teach attendees all they need to know about important topics such as labels, publishing, business development, and content acquisition as well as provide venture capitalist, PR, and branding advice.
Monday will also feature Music Biz's first "Finding Your Voice: Music's Leading Ladies Speak Out" event, which will bring together many of the music industry's most influential female executives as well as legendary Supremes co-founder and vocalist Mary Wilson and songwriting trio the Love Junkies (Hillary Lindsey, Lori McKenna, Liz Rose), who won a GRAMMY Award this year for Little Big Town's "Girl Crush." These female luminaries will explore the successes and struggles of their careers and provide insight and inspiration for how women can reach even greater heights in the future.
The day will also include the Artists, Management & Touring Town Hall, which will bridge the gap between the music management and commerce communities by providing in-depth insight on how streaming data can influence touring and unlock doors for artists, the current management landscape and how to navigate its continuing evolution, and how to harness the power of fan data to maximize tour revenue. It will be immediately followed by the Music Management & Marketing Mixer.
The convention's first day will draw to a close with the WEA Welcome Reception, including the presentation of an Outstanding Achievement Award celebrating 50 years of The Monkees, the Pandora Presents concert event featuring performances from Platinum-selling Alternative band KONGOS and JUNO Award-winning Alternative Country act The Strumbellas, and Late Night with UMG Nashville & Jon Pardi.
Tuesday, May 17, will begin with this year's Awards Breakfast & Presentations, sponsored by the Country Music Association (CMA). After a welcome speech from Nashville Mayor Megan Barry, Music Biz President James Donio will deliver the President's Address and Music Biz Chairman Fred Beteille of YouTube will present the Chairman's Message, announce the Scholarship Foundation Class of 2016, and introduce the 2016-2017 Music Biz Board of Directors. The Presidential Award for Outstanding Executive Achievement will then be presented to John Esposito of Warner Music Nashville and the Independent Spirit Award will be presented to Redeye. The event will wrap with a live performance from Country star Brett Eldredge.
Music Biz will also make good on its promise to promote LGBT equality in Tennessee and throughout the world by hosting "Accelerating Acceptance: Music and the Importance of LGBT Fans." The session – a response to Tennessee's adoption of a bill that allows mental health professionals to deny service to individuals based on "sincerely held principles" – will feature GLAAD's Zeke Stokes and Nielsen Music's Matt Yazge, who will provide insights on the cultural acceptance gap for LGBT individuals, the role music can play in creating a more inclusive society, and the impact these engaged, valuable, and trendsetting music fans have on the industry.
Music Biz 2016's second day will also feature the Brand & Strategic Partnerships Summit, which will be headlined by a Brand Expert Activation session with Afdhel Aziz of Absolut Labs and Joe Belliotti of The Coca-Cola Company, two of the most active and valuable brands in music, experiential, and nightlife. They will discuss their views on the music industry, artist selection, touring, innovation, and new technologies as well as explain how to achieve real world success via brand partnerships. Other panels and presentations at the Summit will delve into pitching, leveraging data for branding deals, fan insights, social metrics, strategy, brand building, and more. The day will conclude with the Redeye 20th Anniversary Celebration and Spotify Presents: Anatomy of a Song.
Wednesday, May 18, will be headlined by the Awards Luncheon, sponsored by Dropbox, in which Music Biz will honor the best in the business over the past year. This year's honorees include Country singing group Little Big Town, who will receive the Artist of the Year Award; rising Country star Sam Hunt and Alternative singer/songwriter Halsey, who will receive Breakthrough Artist Awards; veteran Rock band Cheap Trick, who will receive the Chairman's Award for Sustained Creative Achievement; and the T.J. Martell Foundation, which will receive the Harry Chapin Memorial Humanitarian Award.
The final day of Music Biz 2016 will also include the Songwriters & Publishers Town Hall, led by a keynote presentation from Steve Bogard, Director of The Copyright Forum and a songwriter with BBR Music Group's Magic Mustang Music who has written nine #1 Country songs. His presentation will offer a unique viewpoint on today's copyright issues, attacking the problem from both an artist and business perspective. Other issues to be discussed during the sessions include artist and songwriter development, indie publishing, synch licensing, streaming promotions, and more.
The day will also feature the latest edition of Music Biz's Entertainment & Technology Law Conference series. Fresh off its biggest installment yet in New York City, the law conference in Nashville will tackle hot-button issues facing today's entertainment attorneys, including copyrights and fair use in 2016 and the legal implications and agreement clauses behind touring and music festivals.
The convention will end with WHO KNEW, a music-industry networking event mixing executives, powerbrokers, undiscovered mavericks, and rising stars. It will feature a panel with speakers including Music Biz President James Donio, Jeff Cuellar of AC Entertainment, Ali Harnell of AEG Live, Jeremy Holley of FlyteVu, Music Row Magazine Founder David Ross, and Michael Weintrob of Instrument Head.
Music Biz 2016 will also present a variety of programming aimed at music educators and their students, including the Music Business Student Meetup: Academia & The Real World on May 16 and the Music Business Educators Meetup on May 18. Other notable events include the Direct-to-Fan Forum on May 18 and a variety of breakout sessions to be held throughout the convention.
Registration remains open. In addition to company pricing, tickets for Music Biz 2016 can be purchased at special rates for individual professional members ($379), students ($74 for members and $99 for non-members), and educators ($249 for members and $299 for non-members). A discounted rate of $199 is also available for first-time independent retail and label attendees. For more information or to register for Music Biz 2016, click here.
To apply for press access to Music Biz 2016, fill out the form at https://musicbiz.wufoo.com/forms/music-biz-2016-editorial-press-application.
Click here to view the Music Biz 2016 schedule.