Mobile Device Share of Listening On Track To Surpass Traditional Radio Receivers in the U.S.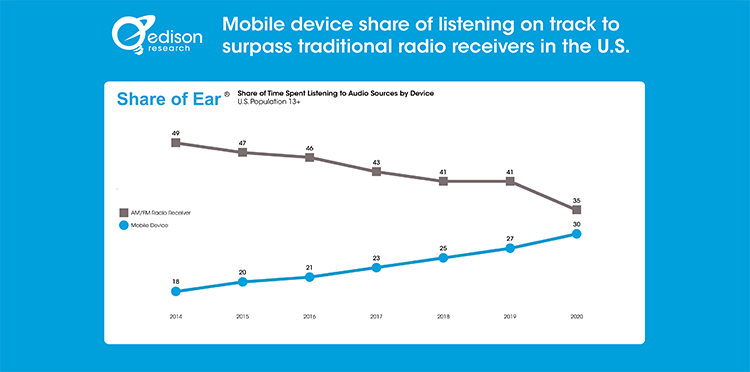 Listening on a mobile device now accounts for 30% of all time spent listening to audio by those age 13+ in the U.S., an increase of 67% since 2014, according to the latest Share of Ear® report from Edison Research. Listening on a mobile device has been growing steadily since Edison Research's Share of Ear study began tracking audio consumption among Americans in 2014.
The gap between listening on a traditional radio receiver and a mobile device among those age 13+ has narrowed remarkably quickly since 2014: 31 percentage points separated the two in 2014 and only five percentage points separate the two today. The traditional AM/FM radio receiver does account for the largest share of audio consumed but has decreased the most since the survey began, now accounting for 35% of all audio consumption compared to 49% in 2014.
Click here to read the full report.