Merlin CEO Jeremy Sirota to Give First Public Interview for Music Biz 2020 Global Business Community Program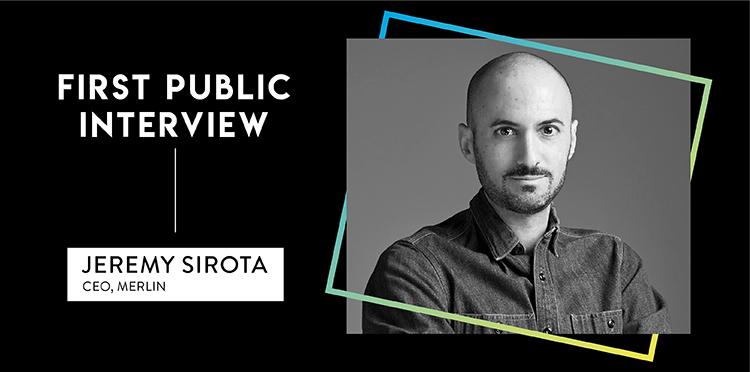 March 3, 2020 — The Music Business Association (Music Biz) today announces that Merlin CEO Jeremy Sirota will give his first public interview since joining the company in January during Music Biz 2020 at the JW Marriott Nashville. The interview, conducted by Music Biz President Portia Sabin, will take place Tuesday, May 12 at 1:30 pm.
Sirota's interview will commence Music Biz's Global Business Community program — a series that explores the rising international markets set to make the greatest impact in the near future, such as Latin America, where many of Merlin's members have a particular strength. 
In addition to covering Sirota's new role at Merlin and his tech and music background, the interview will discuss the changing landscape of the global music market. In recent months, Merlin has announced landmark deals with Boomplay and TikTok, amongst its more than 25 key digital partnerships, as well as its landmark Chinese deals.
"Merlin has played a vital role advocating for fair valuation of its member labels' music for decades, and the addition of Jeremy will help them continue to proactively approach licensing in the age of big tech platforms like TikTok, Instagram and Facebook," commented Music Biz President Portia Sabin. "As a fellow new head of a major industry trade group, I look forward to a spirited discussion of how we can lead our organizations to meet the ever-changing needs of the global industry."
"It's an honor to participate at Music Biz, and to join Portia in discussing how new and emerging technologies continue to shape our business and give access to more consumers around the world," Sirota added. "Independent music consistently drives a higher degree of engagement on streaming platforms – this makes it a particularly exciting time for artists to find new ways to connect with their fans and other audiences. My mission is to identify key players within new technologies and territories, facilitate the conversation that shapes their view of music, and ultimately create more valuable partnerships."
Prior to his appointment, Sirota led efforts for Facebook's music team to license and acquire recorded music rights from independent record labels and distributors around the world, enabling innovative social music features across Facebook, Instagram, Oculus and Messenger. As a vocal advocate of emerging technologies and independent music, he is currently a mentor to the TechStars Music Accelerator Program.
Sirota also previously served as SVP and Head of Business & Legal Affairs for both Warner's artist and label services division, Warner-Elektra-Atlantic (WEA), and Warner's indie distribution arm, Alternative Distribution Alliance (ADA). In his role at ADA, he helped craft some of the largest distribution deals in the company's history and built longstanding relationships throughout the global independent music sector with label partners including Beggars Group, BMG, Domino, Dualtone, Epitaph, Merge, Polyvinyl, Sub Pop, and Tommy Boy.
This year's Global Business Community program will continue after Sirota's interview with a focus on the markets of Nigeria, Latin America, and more. Consult the Music Biz 2020 program schedule for more details.
About Music Biz 2020
Music Biz 2020 will return to Nashville May 11-14 at the JW Marriott in the heart of downtown Nashville. The music industry's premier business-focused event, the Music Biz Conference offers a platform for the commerce, content, and creative sectors of the industry to network, get on the cutting edge of the latest trends, and meet with trading partners. More program and awards announcements will be made in the coming weeks. For the most up-to-date conference information, go to musicbiz2020.com. To register for Music Biz 2020, visit musicbiz2020.eventbrite.com.
About The Music Business Association
The Music Business Association (Music Biz) is a not-for-profit membership organization that advances, promotes and invests in the future of the music business by providing a trusted forum where ideas and cooperation flourish. Through events, education and engagement, the Association brings together the full breadth of the industry for unparalleled access to networking, resources and thought leadership. 
About Merlin
Merlin, the digital licensing hub for the world's independent music sector, commands over 15% of the global recorded music market. Merlin offers digital music services and emerging technology companies the means to efficiently license the world's most commercially successful independent music. This enables Merlin's members to more effectively capitalize on revenue from these services, while ensuring their repertoire is appropriately valued.

Merlin's membership includes tens of thousands of independent record labels, distributors and artist management companies from virtually every country in the world. A sample of members includes Altafonte Distribution, Armada Music, AWAL, Beggars Group, Better Noise Music, Cinq Music Group, Curb Records, DangerCrue, Dim Mak, Domino, Entertainment One, Epitaph Records, FaroLatino, Foundation Media, Freeme Digital, IDJDigital, Innercat Music, !K7, Mad Decent, mtheory, Mom + Pop, Mushroom Music, Ninja Tune, [PIAS], Pony Canyon, Redeye Distribution, Secretly Group, Symphonic Distribution, Sub Pop and Warp Records.

Merlin has licensed over 25 key digital services, including Alibaba, Boomplay, Deezer, Facebook/Instagram, JioSaavn, NetEase, Pandora, SoundCloud, Spotify, Tencent, TikTok, and YouTube Music/Google Play Music, as well as active conversations with dozens more.

Merlin has offices in New York, London and Tokyo.
For Music Biz Media Inquiries
Kiva Kamerling
The Press House
kiva@thepresshouse.com
347-804-4675
For Merlin Media Inquiries 
Dominic Athanassiou
Name PR
dom@namepr.co.uk
+44(0)20 8357 7305