Martina McBride to Receive Humanitarian Award at Music Biz 2015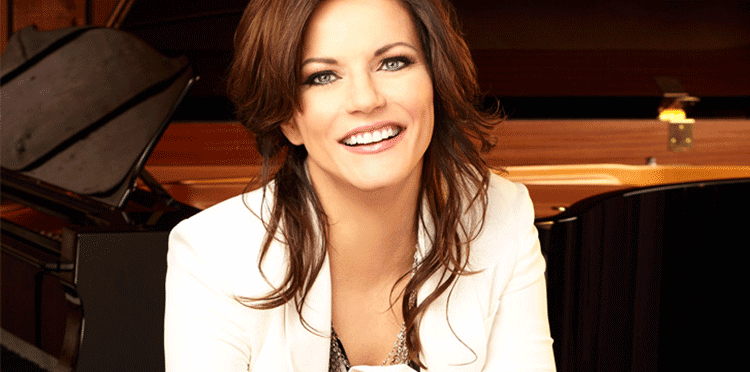 Acclaimed Country Icon honored for tireless advocacy to end domestic violence
January 15, 2015 – The Music Business Association (Music Biz) will present Country superstar Martina McBride with its prestigious Harry Chapin Memorial Humanitarian Award during the Music Biz 2015 Awards Luncheon at 12 p.m. on Thursday, May 14, at the Sheraton Nashville Downtown Hotel in Nashville. The Award recognizes McBride's outstanding philanthropic efforts through her work on behalf of domestic violence, which includes being the spokesperson for the National Domestic Violence Hotline, National Network to End Domestic Violence, and Tulsa Domestic Violence as well as uniting with Loveisrespect and the National Teen Dating Abuse Helpline to create the "My Time to Shine" program to educate teens on how to have healthy relationships. The award-winning vocalist has used her voice throughout her musical career as well, bringing to light the issue most notably in "Independence Day" and "A Broken Wing." McBride has also lent her support to various other organizations such as hosting the Middle Tennessee's YWCA Celebrity Auction every year since 1995 – raising more than $500,000 – and working with the Kids Wish Network to fulfill the wish of a young girl battling Muscular Dystrophy. In 2010, she performed "Unchained Melody" during the Stand Up 2 Cancer Telethon with Leona Lewis, Aaron Neville, and Stevie Wonder. 
"Martina is an incredible singer and songwriter, whose phenomenal talent and success is matched only by her desire to give back to those in need," said James Donio, President of Music Biz. "Over the years, she has donated a remarkable amount of her time and money to deserving charities fighting to end domestic violence. She truly embraces the philanthropic values of the award's namesake, Harry Chapin, and we are thrilled to present her with this honor at Music Biz 2015."
Additionally, McBride empowers fans through Team Martina, a global charity group that works to make the world a better place through the healing power of music. In Nashville, she and her team raised over $40,000 for a cancer research grant to help doctors at Vanderbilt University while the Atlanta group raised $33,000 to help the city begin construction on an innovative new green space for kids living in an urban area with few playgrounds. Team Martina also raised money to fund a music education program for Covenant House, a shelter for orphaned and abused girls, in Guatemala, providing them with instruments and music lessons. In all, the group has raised over $275,000 for their initiatives.  Fans also have the opportunity to participate in hands-on volunteering to help the communities that McBride performs in during her 2015 tour. For more information or to join the group, visit TeamMartina.com.
"I believe that anyone blessed enough to achieve success has a responsibility to help those in need," said McBride. "While my goal was never to be recognized for my charitable efforts, this award is proof that we can all make a difference, no matter how small, in the lives of others. I hope this recognition will encourage more people to support worthy organizations that speak to their hearts."
McBride most recently signed to Nash Icon Records, a joint venture between the Big Machine Label Group and Cumulus, and is expected to release new music this year. Over the course of her illustrious career, McBride has sold more than 18 million albums, scored six #1 singles, and became the first solo female artist to debut at #1 on the Top Country Albums chart with an independently released and distributed album in the chart's 50-year history. McBride has earned more than 15 major music awards, including four wins for Female Vocalist of the Year from the Country Music Association, and the petite powerhouse's EVERLASTING TOUR has been well received with sold-out shows across the country. Ever the entertainer, McBride also released her first book, Around the Table, a full-color illustrated collection of her favorite recipes, hosting tips, practical menu planning advice, and themed décor inspiration.
The Harry Chapin Memorial Humanitarian Award was created in 1981 to honor the legacy of folk-rock singer-songwriter Harry Chapin, who fought tirelessly to end world hunger and received the Congressional Gold Medal in 1987 for his philanthropic work. He played a major part in the creation of the Presidential Commission on World Hunger in 1977 and co-founded the charitable organization World Hunger Year, which received the proceeds from merchandise sales at his concerts. Chapin wrote the #1 hit "Cat's in the Cradle"; top 40 singles "Taxi," "W*O*L*D," and "Sequel"; and scored a Gold album with 1974's Verities & Balderdash. Previous recipients of the Award have included Dee Snider, Annie Lennox, Melissa Etheridge, Norman Lear, Jackson Browne, and Bonnie Raitt.
Music Biz 2015, which will be held in Nashville for the first time in Association history on May 12-14, is the music industry's premier event, giving the commerce and content sectors a place to meet with trading partners, network with new companies, and learn about new trends and products impacting the music business. Registration is available now, with early bird discounts available until March 8. For more information or to sign up for the conference, visit Music Biz 2015.