[Keeping Tempo With Music Biz] — Using Technology to Empower the Creative Community: Q&A with Jammber CEO Marcus Cobb and SVP of Global Music Rights Dae Bogan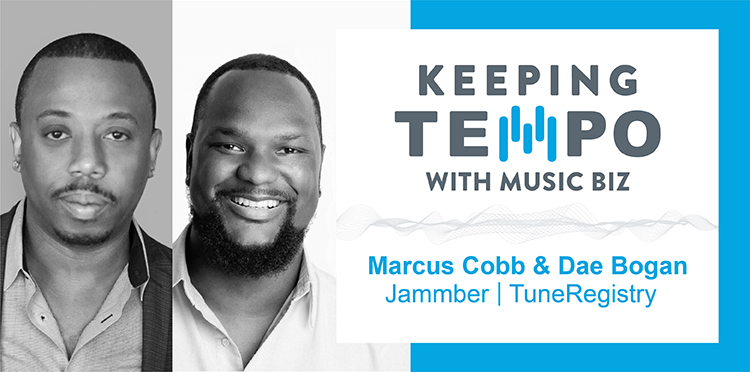 Music payment and workflow management startup Jammber has developed a series of mobile apps that helps artists eliminate guesswork from the process of recording music ownership, allowing them to focus on doing what they love: writing music. Last month, Jammber announced that it had acquired TuneRegistry, a move that would establish Jammber as a full-service solution for creatives to both report music ownership and manage rights administration. We sat down with Jammber CEO Marcus Cobb and the company's newly appointed SVP of Global Music Rights, TuneRegistry co-founder and CEO Dae Bogan, to discuss the acquisition and what it means for both the future of the company and the industry.
Music Biz: Congratulations on the exciting acquisition! What inspired this move to unite Jammber and TuneRegistry's offerings?
DB: Thank you! My co-founders, Kara McGehee and Shane Zilinskas, and I have been actively looking to bring our music rights administration platform into an environment where our strength in works registrations, copyright research, and managing relationships with music rights organizations could be complementary to a broader suite of services aimed to empower DIY musicians and small to medium sized rights-holders. We've been big fans of Jammber for several years now and recently Jammber became an Enterprise client of TuneRegistry. We took that opportunity to learn more about Marcus' long-term vision for Jammber and all parties realized that our visions were quite aligned, so why not our products!
MC: There are three key steps to getting paid for your music: keeping track of the songs you work on and everyone you collaborate with; registering those songs, collaborations and ownership amounts; and finally collecting payment. TuneRegistry has spent the last five years perfecting the registration process with a focus on allowing publishers, distributors and creatives to easily register their songs across North America. By adding that service to the Jammber suite we're able to bring payments closer to the creative process which in turn makes them more accurate and faster. That is the holy grail of music metadata and has the power to change so many lives.
Music Biz: How do creatives stand to benefit from adding TuneRegistry's skillset to Jammber's DIY platform? 
DB: What Jammber does well is to get in at the onset of the creative process to help creators to start capturing the necessary metadata that would be later required to properly protect and administer rights. Jammber is there early enough to encourage creators to think about the ownership splits and rights surrounding their musical project. What TuneRegistry does well is to simplify and streamline the rights administration process. It is a natural hand-off from Jammber to TuneRegistry that we're working to make as seamless as possible in the creation-to-administration workflow.
MC: Exactly. It's about simplifying the complexities of getting paid and credit in this industry. Dae is a foremost expert in song registrations and administration. There are splits apps and song registration platforms and payment platforms that already exist. But the only way to really make it as simple as possible is to bring everything together into a seamless experience for creatives. In order to make something simple you have to understand the complexities enough to know what can be taken away or changed. Having the TR team on board expedites our learning process. 
Music Biz: In your own words, why do you feel it is important for artists to involve themselves in the management of metadata and rights?
MC: In a digital world, data equals money — no data, no money. We search for song titles and artists. We ask Alexa who sings "these lyrics." As an artist, your data on a song powers those searches and the more data you have the more ways you can be discovered, get credited and make money.
DB: There are virtually no barriers to entry in the music industry anymore. Any artist, with the means to record a track, can make that track available to the masses with the clicks. In general, artists should have a basic understanding of what the "business" entails, if they intend to build a lasting career in the digital music business. Self-published DIY artists have an even higher need to understand the importance of metadata and the best ways to earn royalties.
Music Biz: With the conversations around the drafting and signing of the MMA, there is a renewed focus in the industry today on fair compensation for creatives. Given that Jammber and TuneRegistry were both founded to support this effort, do you see any barriers that will still prevent artists from receiving fair compensation for their work?
MC: I think we too often expect creatives to think like businesses, in their early days especially. The learning curve is steep but we can help. The MMA is a great move forward, but these laws will only be effective for creatives if they use the tools that enable them to collect the needed data. Take the tax code, for example. Software like TurboTax makes finding your deductions much easier, thus putting money back in the pockets of families. Those hundreds and thousands of dollars go back into the economy. Music business tools have the opportunity to do the same for artists.
DB: Songwriters will remain at the mercy of the U.S. government as long as three-quarters of the income that songwriters earn in the United States continues to be regulated by the Copyright Royalty Board and through litigation in the federal rate courts. The industry cheered the news that mechanical rates would increase to over 40% in the coming years, but that was a brief win as digital service providers have already challenged this increase. The passage of the MMA showed us that players on both sides of the debate can come to the table to negotiate compromises to benefit the industry as a whole, but only time and execution will tell how favorable these things really are for artists. I think an interesting concept to watch in the arena of fair compensation is the user-centric payment system that Deezer is rolling out, a method of royalty allocation that some industry analysts have supported as more artist-friendly than the current pro rata model.
Music Biz: And how do you feel the industry can best support artists to overcome such obstacles?
MC: We need more companies and startups to develop services creatives can trust to simplify their business.
Music Biz: Metadata has become a hot topic in the industry, though some might say it's quite complex to navigate. How is Jammber looking to simplify the conversation about metadata and helping to involve new voices?
MC: Metadata is nothing new — in fact, it's been championed for decades by the "OGs" of music metadata — The team at DDEX, Maureen Droney from The Recording Academy and Alison Booth, a legendary A&R Administrator from Sony. Music Biz helped create a forum to discuss metadata but these people really paved the way for the discussion.
DB: This is why both Jammber and TuneRegistry encourage creators to capture metadata throughout the creative process. At TuneRegistry, we capture more metadata surrounding rights than any DIY-artist-facing platform. We are proud of our relationships with the metadata services including Gracenote, TiVo, MediaNet, Audible Magic, Exactuals-RAI, and several others that accept metadata submissions from DIY artists through our metadata delivery service and makes it available to the global music ecosystem. We've been doing our part to enrich the music industry with metadata and credits from thousands of tracks by new, obscure, and upcoming artists. 
Music Biz: Music Biz began covering metadata as a main discussion topic back in 2015, with attendance slowly ramping up year after year. This year's Metadata Summit during Music Biz 2019, for example, was standing room-only. Why do you think the conversation around metadata is picking up now?
DB: In my opinion, the conversation has been building momentum since at least 2015 but it certainly didn't begin then. Personally, I've been studying metadata seriously since that time. I conceptualized TuneRegistry to address the growing conversation around broken metadata and its impact on remuneration. We've seen a number of startups enter the picture to address metadata issues with practical solutions and optimistic ones backed by blockchain technologies. I think once streaming music surpassed digital downloads in 2015, publishers started to look seriously at the way in which songs were being licensed via the bulk electronic filing of Section 115 NOIs. 
We're going into 2020. The music industry is a streaming industry. Anyone in rights administration has been dealing with enough million-line or billion-lines reports and statements to know that quality metadata, big data processing, and process automation must be core to administration. 
MC: As I mentioned before, in the world of stream, no data equals no money. Better data is strategic advantage. Something as simple as song title has to be searchable across streaming services in order for fans to find you. And everyone wants to know what type of metadata is more valuable and how to collect it as easily as possible.
Music Biz: Artist collaboration is big business for the industry's current top genres; i.e. Rap and Hip-Hop. How does Jammber's platform modernize and simplify the process of managing splits for performers, co-writers, producers, etc.?
MC: We were told early on by publishers and managers that we would never get hip-hop artists to capture splits. Today, hip-hop is our fastest growing user group for our Splits app. Identifying owners up front, even if they haven't yet agreed on the ownerships shares, brings down the time and cost of monetizing music for the entire industry.
Music Biz: Looking to the future, do you see the industry shifting to a more user-centric focus for inputting and managing metadata and rights?
DB: The future will definitely see more direct-from-creator inputs of metadata and rights ownership everywhere as creators become more aware of their rights and entitlements. You will see platforms (like Jammber and TuneRegistry) make tools accessible to self-administer and self-advocate, and in return, the global music rights ecosystem will become more artist-friendly.
These strides are already taking place today. For example, we have helped many self-published songwriters create publisher accounts with HFA and Music Reports, which enables them to opt-in to compulsory and direct licensing opportunities that they've missed out on in the past. As a result, we've helped to unlock hundreds of thousands of dollars of new and unpaid royalties for musicians who had previously never seen a dime in publishing income from a particular release or across their entire catalog. This is going to grow. The independent music sector is growing and DIYers are leading that growth.
MC: Yes, I do. I see the tools shifting to better automate the process and communicate through data standards like DDEX RIN, for studio-level information or Open Music Initiative. Whatever the standards may be, the tools must become more aware and provide more interoperability.
Music Biz: Are there new or budding technologies that will help to make the process of reporting ownership or administering rights easier? And how does Jammber plan to leverage these?
DB: We've been exploring a number of opportunities, both in strategic partnerships and proprietary developments, that will probably make it into Jammber's roadmap. We're focused on practical solutions at the moment, which we believe we earn adoption.
MC: I'm not as bullish or excited about blockchain compared to others. There are still too many technical challenges with it that distract from getting the core business models right and really understanding the music value chain. Look at Audius for example (linked here). It's still a garbage-in/garbage-out problem. Instead, we are focused on tech that simplifies capturing studio-level metadata in real time, especially around contributors. This includes tools that are presence-aware or make use of sound and facial recognition.
That being said, I think delivery and reaching new audiences is just as important. I believe one of the biggest technologies we're going to see contribute to this over the next five years is 5G broadband, which will bring music streaming to entirely new audiences. We're also seeing large satellite and land investments in bringing broadband internet to remote regions of India, Latin America and Africa. Doing so has the opportunity to "grow the pie" for everyone involved.
You can learn more about Jammber's acquisition of TuneRegistry via the press release linked here.
---
Given the always-changing nature of the music business, it is extremely important for today's industry professionals to stay current with the latest trends and technologies influencing the ways we work. Our "Keeping Tempo With Music Biz" content series taps into the brain trust of expert voices from Music Biz's member and partner communities to help readers understand the machinations of the modern music business and arm them with the tools to help them achieve success.
You can read past "Keeping Tempo" articles via the portal linked here. And, stay tuned for more insightful discussions from our members and partners from across the industry!