[Keeping Tempo With Music Biz] — UGC ID, PLZ: An Interview with Song Sleuth CTO, Ibrahim Maali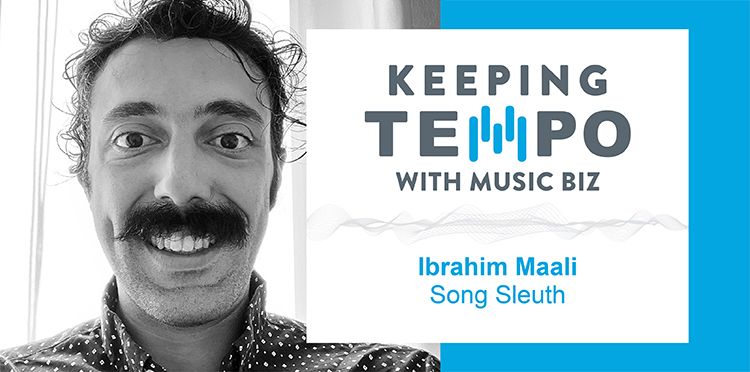 In an industry that is often black-and-white when it comes to AI/Machine Learning applications versus human input, Song Sleuth offers what might be considered a novel solution: a platform that marries proprietary AI with manual human review. Their two-step approach helps to more granularly analyze pieces of live music user-generated content (UGC) — be it a live concert recording, a song remix or a short-form video clip with live audio — and help link it to the proper content license so the original songwriters and/or artists can be fairly compensated. In this Keeping Tempo interview, we chat with Song Sleuth's CTO, Ibrahim Maali about the foundation of their unique approach to content identification, the growing prevalence of UGC in and out of the music industry, and the future of this rapidly expanding new revenue stream!


Music Biz: Song Sleuth's product aims to identify uses of live music in user-generated content (UGC) platforms to ensure that — can you discuss why this was the content area you've carved out to monitor?
Ibrahim Maali: A couple of years ago, myself and Song Sleuth co-founder, Jordan Gross discussed the possibility of music slipping through the cracks of existing monitoring systems. He had previously run a large Karaoke channel on YouTube and we collaborated through my music data analytics company, Cache CDS to prioritize and strike licensing deals with music publishers. This unlocked tremendous value for all parties, including and especially the publishers. We knew of existing systems such as Content ID which compare the similarity of one piece of audio to another. We wondered, however, "what about when the audio is so different from the reference?"
On a hunch, I began looking into live concert footage by some of our favorite artists, and we were shocked to see how much of it was unlicensed! I've been to more than a few concerts myself, and filmed some of my favorite songs. Rewatching that footage, it began to make sense why this audio was missed by existing systems. It was so DIFFERENT. Audience noise, new arrangements, and live mixing all contributed. One favorite example is footage I had captured of the legendary rapper Common performing with the Chicago Philharmonic Orchestra — how could that audio fingerprint ever match the studio recording of "Be"?


Music Biz: How does Song Sleuth differentiate between live music UGC and content shared by the artist, their teams, or other channels associated with them?
IM: Our mission at Song Sleuth is to ensure that songwriters and performers are always properly attributed and fairly compensated when their work is consumed publicly online and therefore generating revenue for online platforms. Any properly licensed content, such as content on an artist's or festival's official channel, is quickly disregarded by the system. We specifically seek out the UGC which mainly consists of live performances, covers and remixes that have not been correctly attributed to the rightsholders. Then, we work with the rightsholders to make sure the platform hosting the content is aware of the music within.
A great example came from when our team attended Lollapalooza in Chicago last year. We noticed a sea of phones held up in the audience and so we put the performers into our system later that evening. Lo and behold, nearly a thousand unlicensed videos had been uploaded, just that weekend by eager fans! Some videos had gathered tens of thousands of views already, but no musical content was identified yet. We aim to rectify that so the fans who come to support and film their favorite artists can actually bring benefit to those same artists for their efforts.


Music Biz: Would you discuss how Song Sleuth's approach to content monitoring — marrying AI algorithms with the input of a human audit — came to be?
IM: The key to most good AI or Machine Learning models is deep, detailed and, most importantly, accurate training data. Furthermore, we knew that we needed to have a high bar for accuracy and quality when making manual claims on behalf of our clients. Both of these criteria required that we build a process by which our machine could learn from human subject matter experts. Then, our human experts could continue enhancing the data and therefore the algorithms in an ongoing positive feedback loop — and we've seen just that!
This has enabled our models to be constantly refined from a growing, validated dataset while our clients can be certain that everything we find for them is 100% accurate. Similarly, our team and our rightsholder partners have learned a remarkable amount by having our in-house human experts dive deep into the data that our algorithms produce. Each week, we learn about something new (e.g., new categories of UGC, types of music usage, etc.) These findings both peak the curiosity of our partners and constantly challenge our technologists, and we love that.


Music Biz: Do you have a sense of how much money artists stand to gain by ensuring they receive an equal piece of the monetary pie generated by UGC videos of their songs?
IM: We've been consistently surprised by how much money is "left on the table" for artists in this world of UGC and derivative content. In the latest YouTube music report, they attributed about $2 billion in royalty payouts to UGC, and that number has grown 60% year over year. We estimate there's more than $100 million a year missing proper attribution just on YouTube, and that number continues to grow.
For the most active artists on the live touring circuit, or those with songs that are widely covered, we see they have missed out on up to hundreds of thousands of dollars in income from UGC. On a go-forward basis, this translates to thousands of dollars a month in recurring revenue. Further, as we continue to work on our client's catalogs over time, we've seen new UGC growing that income by roughly 10% per quarter on average.


Music Biz: In recent years, the music and tech industries have gone from constantly butting heads to embracing one another, in support of democratizing access to music and embracing community-made content. Are you happy with the strides that have been made to support creatives and music fans, or does more collaboration need to happen?
IM: Indeed, it has been a major shift over the last decade or so to see the music industry begin to embrace large technology companies and innovative startups as partners for growth rather than viewing them as the opposition. This has shown a marked uptick in the music industry, fueling growth in licensing volume and overall consumption, all while making our favorite songs more accessible in our daily lives. This truly has been a win-win for everyone, and we should collectively seek more of it.
What we've seen in the UGC and derivative content space is a new opportunity for the music industry to embrace more community-made content. The proliferation and accessibility of social platforms, as well as digital production tools, has allowed fans to re-make and re-use their favorite content more than ever. While this poses challenges to music administration, we should embrace and encourage it as an industry – not fight it. We wholeheartedly believe it will be the next major growth vertical for our business.


Music Biz: Song Sleuth recently published this excellent blog discussing why creatives should be taking advantage of manual copyright claiming on platforms like YouTube. Can you talk about the importance of using something like Song Sleuth in conjunction with a manual claims tool to maximize an artist's revenue?
IM: Platforms like YouTube and others have expended a lot of admirable effort to automatically find and claim content for rightsholders via systems like Content ID. As we've discussed, systems utilizing audio fingerprinting aren't perfect, so more tools have been made available to fill those holes, most notably manual claiming. While manual claiming works, it has been made purposefully challenging to ensure that it is not abused, but this also makes it hard for rightsholders to capture value with these tools at scale.
Artists with big teams behind them do sometimes have people proactively searching platforms to find content and make manual claims, but very rarely is it someone's full time job, and under no circumstance can any human find the content at a meaningful scale. Those with experience on platforms like YouTube know that they are leaving money on the table by not proactively making manual claims, but they are simply stretched too thin to take those steps. Furthermore, because these manual claiming tools are so guarded, many independent artists, labels and publishers cannot access manual claim tools nor Content ID unless they work with a 3rd-party distributor or multi-channel network.
Song Sleuth seeks to remove this friction and this inaccessibility by building our platform to proactively seek out this missed UGC at scale. Artists no longer have to wonder how much they're missing out on by trusting fully in the platform's system, we can now help them fill in those blanks and be more certain.


Music Biz: Both streaming platforms that embrace short-form video and clips of songs are often credited with a widespread shortening of song lengths in order to stand out on these platforms. As someone working with live concert videos, how pervasive do you see this being among live content that's analyzed?
IM: The revelatory thing about user-generated content is that we really get to see the infinite creativity of our global human family. While I cannot comment much on how artists may be adjusting their creative process for releases, I can say that we've seen a huge variety in the clips and song segments that fans choose to film or extract for use in their UGC. It can be anything from a 30-second guitar solo or live freestyle used in a fan's remix, to a fan stitching together full performances of one song through the decades by various acts. Short form videos have only increased the variety of "sampling" that occurs by these creators. 


Music Biz: With the rapid growth and embracing of UGC platforms among music fans & creators, what place in annual music industry income, and artists' livelihoods, do you see these platforms having in the future?
IM: At Song Sleuth, we believe that UGC and derivative content are the next major growth verticals for our industry. As streaming and sales growth begins to level off, we should embrace the creativity of our fans combined with the accessibility of our music. Not only do current popular artists have something to gain by encouraging their music's use in UGC, but so do legacy artists. I recall working with an older R&B group to find UGC on YouTube. They remarked that seeing their fans' activity not only heartened them spiritually, but the added income also meant they could spend more time with family and work less.


Music Biz: Any other insights or thoughts of the future for user-generated content in our industry that you'd like to share?
IM: We are at the forefront of user-generated content and the derivative creator movement. Early creator platforms like SoundCloud and YouTube showed us the breadth of what is possible, while newer platforms like TikTok and Instagram showed us a whole new scale of virality is possible. Fans are using UGC and derivations of their favorite artists' music to express their individuality in ways we haven't seen before. If we continue to encourage this and continue to help fans express themselves with music, there are limitless benefits that the next platform and generation will bring.
---
You can read past "Keeping Tempo" articles via the portal linked here. And, stay tuned for more insightful discussions from our members and partners from across the industry!