[Keeping Tempo With Music Biz] — The State of Music Publishing In 2023 & Beyond: Interview with Great South Bay Music Group's Travis McFetridge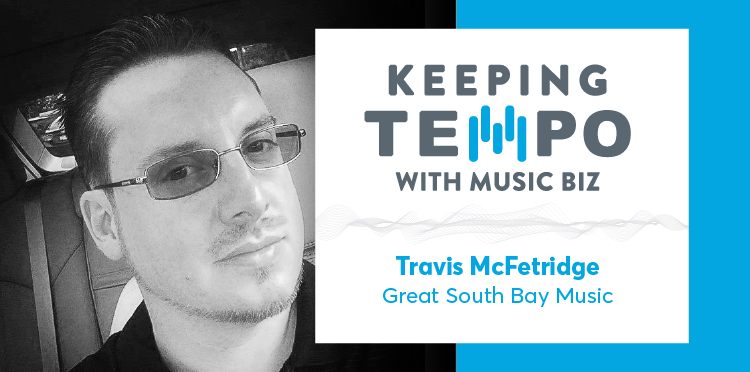 The advent of music streaming, changes in label service offerings, and other new technologies have led to major changes to the music publishing space in the last few years. In this month's interview, we talked with Great South Bay Music Group President & CEO, Travis McFetridge to get a sense of how publishing professionals have adapted to operations in the modern music industry, what the institution of The MLC has meant for their day-to-day, and what the future may hold for this subset of the industry!
---
Music Biz: Great South Bay Music got its start in 2010, giving you more than a decade of experience in the publishing space while weathering some of the most transformative moments in our industry's history. Can you give us your view on the state of music publishing in 2023?
Travis McFetridge: Music publishing has become more stable in the way digital & streaming royalties are generated and collected by publishers & songwriters. Streaming now counts for a bulk of publishing revenue, as well as performance royalties from the PROs. And now more than ever, there are great synchronization opportunities for independent and major recording artists & songwriters.


Music Biz: The latest RIAA report shows the continuing trend of music streaming bringing in the majority (84% for H1 2023) of recorded music revenues in the U.S. How has the shift in the primary way consumers listen to music changed the way that artists & songwriters you work with are compensated?
TM: Now that The Mechanical Licensing Collective (MLC) is in full swing, artists, publishers and songwriters have a trusted source to collect digital publishing royalties from the DSPs. This is crucial as we now have a reliable source that connects publishers and songwriters directly to DSPs.


Music Biz: How has the establishment of the Mechanical Licensing Collective (MLC) to collect and distribute royalty payments from DSPs in the U.S. affected how your business operates? And what benefits do your songwriters see as the MLC has taken over processing their royalties?
TM: The MLC is a godsend for publishers and songwriters when dealing with streaming royalties. We can now rely on The MLC to provide accurate statements every month that reflect the latest digital rates of streams, along with the monthly usage of our clients' music on each DSP in a clear and transparent manner. The MLC is constantly hosting events around the U.S. and overseas, bringing awareness to how streaming royalties work and what their role is in regards to dealing with publishers & songwriters. They MLC is very pro-publisher and songwriter, and easy to contact if you have any questions.


Music Biz: What reactions have you heard from your songwriters about the recent moves from the Copyright Royalties Board (CRB) which will lead to increased royalty rates through the period of 2023 through 2027?
TM: We've received very positive reactions from our songwriters regarding the possible increase of rates. Rates haven't been increased for many years, and given the fact that streaming now makes up most of the revenue for our clients' songs, a rate raise will be very beneficial. Before streaming, mechanical royalty rates for physical music products were much higher than what streaming rates are now.


Music Biz: The lines between traditional record labels and publishers are increasingly becoming blurred, as publishers begin to offer label services and labels can at times act as publishers for their signed artists. Do you feel that this shift in services offered as complementary to the ways traditional publishers operate?
TM: When labels act as publishers and acquire publishing rights from their recording artists, they are usually doing so via a 360 deal. I always recommend our clients to do separate deals with publishers and labels so that the accounting can be balanced and nothing gets crossed. In regards to publishers acting as labels and releasing music, it is a good way for some songwriters who may not have a record deal to have their music commercially released. It also makes synchronization clearances easier for publishers if they control both the masters and publishing on a song.


Music Biz: Clean, accurate music metadata is key to ensuring that songwriters are getting paid for their contributions to every track they work on. How does GSB work with their artists & songwriters to educate them about the importance of keeping an accurate record of their credits?
TM: In order for publishers and songwriters to monetize their music on the publishing level, song splits must equal 100%. Therefore, I highly recommend our clients sign split sheets with their fellow collaborators, as well as have their complete song splits confirmed in any producer agreements, side-artist agreements or work-for-hire documents. It is essential to have complete songwriter splits with songwriter and publisher information, so that metadata is as clear as possible when submitting for registration.


Music Biz: Music sync pitching and placements play a pivotal role in opening new revenue streams for artists & songwriters when their songs are included in movies, TV shows, video games and beyond. Has the recent SAG-AFTRA labor strike affected this area of your business?
TM: So far it has not affected our business model as an independent music publisher. We still get sync clearance requests from music supervisors at film and television companies for our clients' music. We are still pitching our clients' music. Clearly if the strike isn't sorted out down the line this may slow up a bit, but so far it hasn't changed dramatically.


Music Biz: Recent years have seen artists and rightsholders enter direct licensing models when their songs are sourced for placement, both in cases where content providers like OTT platforms wish to engage directly with creators and in regions where Collective Management Organizations (CMOs) do not exist. What opportunities or challenges do these deals pose to today's publishing companies?
TM: As an independent music publisher, my company allows our clients to submit music to outside music libraries for film and television placement. These submissions are usually songs or instrumentals that are exclusive for music libraries and haven't been commercially released anywhere else. We also pitch separate music to film and television music supervisors that hasn't been submitted to music libraries. These two actions can co-exist as long as accurate records are kept by publishers and songwriters.


Music Biz: AI tools are a hot-button issue for our industry at the moment — as someone who works with artists directly, what is your take on how these tools could both benefit and harm a songwriter's ability to make a living from their craft?
TM: I think AI is inevitable to the music industry. That being said, it is important for the copyright board and lawmakers to get a handle on it to make sure rightsholders like recording companies, recording artists, producers and songwriters are properly compensated for their work when AI is used in a song. As of now, a Federal court has ruled that AI-generated artwork cannot be copyrighted on the grounds that copyright law only extends to human beings.


Music Biz: Looking to the future, how do you see the music publishing sector evolving in 2024 and beyond?
TM: I see more transparency in regards to collecting publishing royalties from the DSPs via the MLC. I see more synchronization possibilities for independent recording artists and songwriters. I see bigger catalog deal acquisitions happening between music rightsholders and investment banks.
---
You can read past "Keeping Tempo" articles via the portal linked here. And, stay tuned for more insightful discussions from our members and partners from across the industry!