[Keeping Tempo With Music Biz] — The Importance of International Forums: Q&A with Reeperbahn Festival Founder and General Manager Alexander Schulz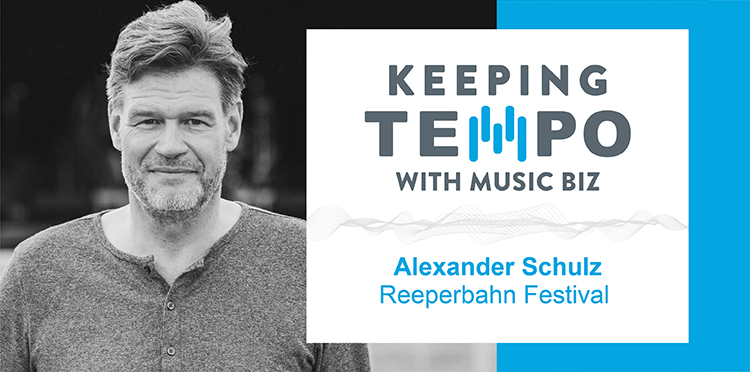 Given the always-changing nature of the music business, it is extremely important for today's industry professionals to stay current with the latest trends and technologies influencing the ways we work. Our new "Keeping Tempo With Music Biz" content series will tap into the brain trust of expert voices from Music Biz's member and partner communities to help readers understand the machinations of the modern music business and arm them with the tools to help them achieve success.
---
The Reeperbahn Festival, which made its debut in 2006, has grown to become one of the most important meeting places for the music industry worldwide. And, as Europe's largest club festival, it boasts about 600 concerts featuring a broad spectrum of both emerging and established artists. In the first article in our "Keeping Tempo With Music Biz" content series, we interviewed festival Founder and GM Alexander Schulz to discuss how events such as the Reeperbahn Festival address both the "music" and "business" parts of our industry, helping spark discussions on the most pressing issues our industry faces while also showcasing what artists from across the globe have to offer music fans.
Music Biz: Can you give our readers some background on why you chose to establish the Reeperbahn Festival? Was there a gap missing in the conference and club festival scene you were looking to fill?
AS: In the early 2000s, the two leading events for the music industry in Europe, Popkomm and Midem, were struggling. This was because they were mainly focused on recorded music and offered only a handful of showcases that were geared solely for music professionals. There was a need for a format that could reflect the fundamental changes the digital revolution caused within the music business.
15 years ago, the contemporary format of a music marketplace needed to cover the new and important roles of the live market, management throughout the entire music ecosystem, new direct-to-consumer business models, and of course changes in the listener behavior caused by evolving artist-to-fan relationships.
With our event, we sought to showcase new artists not at exhibition booths, but in front of a mixed audience consisting of both fans and professionals, similar to how movies are premiered at film festivals.
Music Biz: As Music Biz knows, planning a major industry educational event is a massive undertaking. The same goes for establishing a club festival on the scale of the Reeperbahn Festival. What factors influenced the decision to establish an event that had such a large-scale focus on both?
AS: We always found it made sense to offer both a daytime, B2B-only event with panels, one-on-ones and other networking opportunities, and a nighttime event with opportunities for our business partners to present new artists out of their rosters and catalogues to the industry, the public, and the media.
Music Biz: What benefits do you feel merging both the business and live performance sides of the industry has for attendees, performers, and executives?
AS: One of the main success factors of our event is that we create a showcase program in cooperation with our industry partners that attracts professionals from all industry sectors, a public audience, and the media. Of course, this is also one of our main risk factors. Finding the right balance between the interests of the industry and the public is one of our biggest challenges year after year. But, our industry partners respect our advice regarding booking and scheduling the showcase. They know that the public's interest in a certain artist or new talent causes media interest, which results in higher attendance and so on.
Music Biz: The Reeperbahn Festival made its presence known at the Annual Music Biz Conference in 2019, and are planning to bring a delegation to next year's event. Can you speak a little on why you decided to join us in Nashville?
AS: The Reeperbahn Festival board consists mainly of representatives from German trade associations for publishers, live entertainment and recorded music. The associations do not own our event, but because of this, the structure behind the Reeperbahn Festival is somewhat similar to the backend of the Music Biz Conference. 
Representatives of DMV, the German publisher's association, and the two recorded music associations, BVMI (Germany's IFPI) and VUT (our independent music association) were very interested in learning more about the Music Biz Conference and asked us to set up an exploratory trip to Nashville in 2019 to learn more. The goal was to see if we could coordinate and shape an annual program from 2020 in cooperation with the Music Biz Conference for a trade mission consisting of music industry representatives from Germany and Europe.
Our impression was, if you want to do business with the U.S. music market, both from the buyer's and seller's perspective, you come to Music Biz. It is the most effective music business event, especially within the sectors of publishing and recorded music.
Music Biz: How would you say the union of events like the Reeperbahn Festival and the Music Biz Conference stands to benefit attendees, event organizers, and the industry as a whole?
AS: Events like ours act both as marketplaces for new ideas in our industry (and in the case of the Reeperbahn Festival, for new artists), and as mirrors that reflect both the actions taken presently to advance the industry, as well as possible future developments.
Music Biz: We understand that our partners at the Country Music Association (CMA) will be showcasing during this year's festival, which is an exciting development for a genre mostly associated with the United States. What role does your event, and others like it, play in expanding the listenership for more localized genres?
AS: There is no better event in continental Europe to present music from both localized or international genres to a huge number of industry attendees, the public and the media than the Reeperbahn Festival. It is our goal to also present special genres at our event that may be able to help attract a broader audience in the future. And we certainly expect more interest in Country music genre from the business side in Europe.
For example, Blanco Brown, one of the four acts in our CMA Showcase "Neon Nashville," seems to develop well in Germany and Europe. We will also present the "It Sounds Like Country" panel with Milly Olykan and other well-respected music industry reps.
Music Biz: The partner country and focus of this year's programming will be Australia. What is going on in the Australian music market now that made you focus there?
AS: Looking at acts like Dean Lewis, Tash Sultana, and Dope Lemon, who have all grown internationally relevant within a short period of time, one could argue here is always something going on in Australia's music scene! Truthfully, we could have had a country focus on Australia in years past, but we had already signed agreements with other partner countries. Because Australia is our focus country, we expect more than 30 companies and over 20 new talents from Down Under at this year's event.
Music Biz: From an international perspective, what do you see as the most exciting development on the horizon? This could be an emerging market, new technology, budding partnership, etc.
AS: The ability to utilize big data is one of the most exciting developments both in and out of our industry. As soon as we have the chance to work with it globally, it will touch all sectors of our industry including live entertainment, ticketing via publishers, collecting societies, recorded music, distribution, streaming and broadcasting. One of the most interesting opportunities this opens up is the prospect of combining information from different areas of user behavior to inform ticket sales, streams, and broadcasting of specific artists.
Music Biz: How will international forums like the Reeperbahn Festival help professionals capitalize on this?
AS: We offer several presentations of new business models for the different sectors in our industry that are based on data at our event, as well as panels that would focus on the different legal bases across different territories.
Music Biz: And what about the biggest upcoming challenge we face as an industry?
AS: From our point of view, it is the question of a fair monetization of recorded music within current digital formats and those formats we have yet to develop. Can we manage to invent global and scalable codes in the backend of our products that would allow transparent tracking and payment for all rights owners directly? And, can these methods adapt as quickly as new distribution methods and technologies are developing? 
The 2019 Reeperbahn Festival and Conference takes place September 18 – 21 in Hamburg, Germany. Visit the Festival website for more details.
---
You can read past "Keeping Tempo" articles via the portal linked here. And, stay tuned for more insightful discussions from our members and partners from across the industry!