[Keeping Tempo With Music Biz] — Setting the Scene for the Global Music Industry in 2021: A Preview of NY:LON Connect 2021 with Music Biz's Portia Sabin and Music Ally's Paul Brindley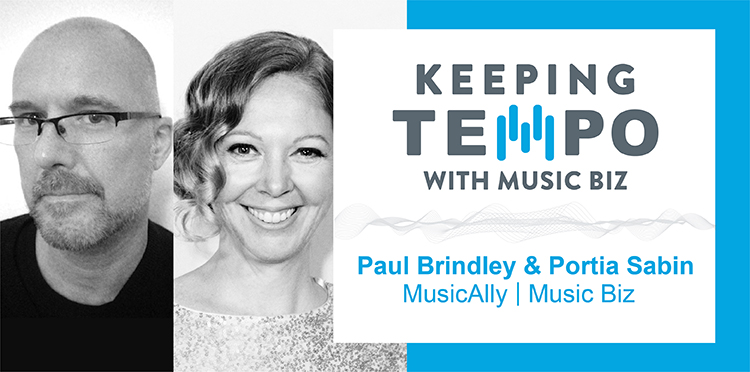 Life in the music industry right around the last NY:LON Connect summit, and the COVID-19 pandemic-minded one we find ourselves in now, are largely two different experiences. After a 10-month stretch marked by an unprecedented shift in how we do business, as well as a global focus on societal inequality and injustice, NY:LON returns (this time virtually) to help us set course through the uncharted waters of a hopefully post-pandemic, more inclusive 2021. We sat down with Music Business Association President Portia Sabin and Music Ally CEO/Co-Founder Paul Brindley to preview what's in store for this year's summit, as well as to reflect on the 2020 that was.
---
Music Biz: Due to the ongoing pandemic, 2021 marks the first time a NY:LON Connect event will take place entirely remotely. Can you speak on any challenges or special considerations when pivoting the NY:LON summit to an online event?
Paul Brindley: One thing that has certainly helped is the experience both our organizations have gained over the last year from running other online events. While at first it may have been a little daunting, we both understand so much more about how to make these events work well. And with virtual events, we are able to start programming a little closer to the event than we would do for a physical conference.
Portia Sabin: For NY:LON, the Music Biz team built on our experience of breaking out our four-day Annual Conference into what wound up becoming 41 virtual summits, interviews and webinars across 10 months. While it was a challenge to tailor so many individual programs for various audiences, the conversations that resulted from this strategy were very specific to each industry subsets' needs and were truly special!
PB: I've seen some conferences simply replicate physical events, with whole days of programming and too many speakers on panels. You have to consider the experience for attendees, most of whom will be watching the event from their homes on a computer screen. It's much harder to keep their attention over the course of a longer event. For NY:LON we split the program over four days instead of two, stripped out the breaks, and made all sessions a bit shorter. Just as an online concert should not be the same as a physical concert, online conferences need to be run to suit the medium.
Music Biz: While gathering in person to network has always been a highlight of the NY:LON summit, do you feel there are advantages to holding such a global event online, particularly with respect to uniting global audiences?
PS: We've found that we can reach people around the globe in a way that's not possible with physical events, which can be prohibitively expensive for some people. It's a great tool for inclusion! This was very true for our Music Biz LIVE interview series. Since last April we've hosted more than 20 sessions on topics ranging from concerns for indie retail, COVID-19 relief, best practices for maintaining mental health, and beyond — some of which may not have happened in a "normal" year.
PB: With the obvious exception of time zone issues, that is one of the biggest advantages of all online events. The first major online event Music Ally did last year was to take our series of Sandbox Summit events, which we've previously held in New York and London, online for our first Sandbox Summit Global event. It was so exciting and moving to see the comments begin to appear as the event started, and people greeted one another in the chat from all over the world. We're already looking forward to running the event again this year in May.
Music Biz: As talks of a gradual return to in-person events begin, what role do you see virtual conferences playing in the future?
PS: Something to take into account is that so many more people are able to participate in events when they are virtual. So I think in the future most events will be hybrids, having a virtual component in addition to a physical one. This gives attendees both the interpersonal connection of in-person events and the reduced barrier of entry for virtual events.
PB: Agreed on the concept of hybrid events; we have already been looking at this as a potential option in countries like Japan. And I genuinely think there is a place for fully online conferences going forward, especially as there will be no sudden, uniform return to "normality." In countries where the battle to contain COVID-19 may take much longer, there will be more of a need for online events. 
Music Biz: We're nearly a year out from when the COVID-19 pandemic made its initial impact on our industry. As pandemic response and "the new normal" will be a major point of focus during this year's event, how do you feel about the collective pandemic response from the global industry community?
PS: I think the industry has responded well, raising awareness and distributing money to support those in need in our community. The U.S. government has really accomplished the bare minimum however, so we don't have a lot to be proud of compared to the rest of the world. I think it's going to be a long climb still for our country. That said, the most recent piece of relief legislation offers some hope, including much-needed funding for the live industry!
PB: Some of the saddest industry conversations I've had in the last year were with people across the world telling me about the devastating impact of COVID-19 on the live business. For example, we're active in Latin America, which has been affected particularly hard, and I was shocked to hear about the seemingly permanent damage to venues in countries like Chile, Mexico and Argentina. On the flip side, it has been heartwarming to see the industry pull together to support venues, from NIVA in the US and the Music Venue Trust in the U.K. to the Musica Mexico COVID-19 initiative. This also includes the relief funds and support that has been pulled together for musicians and their teams.
Music Biz: In a similar vein to the lasting place of virtual industry events, are there hallmarks of the pandemic-era music industry that you see making a lasting mark as we collectively carve a path towards the "new normal?"
PB: Livestreams are the most obvious addition to the mix. The idea of hybrid concerts attended by some fans in person and watched by more online has lots of potential, both short-term in countries where full-scale concerts are still deemed unsafe and long-term to broaden the reach of these gigs. 
PS: I can't tell if people are going to work from home more after this, or if people are going to make a mad rush to offices to get AWAY from working at home… it's hard to predict!
PB: And just as the pandemic has hastened a digital shift to work-from-home procedures and online shopping, so too has it accelerated the existing trend towards digital as the dominant form of music consumption across the globe.
Music Biz: NY:LON also serves as a stage where the latest music tech advances are showcased. What role do you see the continued blending of music and technology taking in our industry going into 2021? And are there any particular tech applications, either new to market or conceptual, that excite you?
PS: I love how tech companies have changed their approach to our industry in recent years. This is not an "easy" industry to work with, it's actually very complicated with a lot of moving parts (for example, publishing), and requires nuanced solutions to its problems. So the fact that people have come into the music space with respect for the business and its complex nature is a huge win. And as our recent Metadata Summit shows, it's clear that the future of our industry will rely on tech solutions to make sense of our complexities!
PB: Tech has always been an area that's fascinated me personally and Music Ally. It  has been driving the business forward for some years now and I don't see that changing — that's why our NY:LON startup showcase which traditionally ends the event is always such an exciting note to end on. 
PS: I'm always interested when tech finds ways to solve real problems, such as the proliferation of apps that help artists and others keep track of their royalties. That's incredibly helpful!
PB: On that note, we've got a great lineup of startups for NY:LON 2021: Anything.world, with its promise of building virtual worlds at mere voice commands; Oda, whose speakers come with curated livestreams bundled in; Loudly, which uses AI to remix tracks into different genres; Delta AI, which uses AI to analyse objects within videos to help brands and marketers connect with consumers; Geojam which connects fans to artists and rewards them and Skrachy, a livestreaming platform for DJs.
Music Biz: There's been a major focus in industry conferences over the past year on aspects of life that are not normally discussed (personal health & well-being, activism & advocacy, social justice, etc.), conversations which many have come to realize are long overdue. Can you speak on the prominent place topics like these hold in the NY:LON Connect 2021 program?
PB: I think it would have been impossible not to address such topics after the year we've just been through, with movements like Black Lives Matter gaining such  international recognition (alongside #MeToo and others of course). 
PS: The events of the last year (and even those of 2021's first days) show that issues like racial equity and mental health simply can't be ignored any longer. The prevailing thought seemed to be that doing business was more important than worrying about social issues, but it's become clear that our businesses will ultimately fail unless we embrace diversity, share power and take care of one another.
PB: While many people think of the music industry as being more socially liberal, it seems to me that in reality it's traditionally been a fairly conservative business, largely dominated at the higher levels by middle-aged white men. That's why we've always worked hard to have a diverse lineup of speakers for NY:LON, but this year is the first time we have had diversity and inclusion as the focus for an event track. I'm really looking forward to the discussions it yields, and am hopeful we'll see examples of concrete action and meaningful change taking place.
Music Biz: The #TheShowMustBePaused initiative, started by Brianna Agyemang and Jamila Thomas, served as a jumping-off point for our industry to support those fighting in pursuit of an America where each and every person can live with dignity, safety and freedom. What role do you feel the music industry, on a global scale, plays in shifting the culture towards one that is more diverse, equitable and inclusive?
PB: One of the powerful things about #TheShowMustBePaused was the way it spread well beyond the borders of the US: we certainly felt the impact here in the UK too. Sadly, it feels like we've been living in times when our respective countries have been going backwards, particularly when it comes to racial equality – with the racial tensions underlying Brexit in the U.K., and the overt racism that we've seen from some of Trump's supporters in the U.S. I'm hopeful that we'll see some more progressive attitudes prevail in 2021. 
PS: I think the music industry is uniquely positioned to support such movements, because it is built on the art of BIPOC people, the marginalized, and those who haven't been allowed to fully share in the wealth. We're proud to have partnered with Porsche Cars N.A. for our first-ever Driving Change event in October, and will continue to offer a forum where our industry can establish a course of action to become more inclusive & equitable!  People pursue music business careers because they love the art, and I think that love requires us to lead the way in changing our practices.
PB: Agreed; I think the most important thing we need to do is to shift our own culture: to get our house in order as a more diverse, equitable and inclusive industry. And it's really actions that count, not words. But as always, the artists we serve will be playing a key role in influencing the wider culture.
Music Biz: The narrative of 2020 was largely dominated by the ways our industry weathered the effects of the pandemic. Looking forward, how do you see our story in 2021, at least on the outset, taking shape?
PB: In our respective countries, we've started the year still reeling from the effects of COVID-19 and with enormous political anxiety, particularly in the U.S. But I still think ultimately 2021 will be a year of optimism and recovery in all senses. Music has a vital role to play as the soundtrack to a world coming to terms with such grief, shock and anxieties. If anything, the role of entertainment becomes ever more important in difficult times.
PS: My hope is that the year will be defined by our industry rapidly becoming more diverse and inclusive, while empowering creatives to more fully control and monetize their music. After all — without the "music," there is no "music business!"
PB: From a financial perspective, it's true that recorded music has fared pretty well, as streaming subscriptions continued to grow amid the pandemic. What we need to do now is ensure that this growth pays off for everyone in the industry: from the live market getting back on its feet to, as Portia said, the artists and songwriters whose work has fueled streaming's rise. The music industry is a very fragmented business, with lots of separate (and often competing) subsectors. But this year more than ever before, it's in everyone's interest for the different parts of the industry to work together to ensure that the overall business ecosystem thrives.
---
Click here for more information on this year's NY:LON Connect summit and to register. You can read past "Keeping Tempo" articles via the portal linked here. And, stay tuned for more insightful discussions from our members and partners from across the industry!