[Keeping Tempo With Music Biz] — Music Discovery Outside of Streaming Services: An Interview with Linkfire's Carlo Biagioni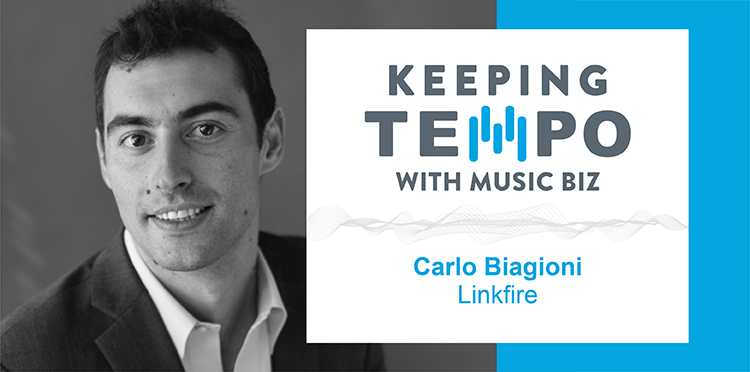 With the rise of streaming and fast adoption among consumers, the demand for new music is greater than ever before. Every second a new song is uploaded to a streaming service, and millions of dollars are spent on helping fans discover new songs and artists. Discovery happens not only on the streaming platforms, but also across social networks, websites, blogs, and apps—basically wherever fans engage around music. In this chat with Carlo Biagioni, Head of Channel Partnerships for Linkfire, we'll discuss some industry trends and innovative strategies to empower fans to discover more music outside of the streaming services.
---

Music Biz: In what ways do smart linking solutions aid music discovery, and how does that fit into Linkfire's vision?
Carlo Biagioni: Our vision is to empower music and entertainment discovery everywhere. It may sound broad, but this discovery is already happening across so many different kinds of platforms, apps, and websites, and we see it as a gigantic opportunity. Our value proposition remains the same: Provide consumers with a fast, safe, and relevant path to new releases, videos, merchandise, tickets, and more.

To put this into context, let's say a fan taps the "Listen" prompt on Snapchat. Linkfire powers the experience by allowing the fan to listen to the full song on their preferred streaming platform, such as Apple Music, Spotify, or Amazon Music. This is just one example of our growing network of platforms and publisher websites where we can help provide the best fan experience.


Music Biz: There are a vast number of platforms that allow fans and consumers to interact with the artists and music they love. What design considerations are necessary for custom-built linking solutions that need to be "one size fits all"?
CB: Relevance, convenience, and simplicity are key. Our world is becoming more complex by the day. More services, more content, more things now want our attention. As a result, our "BS filters" have improved greatly, but our attention span has reversely decreased dramatically.
When a consumer interacts with a Linkfire link, button, or widget, we provide lightning-fast and relevant recommendations on where to further consume or engage with the content. This is quite important, because otherwise consumers will move onto the next thing.


Music Biz: Some of the more niche integrations we've seen, particularly from Linkfire, are those on music-adjacent portals—e.g., lyric websites, music tablature portals, and the like. Are there other successful partners that one might not expect you've worked with?
CB: We recently started empowering more music discovery through our partnerships with Snapchat, Twitch, and a range of publisher websites. We're also constantly looking to grow our partner network, whether it's apps, websites, or platforms, as long as there's music or entertainment discovery taking place.
No matter what kind of partnership it is, the name of the game is the same: Help fans find what they're looking for, quickly and conveniently. We zoom in on the discovery process a consumer goes through to see how our solution can help with the last step in the journey—the path to consumption or purchase. Keep an eye out for announcements on some pretty neat industry-leading platforms that are joining our network soon.


Music Biz: The resurgence of vinyl sales over the past decade shows us that many fans still want to consume new releases in a physical form. How do platforms like Linkfire support the business of physical music products?
CB: The relationship between fans and content has never been more exciting than it is today. The consumption options are evolving constantly, and we believe the winning strategy is one that embraces them all.
Physical music products have their own set of integrations on Linkfire. We make it as easy to link out to a special edition vinyl print as we do to a streaming provider. We have excellent partners such as Merchbar, EMP, and Flight 13, and we also support artists' direct-to-fan online stores.
Listing all the options is only half the job, though; presenting the right one in the right moment to the right fan is the hard problem to solve, and that's what we're investing in at Linkfire. Our algorithms can identify the context where a physical product has the best chance of being sold, and our engagement assets (landing pages, buttons, widgets, etc.) offer a lot of ways to surface these products through rich and compelling user experiences.
Vinyl editions are often the most creative expression of the artist's vision behind a release; they really help build an emotional connection between the fan and the content. We want to do our part to offer them the digital real estate they deserve, because fans love them.


Music Biz: Have you received any feedback from your partners or music fans that's informed the evolution of Linkfire's technology through the years?
CB: Absolutely! Just like any tech company out there, we inform our product development with lots of data. We test concepts and gather feedback every day.
Linkfire's offering would not be as strong as it is without our customers and partners. From the very beginning, we've had the privilege of serving the most prominent and successful digital marketing teams at major labels, as well as the smartest and most audacious independent artists out there. These people know what they need, and we're here to listen and empower them with the best tools to succeed.
When it comes to understanding feedback from music fans, we turn to big data analysis. Billions of fans interact with our products every year, so being able to dive into the data sets and understand what input correlates to what output is the magic sauce of Linkfire. It's allowed us to innovate with confidence among trend shifts and market changes.


Music Biz: As the world becomes even more intimately connected via technology, how do you see the role of platforms like Linkfire in the near future?
CB: I think a platform like Linkfire has the potential to be the technology that connects this industry. The company was started in 2014 as a solution to the complex and fragmented music landscape, from discovery to consumption. Linkfire's near future will continue to focus on improving and expanding our solution as the landscape evolves.
As we talked about earlier, our collective average attention span has been steadily decreasing over the years. So to have any shot of getting your message across nowadays, it needs to be contextual and relevant—which is exactly what we focus on at Linkfire. There's an ever-growing need for technology like ours to facilitate a super fast and bespoke path to consumption.
---
You can read past "Keeping Tempo" articles via the portal linked here. And, stay tuned for more insightful discussions from our members and partners from across the industry!