[Keeping Tempo With Music Biz] — Exploring The Modern Country Music Consumer: Q&A with Country Music Association CMO Damon Whiteside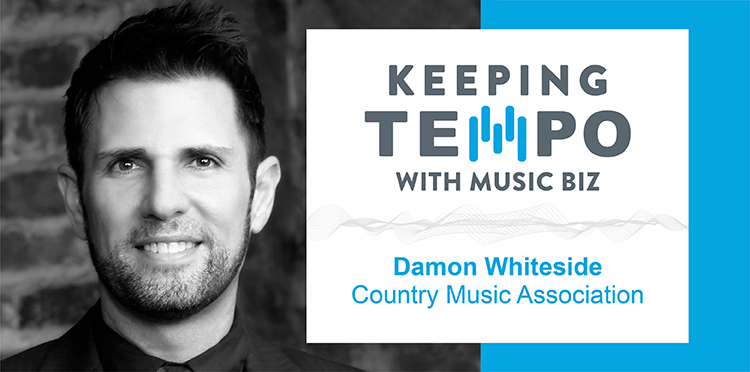 Even as the modern age of music streaming is unfolding, Country artists still largely rely on album sales and terrestrial radio to reach fans both new and old. This past year, there has been movement on this front with some of today's hottest young Country artists gaining traction on streaming platforms. Ahead of this year's CMA Awards show, we sat down with the Country Music Association's (CMA) Chief Marketing Officer Damon Whiteside to discuss what has changed on the business end of Country music to pave the way for genre streaming stars, and how this may influence how Country music is promoted, and even how it sounds.
Music Biz: To start, can you give us some insight into how Country artists performed on streaming platforms in 2019 as compared to years past? 
DW: Country streaming adoption continues to grow at a rapid pace — especially with audio streaming — as Country continues to outpace the growth rate for other genres. As more of our artists are crossing over into mainstream playlists, that is bringing a whole new audience to Country streaming. Also, as the DSPs continue to focus on educating and converting Country fans to streaming — which CMA is dedicated to supporting — fans who have held onto physical and terrestrial radio formats are increasingly adopting streaming into their daily consumption habits. 
Country has been a little slower than other genres to adopt streaming out of the gate. However, as it catches up with its large audience, it will continue to be one of the top genres in year-over-year growth as well as a major driver for the streaming ecosystem.
Music Biz: Do you feel that this has been influenced at all by the influx of new professionals in Nashville, with everyone from the major DSPs and and new music tech startups establishing a presence in Music City?
DW: Nashville has become a global hub for music, with artists, writers, producers, and music industry professionals from all genres now calling the city  THE place to create music. The popularity and importance of Country has continued to elevate, as evidenced by all of the DSPs opening permanent offices to help grow the genre across streaming platforms. Music tech has also found a home here thanks to programs such as the Nashville Entrepreneur Center's Project Music, which CMA has been the title sponsor of since its inception.
Music Biz: In your words, what differentiates the marketing push for new Country releases in 2019 compared to those in years past?
DW: The marketing of artists and music has become more focused on social media and creating engaging, one-on-one relationships with fans. Country music fans are the most engaged music fans, and the artists in our genre are dedicated to their fans and build strong connections with them. Music streaming offers a powerful way for artists to reach their fans via social platforms and then directly connect them with the opportunity to consume their music on whatever device their fans use most. 
Music Biz: Fans seem to be embracing younger artists on streaming platforms like Maren Morris, who earlier this year broke the record for the largest streaming week for a Country album by a female. Do you think that younger artists, and their fans who tend to be younger, will lead the charge in driving Country music consumption on on-demand streaming platforms?
DW: Country music as a genre tends to have the highest conversion of paid streaming fans versus free users, which shows high listening engagement. Certainly the younger fans who are more digital native will lean into streaming and are the highest drivers of on-demand usage, versus the older listeners who are more likely to lean back in their consumption habits.
Music Biz: And what does this mean for the potential success of back catalogs from Country legends on streaming services, who typically benefit most from Greatest Hits/compilation releases?
DW: There is a massive opportunity as we convert more Country consumers to streaming and educate them on the extensive catalog of music available at their fingertips from their favorite artists. Overall catalog on streaming services is a huge new life for catalog songs and artists.
Music Biz: On that note — Country music is as rooted in American history as it is in the hearts and minds of its fans. So it must have come as no surprise that the Ken Burns Country Music documentary boosted sales and streams for a number of legacy artists. Going forward, do you see the potential for other vertical opportunities that will help promote legacy artists?
DW: The recent success of Ken Burns' Country Music is an excellent example of a catalog driver. We saw the back catalog streaming numbers ignite immediately after the first episode of the documentary aired, and they're continuing to increase weeks later. At CMA, we not only work to support the discovery of new artists, but also that of legendary artists that built our industry. Through our three television shows —"CMA Awards," "CMA Fest," and "CMA Country Christmas" — as well as our CMA Songwriter Series and social media efforts, we shine a light on artists at all stages of their career and for fans of all generations.
Music Biz: To that point, the CMA Awards traditionally feature iconic performances featuring a mix of genre legends and newcomers rising in popularity. How does this year's CMA Awards program embrace those new artists who have found success because of on-demand streaming?
DW: We are very proud of this year's show, which will feature a powerful mix of legendary artists, current artists, and future hitmakers. The even more special twist on that is that we are putting emphasis on the women of Country this year. There are many special collaborative moments planned between superstars and new artists that will certainly drive the interest and discovery of new artists as well as remind fans of great classic hits. Hopefully all of that will drive fans of all ages to go and stream more Country music.
Music Biz: It's hard to talk Country music in 2019 without bringing up the smash success of "Old Town Road," with the song receiving a CMA Award nomination for Musical Event of the Year. Do you see Country music continuing to evolve in ways similar to how Lil Nas X and Billy Ray Cyrus blended new musical ideas into the foundations of a Country track?
DW: There is no doubt that this was a force across the entire music industry this past year. We noticed the impact on our genre the week that Lil Nas X and Billy Ray Cyrus released their remix. The Country genre experienced its highest weekly growth rate for on-demand streaming in 2019. The fact that it shined light on Country music and sent the message that we are a diverse genre was very important. We have an exciting crop of new artists with a fresh and unique sound and approach, but it all falls within the giant tent of Country music.
Music Biz: The live music component of Country music is undeniable. How do you feel artists and their marketing teams can best leverage streaming to promote upcoming tours?
DW: Country music fans over-index in their spending for live music versus other genres. It goes back to that one-on-one fan and artist connection that is so strong in our genre. Certainly streaming and live music are complementary, as each drives more interest in the other. While Country radio continues to be a major driver of tour support, there are certainly many valuable opportunities between the DSPs and tour promoters to drive awareness and intent to go see a live show. Promotions within the DSP platforms, tour playlists, social media programs, and fan club promotions can leverage music streaming fans to also want to go buy a ticket to see their favorite artists.
The 53rd annual CMA Awards will air live from Nashville's Bridgestone Arena this Wednesday, November 13th at 8pm ET on ABC.
---
You can read past "Keeping Tempo" articles via the portal linked here. And, stay tuned for more insightful discussions from our members and partners from across the industry!