[Keeping Tempo With Music Biz] — Disillusion or Revolution? Understanding AI's Role in the Future of Music Rights: Op-Ed by Synchtank CEO Rory Bernard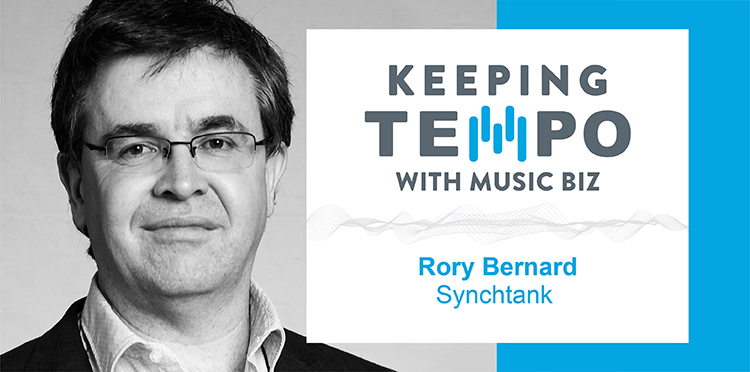 Artificial Intelligence has grabbed the attention of a number of industries, including the music business, given the potential ways it can automate certain tedious processes and streamline data collection/processing. We've asked Synchtank CEO Rory Bernard, whose company has implemented AI solutions for years, to discuss the current state of AI applications in our industry and what future AI applications may look like.
---
A rather excited article in Music Business Worldwide recently asked, "Is Artificial Intelligence About to Transform the Sync Industry?," proposing that the solution to all music searches might lie in a tie-up between production library Audio Network and machine learning startup Musiio. While attention-grabbing headlines like these are all too common when it comes to AI, what usually gets left out of the conversation is the fact that, technically speaking, what is called AI is actually high-performance data processing enabled by a revolution in cloud computing. True AI remains a computer science pipe dream, though for the sake of this article, we'll continue to use the term. This technology has already taken hold in a number of industries, including the music industry, and given that we've been a heavy user of these techniques for the last six years at Synchtank, we thought we would take a look at the current and future applications for AI in sync and beyond.  
Although the concept of AI is nothing new, having been proposed by Ada Lovelace centuries ago, what's changed in recent years is the explosion in computer power which has resulted in AI-like functionality becoming more widely available. Access to unlimited CPU power and machine learning training sets allows billions of calculations and decisions to be made in seconds, with the ability to pick the best answer out of the mix. Without necessarily even knowing it, most of us are interacting with AI on a daily basis and, according to research data from the International Data Corporation (ICD), spending on AI in the US is on course to hit $97.9 billion by 2023.
While one of the most efficient uses of AI, like blockchain, is to part investors from their cash quickly, some of the most advanced applications for commercially-available AI can be seen in consumer use cases. Traditionally, in the music industry, this technology has driven a vision of automated song writing, along with prescient playlist creation and music choices. What's interesting here with regards to the sync market is the potential threat that AI-generated music poses to the production music sector in particular. As the demand for music in UGC and other smaller projects grows exponentially, and as it becomes easier and cheaper than ever to create royalty-free music with AI, production music houses could start losing out on micro licensing opportunities. Though this is certainly an interesting area to keep an eye on, it's the B2B applications of AI, and the part these play not just in sync but the general management and monetization of music assets, that interest us the most at Synchtank.
Since Synchtank's inception, we've implemented AI-like techniques to help run and manage B2B metadata based on audio waveforms, powering advanced search capabilities for our clients. Catalogs on our platform are automatically tagged with semantic and descriptive metadata by default, allowing the right track to be found in a database of thousands and even millions of tracks in seconds. This helps creative teams respond to pitches faster with increased accuracy, and buyers like sync agencies and TV/movie production houses to find the best tracks for their projects. Our similarity engine runs millions of track comparisons in milliseconds, allowing clients to identify assets that are sonically similar to tracks either within their own catalog, or from third-party sources like MP3s and YouTube links. Further still, this technology can facilitate proactive audio suggestions to potential clients for micro licensing use, furthering the potential for catalog monetization.
AI technology also plays an important role in our data management and catalog cleanup processes. We enlist AI techniques to sort out millions of points of metadata when tidying up messy catalogs through a technical team of researchers and doctorates, and machine learning applications allow us to access different rights sources and select the most accurate. These techniques can also be applied to royalty processing in order to make data matching decisions when processing tens of millions of lines in publishing and sales statements and ensure we match them against client records. 
As the technology has matured, its applications have started to expand. Not only can AI be used for metadata, but it can also be applied to financial management and forecasting techniques. The ability to analyze large data sets and make automated decisions can drive new marketing and commercialization opportunities either on an automated or semi-automated basis. As volumes grow further, these efficiencies grow higher and faster all the time, making new licensing types viable – imagine if tracks could be automatically licensed and synced in milliseconds to high volume, specialist or localized advertising. All of this relies on high-quality underlying data to make it happen. 
Just as we employ AI technology to solve data issues at Synchtank, this is where we expect the bulk of high-powered AI type applications to be used in the wider music industry. Data is now the grease that allows distribution, discovery, marketing, sales and financial processing to work efficiently. Without good data backing up a catalog, any investment into the music returns substantially less than it could, and yet the music industry continues to be plagued by data problems. The sheer volume of information presented to us in the digital age sees the music industry struggling to keep up, and this is where AI and machine learning has the potential to play its biggest supporting role.
Our extensive use of AI techniques at Synchtank has ensured that we understand where it can, and where it should not, be used. Just like with blockchain, it's important to proceed with caution and separate hype from reality, given that recognizing the limitations of AI is the key to employing it. We believe it is a tool that, when used effectively in conjunction with human input, can be instrumental in the future management and monetization of music rights. As our platform evolves, we are continuing to shift the use of AI into large scale applications which are critical to our client's cash flows, financial forecast and growth. This trend will accelerate as more sophisticated services are made available and more and more automation comes online.
Rory Bernard is CEO of Synchtank, where he is deeply involved in the the company's strategic development and works hands-on with a wide range of music and media clients helping to develop their technology strategy. He will be speaking on the Rethinking Royalties panel during the Music Tectonics conference, taking place October 28-29 in Los Angeles.
---
Given the always-changing nature of the music business, it is extremely important for today's industry professionals to stay current with the latest trends and technologies influencing the ways we work. Our "Keeping Tempo With Music Biz" content series taps into the brain trust of expert voices from Music Biz's member and partner communities to help readers understand the machinations of the modern music business and arm them with the tools to help them achieve success.
---
You can read past "Keeping Tempo" articles via the portal linked here. And, stay tuned for more insightful discussions from our members and partners from across the industry!