[Keeping Tempo With Music Biz] — Artist Brand and Its Role in Music Entrepreneurship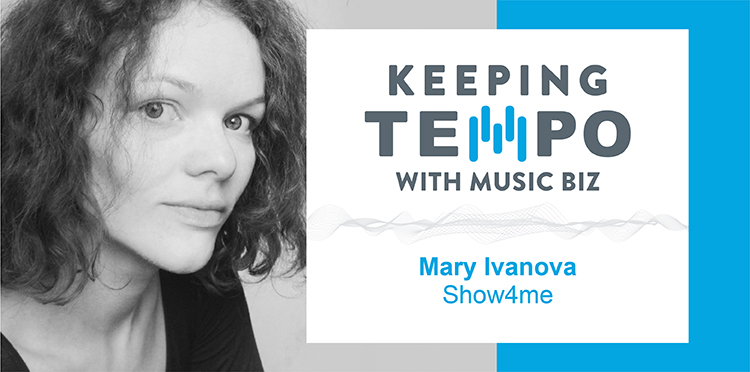 In today's content-driven attention economy, a strong playlist or synch placement can help an artist's latest single skyrocket in popularity, virtually jumpstarting successful careers overnight. This has unfortunately resulted in a new obstacle: how can modern day artists pull in more engaged, lifetime fans that will not just listen to their latest release, but truly embrace the artist in their lives? To best resonate with music consumers, it is paramount for artists and their teams to create a clear, unifying artist brand — an identity that truly resonates with the audience they want to reach.
In the following op-ed, Show4me's content and media specialist Mary Ivanova details the importance of forming an authentic artist brand, how to develop one, and how interactive platforms like Show4me can help artists manage and monetize that brand.
---
Technology is becoming more and more accessible, making it much easier for new artists to enter the music industry. There's even a genre called "Bedroom Pop" (because the music is conceived, produced and recorded in artists' bedrooms). Today, anyone can create and distribute music, effectively becoming a music entrepreneur. And if your music is your product, artist brand is the packaging.
What Is Artist Brand?
Artist brand is the way the public understands the style of music and personality of a musician or band. What makes an artist brand? It's comprised of the style of music you play; the lyrics of your songs; your outfits and attitude; and the things you say in public, at live shows, and on  social media.
It's tempting to look at your artist brand simply as an extension of the "everyday you" and take the advice to "just be yourself." But here's why you shouldn't. Brand is not an actual personality — it's a simplified, digestible concept that has to be broad enough for hundreds, thousands, or even millions of fans to relate to.
Defining Your Artist Brand
Maintaining a brand that's very different from who the artist(s) really is requires enormous resources. This is why the easiest way to go is to craft an artist brand out of already existing characteristics and style of the musician/band. The trick here is to choose ones that their fans will most relate to.
To define your artist brand:
make a long list of all the core characteristics of your music and style (e.g. edgy and rebellious, intelligent and outspoken, soft and nostalgic, electronic and progressive),

add in the language your art and work have been described by outsiders,

and come back to the list after a break (a week or more) to pick three that feel most relevant.
Building Your Artist Brand
Once you know exactly the message your brand will carry, it's time to translate your general brand concept into concrete images, text and video for your various offline and online platforms.
Now it's time to bring your brand to life. Begin with a review of the branding you already have in place, which may include:
photos,

colors and fonts in promotional materials,

website design,

style and messaging on your social media.
Use this inventory to spot the things that need to be replaced first and start there.
Next, build your fanbase around your brand. One of the more effective ways to do this is by focusing on a limited number of platforms, or even just one, to gather and engage all your fans. This is actually why we developed our platform, Show4me, into a music interaction network. Our platform allows any musician, band or their teams, to conduct the full cycle of music business – attracting fans, putting together concerts and monetizing their music.
Click here to read more about how Show4me Artist clubs can be used to conduct music business in a single place.
The Full Cycle
Your artist brand becomes the core of your online and offline presence, as well as your communication with fans, media, and the general public.
Take an Artist club on Show4me for example – the profile contains all the information about the artist and their career, direct access to purchase or listen to their music, tickets to upcoming shows, merch, and more. Fans can also support the artist's crowdfunding campaigns for new music and live shows, preorder and buy event tickets, and engage ahead of live shows by joining discussions and interacting with both the artist and fellow fans.
Here's how the cycle flows:
Creating your Artist club (remember to fill out artist bio, add cover and profile pictures, make a few posts to the Artist club page, upload your music, and update other info as necessary)

Inviting fans to join your Artist club, for free or with premium membership ($1/year with unlimited listening to all of the artist's music hosted on Show4me)

Creating music and show crowdfunding campaigns, allowing fans to preorder tickets to shows, purchase tickets with bundled merch items and meet-and-greets, and more

Your Artist club becomes a musician/band's portfolio for potential partners, clients, sponsors, labels, booking agents, concert promoters
Click here to learn more about Show4me's Artist Clubs and to set up yours for free.
Monetizing Your Artist Brand
Having a defined brand means you are giving your audience an experience, not just your music alone. Brand gives your art context, and demonstrates how your music fits into your audience's lifestyle. 
By engaging your fans on a more personal level, it prompts them to purchase copies of your music to play at get-togethers or listen to during the day, tickets for live shows, and merch items. This also segways into brand partnerships, which allows an artist or band to become a brand ambassador or find sponsor deals and advertisement gigs to bring in additional revenue streams.
Final Thoughts
There are many benefits to presenting your music to the public along with a strongly formed, united brand. A clear, simple brand for you and your music helps your audience identify how your music fits into their lives, assists you in attracting new fans and supporters, makes concert promotion and music distribution more targeted and, as a result, less costly. Putting time and effort into building your artist brand using the advice above will help you create a more engaged audience base and come closer to achieving success!
---
Want to learn more about establishing and monetizing your artist brand? Check out our  February 27 webinar hosted by Show4me CEO Karén Chiftalaryan and industry expert & musician Dan BG. You can register for the online event via this link.

Check out past "Keeping Tempo" articles via the portal linked here. And, stay tuned for more insightful discussions from our members and partners from across the industry!