[Keeping Tempo With Music Biz] — Approaching Product Development From a Creator Lens with Jacob Fowler of The Orchard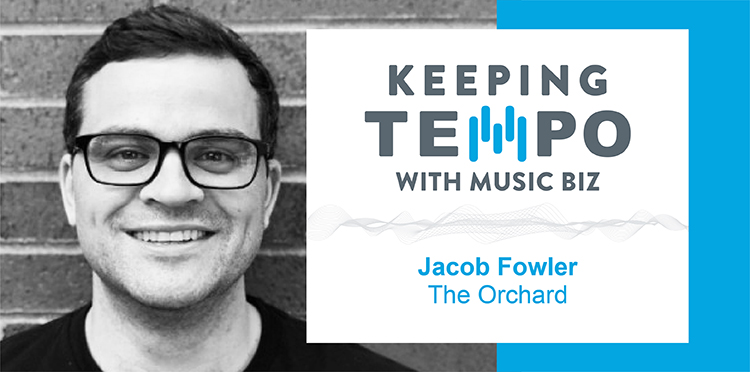 The music industry has seen a number of dramatic shifts in the past two decades, with each year seemingly introducing a handful of new ways to share songs, track who is listening to them, and interact with music fans. Despite these rapid changes, The Orchard has never wavered from their initial promise posed more than 20 years ago: allow members of the creative community to release music on their own terms, all the while innovating their core product offerings so they may best serve their partners. In this interview with The Orchard's Chief Technology Officer Jacob Fowler, we discuss how the company's approach to updating their product suite starts and ends with consideration for the needs of artists and labels, how their offerings are helping creatives weather the COVID-19 crisis, and his thoughts on the immediate future of our industry.
---
Music Biz: The Orchard was founded in 1997 as a way for independent labels and artists to fully take control of how they released their music to the world. Now more than 20 years later, how do you feel the products and services the company offers fulfill its inaugural mission?
Jacob Fowler: It's definitely been an interesting progression. While the inaugural mission has stayed the same, the products and services have changed more consistently in the past few years, and The Orchard has fortunately been able to keep up with that pace. We're still able to give labels and artists more and more ways to share their music with the world, and we're doing this through continual evolution of the products and services we offer. Whether it be creating a product to distribute videos, or building a team to manage our partners' YouTube business, we've done a good job iterating to keep that mission true. 
Music Biz: The Orchard was one of the first companies to fully embrace new technologies in the music industry, most notably digital distribution at its advent in the early 2000s. Would you say this is driven by an awareness of the trends in the industry, or by the needs of the labels & artists with whom you partner?
JF: I would say it's a blend of both, alongside a strong product and engineering organization that is constantly evaluating where technology is heading and how it can marry the trends and needs of our partners. We're constantly meeting with users (more on that later), monitoring what's going on in the industry around us, and trying to think of creative ideas before they come to fruition, so we have a head start. 
Music Biz: How important is it for The Orchard to have input from their partner labels and artists when developing new tools, and does the company involve them at all in the planning process?
JF: This is one of the most critical parts of our product lifecycle. We often meet with users well ahead of the development process and iterate through cycles with them by talking through their use cases, conducting user interviews, and doing design reviews to show how we plan to solve the needs that we identified early in the process. We are also always getting feedback in asynchronous as well as automated ways once products are launched to continue iterating to the best possible feature set. This is how we ended up with our latest updates to the OrchardGo app!
Music Biz: Talk about the recently updated OrchardGo app, and the ways in which those updates help to empower artists make smart business decisions.
JF: The features we recently rolled out actually came from the process and user feedback mentioned above. One of the big points we heard from our partners were that all the tools and apps out there today focused on how to evaluate consumption; i.e. "Which playlists am I on?" and "How many streams do I have?" But, these other products failed to address their larger issues around how to find and engage with their biggest fans. The features we recently added are meant to solve this problem; users can see which fans have posted about them the most, what they've shared for that artist, and even filter fans based on their audience and reach. We feel like these changes are what set the app apart, and we've already received lots of positive feedback so far.
Music Biz: Offering analytics across all social media platforms is crucial to artists looking to reach both new audiences and tired-and-true fans — moving forward, how will OrchardGo integrate the most popular new platforms where artists and fans can connect?
JF: Whenever new social or consumption analytics become available, we always take the approach of first evaluating whether the data is reliable and, more importantly, if it can be accessed or scheduled on a regular basis. Then we look to our users to let us know how valuable and usable it is, and assuming all of these are checked off, we then incorporate it into our products. 
I think a mistake that is often made is incorporating data, particularly social information, without context. It's important to see the social metrics and how they drive the consumption metrics, rather than have the two stories told separately. 
Music Biz: With The Orchard's large tech focus, many may not be aware of the company's physical distribution capabilities. Given the increase of sales and demand for physical music products, how do these two sides of the business interact and benefit one another?
JF: Great question! We actually built out our physical distribution capabilities as we continued to evolve our services and products by listening to our users' needs. We have a high level of integration between the two from an application perspective, where users can easily copy information from their physical product setup to digital and group the revenue together on a project basis. The same coordination happens within our services, as our teams focus on helping our partners with their complete product setup and marketing strategy, with specialized focuses in each area, but making sure it's all part of one cohesive plan. 
Music Biz: A major recent focus in our industry is the expediency and transparency of payments artists receive from various micro-payment sources, including streaming income, sync opportunities and neighboring rights. How does The Orchard's Workstation stand out in respect to these issues to further empower labels & artists?
JF: This is an interesting one as various companies have popped up in the space. We traditionally work with labels and were one of the first to offer monthly payments instead of bi-annually or quarterly, which has always been a step-up in getting artists paid as quickly as possible. We've continued to expand the Workstation's royalty feature set as well, adding filtering options and ways to slice your data so that users can target their sync and rights revenue by sources or territories, while also seeing it as an aggregate with their digital and physical monetization.
Music Biz: We're at a turning point due to the effects of COVID-19 where digital content like livestreams, concert rebroadcasts and artist-led podcasts are more essential than ever in helping indie artists keep their heads above water. Where is The Orchard's place in helping labels & artists share their content across these budding mediums?
JF: COVID-19 heightened the need for artists to connect directly with fans digitally and authentically. Our teams have provided artists and labels with marketing ideas, best practices, and a multitude of tools for success to get their music out to a wider fanbase. We've seen artists go live and produce engaging content, taking chances on new ideas and release strategies. To bring global artists, teams, and fans together, The Orchard hosted two days of a Stay Home Fest, a first of its kind Instagram live festival for the company. From DORA in Spain to Blimes and Gab in the United States to Amilli in Germany, we brought artists from across the world together during a time of social distancing and separation. 
As we look ahead, our global teams at The Orchard are always challenging what's next so we can meet artists where they want to go. Visit The Daily Rind for ongoing industry updates and insight from The Orchard.
Music Biz: Looking to the future of the industry — as we begin to see the return of traditional music retail and live music outlets in some countries, what new technologies that have taken off in 2020 do you feel will have a lasting impact?
JF: Some of the biggest new areas in tech to watch out for are going to be around live performances. Even while folks start returning to whatever the "new normal" is, the amount of engagement you can have with new features like live feeds on Instagram are here to stay. We might see them transition from performances to listening sessions, for example, but the amount of engagement they allow for has really been a nice surprise. 
Music Biz: As we begin the second half of 2020, what industry trends do you think will define the year, or are there any you feel will make a big splash in 2021?
JF: I think we'll continue to see more and more user-generated content platforms coming into the market. TikTok has exploded onto the scene and you're now seeing a lot more content come through Twitch, so I would expect this trend to continue at a rapid pace. I also think platforms that help creators produce new content given the limitations we're seeing with COVID-19 will catch on quickly!
---
Check out the video linked here for more on the recently updated OrchardGo platform, and follow The Orchard on Facebook, Instagram and Twitter for all the latest company updates. You can read past "Keeping Tempo" articles via the portal linked here. And, stay tuned for more insightful discussions from our members and partners from across the industry!