[Keeping Tempo With Music Biz] — A Preview of NY:LON Connect 2022 with Music Biz's Portia Sabin and Music Ally's Paul Brindley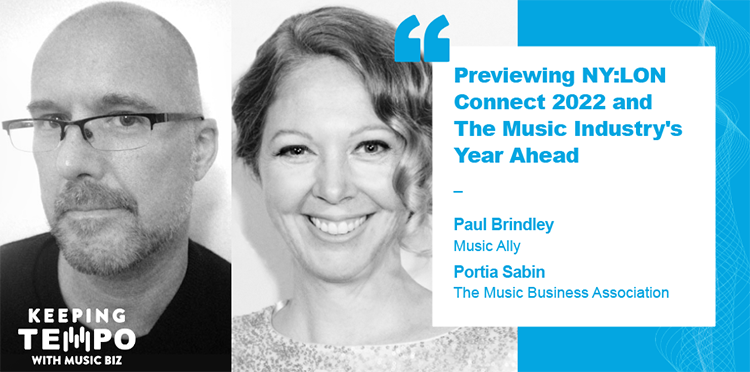 In a typical year, planning a forward-looking industry event like the NY:LON Connect global music business summit can prove challenging. How do you determine what the most prescient topics will be at the start of the year for an industry that changes as rapidly as ours does? Going into 2022, the music business saw the rapid maturation of new technologies like NFTs and high-tech in-car audio systems that are poised to open new sources of income for artists, as well as continued support for those who are still weathering the effects of the COVID-19 pandemic. We discussed all this and more with Music Business Association President Portia Sabin and Music Ally CEO/Co-Founder Paul Brindley, as we highlight what you can expect from next week's NY:LON Connect 2022 event!
---
Music Biz: Next week's event marks the second time NY:LON Connect will be held virtually, and the first edition held via the Socio events platform. In planning this year's event, what advantages did the virtual format have that made it ideal?
Paul Brindley: So one advantage is that we can actually hold the event! It was so tricky to anticipate what might be happening in January of 2022 when we started to plan the event last year: should we go virtual or physical? But I don't think even at my most pessimistic, I would have anticipated that one in 10 people in London would have COVID at this point!
On the positive side, as with last year's event, the online version enables us to reach more widely in terms of both our speakers and our audience. So it really is becoming more of a genuinely global event.
Portia Sabin: Socio is a great platform for robust virtual networking, and that's a major thing we've missed out on during the last two NY:LON events that we're thrilled to introduce.
Not only can attendees chat with one another during sessions, but they can also create avatars and explore our virtual lounge, where they can enter one-on-one conversations or group calls simply by bumping into each other! It's a lot of fun to use and really allows people to connect to the best of our current ability.



Music Biz: The obvious story of the past year in the music business is our continued grappling with the effects of the COVID-19 pandemic. That said, much has happened in our global community over the past two years — were there challenges in determining what were the most relevant topics to cover this year?
PB: There are always challenges deciding in advance which topics to concentrate on; you can't cover everything. So for instance in our technology related tracks, we decided to go with gaming and the metaverse, and then AI music and the future of in-car music. Those gambles paid off, as we're so fortunate to host a keynote from Meta's Fred Beteille for our Gaming and the Metaverse conversation, and a really exciting panel to discuss advancements in in-car music, which I think will become a significant boost of new income once driverless cars become more of the norm.
PS: The explosion of investment in the music industry via catalog acquisition has been hard to ignore. For years publishing catalogs were seen as stable investments, but now master rights catalogs have also become interesting to investors — almost every day you see an announcement on another huge sale of rights. Unpacking what's going on in this space is one of the conversations I'm most excited about at this year's NY:LON.



Music Biz: There's a clear throughline between the pandemic-induced isolation and the acceleration in development of technologies like NFTs and the metaverse. Are there specific opportunities this new tech presents to the music industry that excite you as they begin to reach maturity in the market?
PS: New technologies tend to stabilize as they mature, so seeing what kind of value proposition NFTs end up providing to artists is going to be pretty interesting. I don't think we're there yet, but I'm looking forward to the discussion of how it's going so far!
PB: I think what's most exciting right now is the way we're seeing income from these digital sources that are not just regular DSPs. This has been noted by various analysts and, of course, it's incredibly important for continued growth that we start to see revenue coming from other sources of usage beyond traditional streaming services. I see the metaverse in particular opening up new licensing opportunities for rightsowners, in the way this has begun to happen with the likes of Meta and Roblox. I see NFTs becoming a more pervasive part of the business equation for all kinds of artists who can use the technology as a means of more effectively monetizing their fan bases.
PS: Monetization of new tech is always a challenge for the music industry, so having new players come in and seeing how artists and others capitalize on those opportunities is exciting.



Music Biz: The 2022 international track will focus on the African music market, as well as how artist collaborations help to bolster international exposure. What makes this particular market the best to explore during this year's NY:LON?
PB: Africa has produced some of the world's best new music in recent years, including the likes of Wizkid and Burn Boy. It's difficult of course to do justice to a whole continent, but I'm delighted that we will feature a tremendous high-level keynote interview with both Sipho Dlamini and Franck Kacou from UMG Africa, as well as a really exciting panel lineup which includes Diamond Platnumz's manager, YouTube and 1020. This year's international track also features discussion on the power of collaboration, which I think will lend itself well to these conversions as it's so important to both the artistic and the business sides of the industry.



Music Biz: A notable addition to the NY:LON 2022 agenda is the "Values-Based Economy" program track, which will be headlined by a keynote interview with BMG CEO, Hartwig Masuch. What prompted its inclusion, and what might attendees expect to learn from this set of conversations?
PB: This is one of the tracks I'm most looking forward to. It came up from a conversation with the ever-thoughtful Pete Downtown who was telling me about AudienceNet's global research partner and how this is really helping to inform businesses across the board. We've seen so many 'values' based issues become more important in music over recent years — from diversity and inclusion to environmental concerns and issues of business fairness (in the UK in particular with the recent government streaming inquiry). And knowing that BMG has always tried to do things a little differently and has spoken so much about the importance of transparency and accountability, Hartwig [Masuch, CEO of BMG] was our natural choice as a keynote for this track. I was so pleased that he actually said yes! So I expect this to be one of the most wide-ranging and thought-provoking tracks of all at this year's event.



Music Biz: This topic builds on the more people-focused program inclusions from both last year and this year's NY:LON summits. As we enter the new year, what are your feelings on the music industry's response to the recent calls for more inclusion and representation of marginalized communities? And what about the need for improved response to mental health & wellness needs for its workers?
PB: This is all part of the values debate, as I think that the COVID-19 pandemic has put even more focus than there was already on HOW we work. It's helped to accelerate so many trends and certainly put mental health & wellness much higher up the agenda for obvious reasons. Personally, I think these are all aspects of what you would expect from more developed, mature societies. And I still find it rather depressing that we're even having to talk still about diversity and inclusion in the second decade of the twenty-first century. It's really high time that proper progress is made — this was our thinking behind making the focus on diversity for NY:LON 2022 more of a demonstration of case studies where progress is being made.
PS: The music industry seems to have taken this call to action pretty seriously, and it's up to all of us to continue the important work of improving conditions for marginalized communities, as well as that of the mental health & wellness of everyone involved. We want to shine a light on the actual changes that are being made and continue to support those players who are making a difference, while encouraging the whole community to do the same. It's a pivotal time because there's a lot of pressure, both internally from our community and externally from fans, so I think we can seize this opportunity to enact meaningful change.



Music Biz: Looking forward to the next 12 months, what upcoming international trend or burgeoning technology excites you most for our industry's future?
PS: I think the current fluidity of the industry is a really interesting trend. More and more people are moving around in the industry, and that's leading to a decrease in insularity that I feel is really healthy. People are taking knowledge about one business sector and bringing it with them into other areas. This is also true from a global perspective, with industry folks beginning careers in one area then moving to another. This increased perspective can only lead to the industry becoming more unified and seeing ourselves as in the same boat, which is a net positive for the community as a whole!
PB: Technology-wise, I'm sure NFTs will continue to open up more avenues to monetize fanbases. While I think it may take a little while for the metaverse to more fully develop, I do think there will be new opportunities for music there too. In the longer term, I do think that in-car and the more pervasive availability of music through all sorts of devices and platforms will mean that hopefully the overall consumption of music will continue to grow. However, I do also hope — and think — that AI and technology more broadly will convince music fans that they can create as well as more passively consume, to such a point that music may become a more genuinely interactive experience.
---
NY:LON Connect 2022 takes place next week, January 18 – 21 via the Socio platform — visit nylonconnect.com for full event details and to register. You can read past "Keeping Tempo" articles via the portal linked here. And, stay tuned for more insightful discussions from our members and partners from across the industry!