Infographic: Search Engine Optimization for Music Websites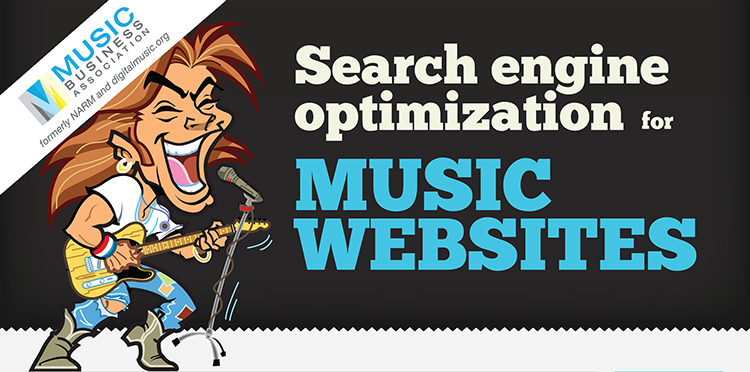 This press release was issued by NARM and digitalmusic.org before the two entities became collectively known as the Music Business Association on October 7, 2013.
digitalmusic.org Shows Bands, Labels, Music Retail Outlets, and More How to Top Search Engine Results Pages in New Infographic
May 6, 2013 – Released today during the Music Biz 2013 event, a new infographic from digitalmusic.org, the home of music business association NARM's digital initiatives, is giving bands, record labels, physical and digital music retail outlets, and other music companies a crash course in search engine optimization (SEO). Supported by Acquia and titled "Search Engine Optimization for Music Websites," the infographic walks readers through the basics of how search engines such as Google and Bing work, then provides a series of easy-to-implement tips including the S.T.A.C. (Structure, Topicality, Content, Authority) method, website dos and don'ts, and monitoring strategies that can be used to create a "web of authenticity" that connects their site to other reputable ones on the web, leading to higher search engine results and increased business.
"Whether you're an up-and-coming band, an established record label, or any other company in the music business, it's critically important that people be able to find you quickly and easily, and chances are they are going to use a search engine to do it," said Bill Wilson, Vice President of Digital Strategy and Business Development for NARM/digitalmusic.org. "As DMCA (Digital Millennium Copyright Act) compliance forces illegitimate sites down in the rankings, it is crucial for official, licensed sites to implement proper SEO techniques so they can take over the newly vacant spots at the top. This infographic visualizes the steps that must be taken to do so, allowing legitimate sites to easily create connections that will give them the visibility they need to make an impact on the industry."
"Nielsen's Global Trust in Advertising report says the fourth most trusted source of information by online consumers is a branded web site. However, the approach of "build it and they will come" simply doesn't work, especially in the music industry, where millions of artists fight for the attention of music fans," said Chuck Fishman, media, entertainment and publishing director for Acquia. "Acquia supports digitalmusic.org's 'Search Engine Optimization for Music Websites' infographic because it provides critical and invaluable web development best practices to artists, labels and other music-related businesses, so their sites are easily discoverable by music fans."
Acquia is joining digitalmusic.org's membership in support of its mission to advocate, educate and organize on behalf of the entire digital music ecosystem. Acquia's passion for connecting performing artists and fans is rooted in its work helping power the digital strategies for many of the industry's biggest brands, including Warner Music Group and Sony Music Entertainment. Acquia will be present on two work groups, helping to set industry best practices and standards around digital marketing and digital asset management.
About Acquia
Acquia is where great digital experiences begin. Acquia is helping some of the world's leading brands succeed, including Twitter, Mercedes Benz, Warner Music Group, and Stanford University. Join the more than 2,000 organizations that are moving at the speed of the web with Acquia's solutions for content, community and commerce. Acquia offers developer tools, cloud solutions and global expertise to drive success the open source way. Dream It. Drupal It. Acquia.

Embed This Infographic On Your Site (copy code below):