Florida Georgia Line Lends Voice to Give the Gift of Music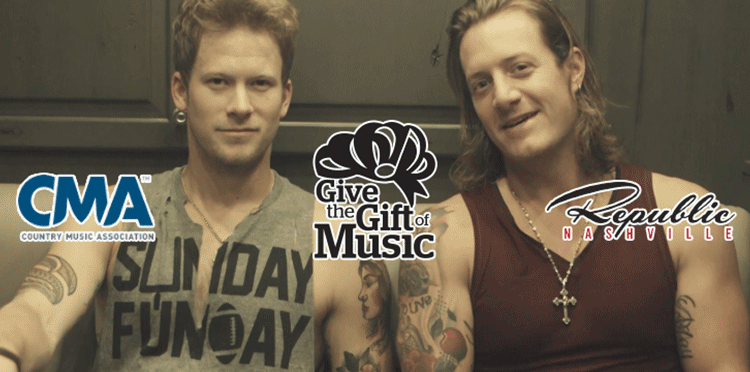 Reigning CMA 'Vocal Duo of the Year' Florida Georgia Line
Lends Its Voice to the Give the Gift of Music Campaign,
Launching 4th Annual 'Countdown to the CMA Awards' Contest
Winner Will Receive Two Tickets to "The 48th Annual CMA Awards" and $1,000
MARLTON, N.J./WASHINGTON, D.C. – September 10, 2014: Kicking off the fourth annual "Countdown to the CMA Awards" contest as part of their industry-wide Give the Gift of Music (GTGOM) campaign, the Music Business Association (Music Biz) and the Recording Industry Association of America (RIAA) today debuted a brand new video from 2014 CMA 'Vocal Duo of the Year' nominee Florida Georgia Line. The video spotlights the significance of giving and receiving music as a gift and launched exclusively on the "Countdown to the CMA Awards" video player on the homepage of givethegiftofmusic.info. 
"Just a few weeks ago, I got to give one of my guitars to a buddy of mine and pass along the good deed, the musical gift," said Tyler Hubbard of Florida Georgia Line. "Thank you guys for the support and keep giving the gift of music. You never know what could happen," added Brian Kelley of Florida Georgia Line.
To watch the full video, visit givethegiftofmusic.info.
The 4th annual GTGOM "Countdown to the CMA Awards" contest asks fans to share how Florida Georgia Line or any other 2014 CMA Awards nominee's music (song, lyrics, performance, etc.) has inspired them. The Grand Prize winner will receive two tickets to attend "The 48th Annual CMA Awards" in Nashville on November 5 and a cash prize of $1,000. Special Country music gift packages will go to the second- and third-place winners. Specific details on the new gifting contest – including deadlines, rules, and regulations – can be found at givethegiftofmusic.info/2014-countdown-to-the-cma-awards-contest.
The "Countdown to the CMA Awards" video player also contains video contributions from other 2014 CMA Awards nominees such as The Band Perry, Little Big Town, Martina McBride, Blake Shelton, and Taylor Swift, among others.
A full list of awards and nominees can be found at CMAawards.com.
In the weeks leading up to "The 48th Annual CMA Awards" – airing live on Wednesday, November 5, at 8|7c on the ABC Television Network – music fans can further connect with the GTGOM campaign and its featured Country and other popular artists on social media sites including Facebook (facebook.com/givethegiftofmusic) and Twitter (twitter.com/agiftofmusic).
The Music Business Association and RIAA oversee the GTGOM campaign, which reminds music consumers that they can now give the gift of music in more ways than ever, including physical, online, and mobile options. A variety of industry organizations and more than 70 top musicians support the initiative and have helped spread the gifting message. Artists contribute original anecdotes to the givethegiftofmusic.info website that allow consumers to hear how music gifts have touched the lives of their favorite performers. Visitors can also share their own gifting memories, discover new music gift ideas, and share their music wish list with friends and loved ones all year long. In addition, industry groups have supported the campaign by using the GTGOM logo and website URL on their products, in advertisements, and on their websites.
About Florida Georgia Line
Florida Georgia Line is continuing the record-breaking momentum with GOLD-certified "Dirt," the lead single from their highly anticipated sophomore album ANYTHING GOES, slated for release October 14 (Republic Nashville). Already dominating with a #1 debut on the Country Digital Singles chart, "Dirt" shot to #1 on both the iTunes all genre and Country charts in the US and Canada, while also sitting atop the Country chart in Australia shortly after release. Exploding on to Country radio, Top 10-and-climbing "Dirt" earned the highest one-week add total in Country Aircheck history, in addition to rave reviews from critics nationwide embracing FGL's fresh sound. Inspired by the emotionally fueled song, the superstar duo recently launched the Dirt Campaign, partnering with the fundraising platform Omaze to benefit Habitat for Humanity, a global nonprofit, which creates affordable housing for low-income families. Amassing international appeal, FGL skyrocketed across genres with four consecutive, multi-week #1 smashes – PLATINUM–certified hits "Stay," "Get Your Shine On," "Round Here" and MULTI-PLATINUM "Cruise," making them the only artist in history to join Brooks & Dunn in achieving this accolade. Breaking the record for longest #1 on Billboard's Hot Country Songs Chart, "Cruise" has sold over 8 million downloads and is the best-selling digital Country single of all time (SoundScan). Producer Joey Moi is once again at the helm of the new music, following up FGL's 2X PLATINUM debut HERE'S TO THE GOOD TIMES, which has tallied over 17.8 million tracks sold worldwide. FGL penned over half of the tracks on the project, including the BMI Pop Award-winning "Cruise" Remix and PLATINUM-certified TEEN Choice Award winner for Choice Country Song "This Is How We Roll" featuring Luke Bryan, whose remix also features Jason Derulo. The duo, who is currently nominated for CMA Vocal Duo of the Year, has previously taken home ACA, AMA, ACM, Billboard, CMA and CMT Awards. Currently on the road as direct support for Jason Aldean's BURN IT DOWN Tour, FGL will host "This Is How We Cruise" aboard the Norwegian Pearl in November. For tour dates and more, visit FloridaGeorgiaLine.com.