Entertainment & Technology Law Conference To Return to New York City on September 19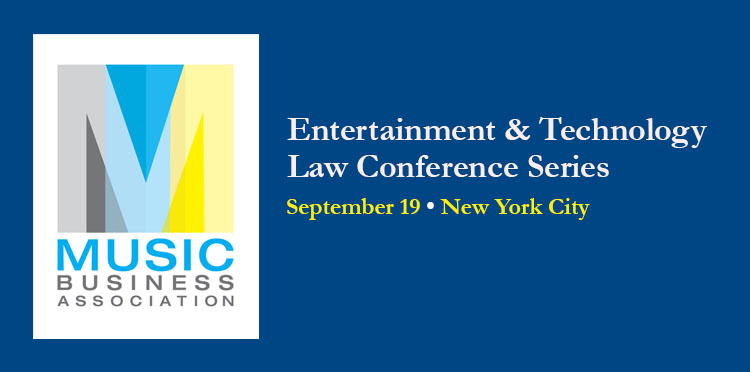 The Music Biz Entertainment & Technology Law Conference Series will make its return to New York City on September 19 to merge entertainment law issues with insight on new technology and media concerns that are at the forefront of the entertainment industry.
The full-day program will tackle a variety of hot-button legal topics that have powerful ramifications for artists, songwriters, labels, publishers, and all in the entertainment and technology industries, including reclaiming copyrights, Trump-era policies, musicians' estates, the DMCA, YouTube, and more. This is your opportunity to learn from and interact with industry advocates and influencers in an exclusive, limited-attendance setting.
Take a look at the preliminary agenda below and click here for details. 
9:30 – 9:40 AM
Opening & Welcome
9:40 – 11:10 AM
Reclaim Your Copyright
Organized by MusicRowSearch
After 35 years, if you follow the rules, copyrights you've signed away can be returned to you, or your family. Everyone involved with copyright needs to know how to handle terminations, recaptures, reversions. Watch experts absorb uncertainty about the process and show you how to simplify otherwise complex issues.  All sides will be explored, including how to deal with such requests when you receive one. 
Moderator
Jim Griffin, Managing Director, Hazen, LLC/OneHouse 
Speakers
Duff Berschbeck, Sr. VP of Legal Affairs and Business Development, Sony/ATV Music Publishing Nashville 

George Howard, Associate Professor of Management, Berklee College of Music 

Linda Edell Howard, Partner, Adams and Reese, LLP 

Daniel Novick, Attorney, Savur Threadgold, LLP

Eddie Schwartz, Co-Chair/President Emeritus, Music Creators North America/Songwriters Association of Canada 
11:20 AM – 12:50 PM
Music Policies In The New Administration
Organized by Leavens Strand & Glover, LLC
Considering that the positions of the Trump administration on copyright and royalty issues are still largely unknown several months into his presidency, this discussion between PROs, politicians and industry professionals will shed some light on what the industry might look for from them moving forward. The panel would address the possible Trump perspective on hot button issues such as the status of the PRO consent decrees, streaming royalty rates and the rate courts, Fair Play Fair Pay, Copyright Act revisions, and more.
Moderator
John Beiter, Partner, Leavens, Strand & Glover, LLC 
Speakers
Jacqueline Charlesworth, Of Counsel, Covington & Burling, LLP
Stuart Rosen, Sr. VP and General Counsel, BMI
1 – 2:15 PM
Break
2:20 – 3:50 PM
Hey, Hey, My, My, Rock N Roll May Never Die – But The Musicians Who Make It Will
This panel will discuss the estates of musicians, living and dead, and the need to pay attention to the special issues surrounding them. Copyrights, for example, have limitations in wills. Estates have unique needs – should they have a collective voice? We'll hear from expert attorneys, estate administrators and family members with extensive audience participation encouraged.
Moderator
Jim Griffin, Managing Director, Hazen, LLC/OneHouse
Speakers
Dietlinde Tuban Maazel, The Estate of Lorin Maazel, renowned global actress and professor, Rutgers University
Angela Rose White, an attorney and founder of David Rose Publishing and DaBet Music Services
Abby North, Musician and administrator of the Estate of Alex North
4 – 5:30 PM
The DMCA, YouTube & You: Charting the Future of Music Online
This panel will examine the history of the DMCA, the operation of its safe-harbor, takedown and liability regime and the critiques of its operation from the point of view of content creators, owners, users and internet service providers. The panel seeks to provide direction on navigating the DMCA's murky waters, an understanding of various problems with the current law and an overview of the debate surrounding its reform. The panel will be of particular interest to artists and entities whose works are distributed and infringed upon online and will also provide guidance on digital rights management issues and best practices for developers and operators of online entities making use of "user-generated content."
Moderator
Peter Afrasiabi, Founding Partner, One LLP
Speakers
Greg Barnes, General Counsel, Digital Media Association
Don Nottingham, Singer, Songwriter, Arranger, Producer and Attorney, Straight No Chaser
6 PM
WHO KNEW
The Cutting Room
WHO KNEW will host its first ever event in NYC as the closing ceremonies for the Music Biz Entertainment & Technology Law Conference. Like all WHO KNEW events, the program will include an impressive slate of highly accomplished music industry execs sharing their wisdom and stories in an intimate "TED Talk" style presentation. Though there will be several speakers, WHO KNEW is pleased to announce already four of our favorites:
Stacie Seifrit Griffin, Marketing, Media & Tourism, Lockn' Festival & Infinity Downs Farm
Larry Miller, Director, NYU Steinhardt Department of Music & Performing Arts Professions
Peter Shapiro, Founder, Dayglo Ventures
Dick Wingate, Principal, DEV Advisors
The event will be held at The Cutting Room, walking distance from the law conference. All law conference attendees are admitted for FREE by showing your conference badge. Doors open at 6 PM for cocktails, followed by the program at 6:45 PM sharp. Please RSVP by emailing tom@musicrowsearch.com.
A little history … held to date in Nashville, TN …
The first event was January 2015 and since then WHO KNEW produced 17 successful events
Each event draws 400-600 people to Nashville's City Winery for night of music industry networking and a small group of speakers each delivering a 10 minute "TED Talk."
The secret sauce is making the industry accessible via networking and allowing these speakers the chance to deliver a unique talk about themselves more than their companies.
The audience represents the entire industry — 30 year industry veterans sitting amongst students — label execs, artist managers, attorneys, working musicians, publishing execs… you name it, they're there.
The past two years, WHO KNEW partnered with Music Biz and produced a WHO KNEW as the closing ceremonies for the annual Music Biz conference.
For more information, visit www.musicrowsearch.com/whoknewnashville.
Six (6) continuing legal education credits have been applied for through the New York State Continuing Legal Education Board. Lawyers based outside of New York can apply for credits according to their state's regulations and guidelines.