'Country Music's Gone Global' Sessions to Highlight Genre's International Initiatives and Expansion at Music Biz 2017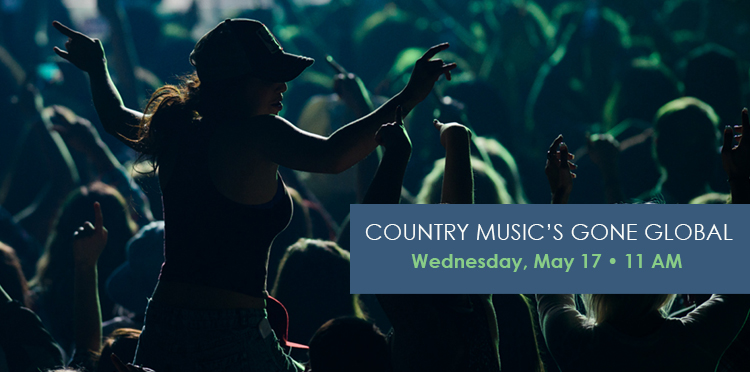 Case studies to examine CMA's Forever Country campaign, marketing campaign for Tim McGraw's 'Humble & Kind,' and international success of Thomas Rhett
April 24, 2017 – The Music Business Association (Music Biz) will present Country Music's Gone Global on Wednesday, May 17 from 11 a.m. to 1 p.m. as part of the Music Biz 2017 convention at the Renaissance Nashville Hotel. Emceed by the Country Music Association (CMA), the event will feature invaluable data and research on the global spread of Country music. The session will also highlight three case studies detailing global success in the genre and discussing creative collaborations, social marketing, and touring.
Country Music's Gone Global will begin with a presentation from the CMA, in which they will reveal international Country statistics and discuss their efforts to spread the genre throughout the world. CMA will then share their strategy for developing the 'Forever Country' campaign, with Universal Music Group Nashville sharing how the campaign impacted the participating artists on a global level. A case study featuring representatives from Tim McGraw's management company, EM.Co, will then detail the non-traditional release and marketing campaign behind McGraw's hit single "Humble & Kind" and the multicultural movement that followed. Finally, Virginia Davis, Founder and Managing Partner of G Major Management and manager of breakout star Thomas Rhett, will be joined by representatives from Big Machine Label Group, Live Nation UK, William Morris Endeavor Entertainment (WME) and moderator Phyllis Stark of Billboard to discuss the challenges and opportunities of going global and breaking Thomas Rhett on an international level.
The full agenda for Country Music's Gone Global can be found below or by visiting musicbiz2017.sched.com. Admission is included in the price of a full Music Biz 2017 badge, which can be purchased at www.musicbiz2017.com. Special discounted rates are available for first-time independent label, startup, artist, manager, songwriter, and publisher attendees, as well as students and educators.
Day passes for Wednesday, May 17, are also available for only $199. These passes will allow buyers to access all Music Biz 2017 programming on May 17 only, including the CMA-sponsored Awards Breakfast & Presentations (featuring awards presentations to UMG Nashville's Mike Dungan and Music Millennium's Terry Currier and a live performance by Little Big Town) and Country Music's Gone Global. To purchase the May 17 day pass, visit musicbiz2017.eventbrite.com and use code COUNTRYDAY to reveal the ticket.
11 – 11:35 AM
CMA Welcome & Forever Country: Multi-Artist, Multi-Label, Multi-Generational
Global expansion of Country music is part of the year-round mission of Country Music Association (CMA). Today's CMA staff will be on-hand to reveal international Country statistics and discuss their efforts to spread the genre throughout the world – from Mexico to Canada to Australia.
CMA and UMG Nashville's Annie Ortmeier will team up to take you on an exploration of Forever Country — a first of its kind multi-generational, multi-artist, multi-label Country music single and video to commemorate the 50th CMA Awards broadcast. The song encompassed three timeless classics, 'On The Road Again,' 'Take Me Home, Country Roads' and 'I Will Always Love You' in a combined arrangement by award winning producer, Shane McAnally. The completed project featured 30 artists across all eras of country music and included a surreal video directed by award winning director, Joseph Khan. The release of the single and subsequent video coupled with the efforts of the entire industry escalated the song and the video to new heights internationally with distribution to new territories that helped propel the track onto several iTunes, Spotify and Amazon charts globally.
This session and case study takes a deeper look at Forever Country and the impact on overall International audiences and adoption of country music globally prior to, during, and since release with research from the CMA and Universal Music Group Nashville.
Annie Ortmeier, Sr. Director of Streaming & Digital Marketing, Universal Music Group Nashville
Karen Stump, Sr. Director of Consumer Insights, Country Music Association (CMA)
Damon Whiteside, Chief Marketing Officer, Country Music Association (CMA)
11:40 AM – 12:10 PM
Marketing McGraw: How Staying 'Humble & Kind' Sparked a Movement
With more than 50 million albums sold worldwide and 43 worldwide #1 singles, Tim McGraw truly defines what it means to be a global Country artist. In 2016, McGraw's management company, EM.Co reached new heights in his career with the song "Humble & Kind" by creating a marketing plan tailored to the message of the music — one that would go on to win an internationally acclaimed Clio Award for its integrated marketing campaign. This #1 Platinum-Selling single would also go on to spawn a New York Times Best Seller book and lead McGraw to become one of the Top 5 Most-Engaged Artists on Facebook, across all genres.
EM.Co fought industry norms by partnering with Facebook to premiere the music video, launched websites and hotlines to create a community of fans from all over the world, and unleashed a massive social media movement so fans could easily engage with the song's message. Millions of views and many thousands of shares led to a multicultural movement where fans felt encouraged to create original content and complete random acts of kindness — one that was also personified at the ACM Awards when 130 people from across the globe joined Tim in celebrating kindness and harmony on stage, creating one of the largest ACM performances in history.
Join EM.Co as they take you behind the scenes of creating and executing this one-of-a-kind marketing campaign, which has garnered wins for GRAMMY Country Song of the Year, AMA Favorite Country Song, CMA Song of the Year, CMT Video Of The Year, a nomination for International Video of the Year at the CMC Awards, and so much more … all while staying humble and kind.
Brian Kaplan, VP of Marketing and Digital, EM.Co
James Stewart, Sr. Director of Marketing, EM.Co
12:15 – 1:05 PM
Thomas Rhett: Breaking an International Act
The world is witnessing the rise of Thomas Rhett — the multi-Platinum singer/songwriter leading the pack as one of Country music's elite artists with seven #1 songs and multiple awards under his belt including ACM, Billboard, CMA, and ACC Awards for his six-week chart-topping smash hit "Die A Happy Man," which was also nominated for a 2017 GRAMMY. This success has translated into sold-out shows throughout the U.S., and ultimately "across the pond" where Thomas Rhett is building a fanbase and breaking barriers of entry into the international marketplace.
Join us for a special worldwide case study set to explore the growth of Thomas Rhett's groundbreaking career — which began as a Nashville songwriter and has led headlining shows in Belgium, Canada, England, Ireland, the Netherlands, Norway and Scotland. On the verge of a third album and a 2017 world tour, this timely discussion will give a current perspective on the challenges & opportunities of going global, as well as an inside look at the components necessary to do so, and much more.
Moderator: Phyllis Stark, Columnist, Billboard
Jimmy Chapin, International Director, Big Machine Label Group
Virginia Davis, Founder and Managing Partner, G Major Management
Anna-Sophie Mertens, Promoter, Live Nation UK
Akiko Rogers, Agent, William Morris Endeavor Entertainment (WME)
Music Biz 2017, which will return to Nashville from May 15-18, is the music industry's premier event, giving the commerce and content sectors a place to meet with trading partners, network with new companies, and learn about new trends and products impacting the music business. This year's event will feature keynotes from Atlantic Records Group Chairman and COO Julie Greenwald with GRAMMY Award-winning superstar Kelly Clarkson, Spotify's Global Head of Creator Services Troy Carter, Creative Artists Agency (CAA) Music Agents Jeff Krones and Hunter Williams, Cracker Barrel's VP of Marketing Don Hoffman, Universal Music Group's Exec. VP of Content Strategy and Operations Barak Moffitt, and more to be announced. A special line-up of Digital Service Workshops from Amazon Music, Apple Music, Pandora, Soundcloud, Spotify, and YouTube/Google Play will mark an unprecedented first for the music industry as Music Biz will bring these companies together in one place for one day packed with information about how to leverage the tools and products that these companies offer to maximize value for artists, labels, managers, creators, and the industry at large.
The eclectic Music Biz 2017 program will also cover topics including Touring, Live Streaming, Vinyl, Messaging, International, D2F, Crowdfunding, e-Commerce, Playlisting, A&R, Social Media, Licensing, Publishing, Hi-Res, VR, Management, and Professional Development. Returning favorite sessions will include the Metadata Summit, Brand & Strategic Partnership Summit, and Entertainment & Technology Law Conference, as well as an encore for Music's Leading Ladies Speak Out and various special interest programs and breakout sessions. Music Biz will celebrate executive and artist achievements with Music Biz awards being bestowed to UMG Nashville's Mike Dungan, Music Millennium's Terry Currier, Adele, Paula Abdul, Hamilton Original Cast Recording and the Hamilton Mixtape, Lukas Graham, Reba McEntire, Maren Morris, and others to be announced. Registration is now open at www.musicbiz2017.com, and for a full list of currently confirmed programming, visit https://musicbiz2017.sched.org.
About the Music Business Association
The Music Business Association (Music Biz) is a membership organization that advances and promotes music commerce — a community committed to the full spectrum of monetization models in the industry. It provides common ground by offering thought leadership, resources and unparalleled networking opportunities, all geared to the specific needs of its membership. Music Biz brings a unique perspective and valuable insight into the trends and changes that innovation brings. Today, we put our collective experience to work across all delivery models: physical, digital, mobile, and more. Music Biz and its members are committed to building the future of music commerce — together.
Music Biz Media Contact
Laurie Jakobsen, Jaybird Communications — laurie@jaybirdcom.com, 646.484.6764