CMA 'New Artist of the Year' Nominee Thomas Rhett Premieres Exclusive Video For 'Give The Gift Of Music' Campaign's 5th Annual 'Countdown to the CMA Awards' Contest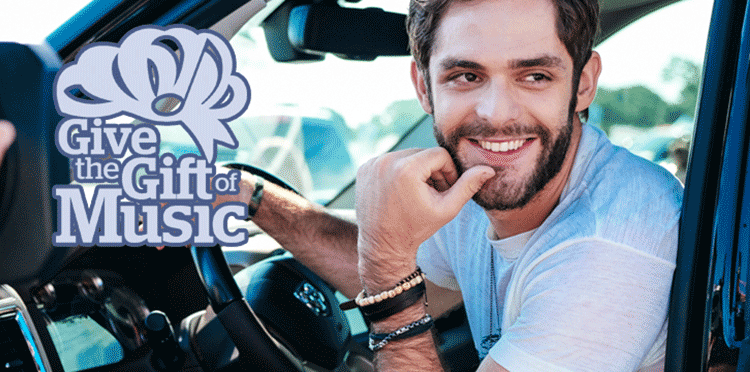 Winner Will Receive Two Tickets to "The 49th Annual CMA Awards" and $1,000
MARLTON, N.J./WASHINGTON, D.C. – September 16, 2015: Kicking off the fifth annual "Countdown to the CMA Awards"contest as part of their industry-wide Give the Gift of Music (GTGOM) campaign, the Music Business Association (Music Biz)and the Recording Industry Association of America (RIAA) today debuted an exclusive video from RIAA Platinum certified country artist Thomas Rhett. The video, which spotlights the significance of giving and receiving music as a gift, launched exclusively on givethegiftofmusic.info. The 2015 CMA 'New Artist of the Year' nominee joins the campaign in the run up to the highly-anticipated September 25 release of his sophomore album, Tangled Up, and the announcement that he will perform a record-breaking concert event at the iconic AT&T Stadium in Arlington, TX, on September 23. 
"I will never forget when my mom's dad, I call him papaw, gave me one of his first guitars he ever bought as a kid. It was a 1979 Gibson Dove," says Thomas Rhett. "It was the guitar I learned how to play Third Eye Blind songs on in high school. I even played it in the talent show. I think because of that guitar and its sentiment, some beautiful songs came out of it."
The 5th annual GTGOM "Countdown to the CMA Awards" contest asks fans to share how Thomas Rhett or any other 2015 CMA Awards nominee's music (song, lyrics, performance, etc.) has inspired them. The Grand Prize winner will receive two tickets, donated by CMA, to attend "The 49th Annual CMA Awards" in Nashville on November 4 and a cash prize of $1,000.
A special Country music gift package will go to the second place winner. All additional winners will receive signed copies of Thomas Rhett's new album, Tangled Up. Specific details on the new gifting contest – including deadlines, rules, and regulations – can be found at http://givethegiftofmusic.info/contests/2015-countdown-to-the-cma-awards-contest/
The "Countdown to the CMA Awards" video player also contains video contributions from
past and current CMA Awards winners and nominees such as Taylor Swift, Florida Georgia Line, The Band Perry, Hunter Hayes, Little Big Town, Martina McBride, and Blake Shelton, among others. A full list of awards and nominees can be found at CMAawards.com.
In the weeks leading up to "The 49th Annual CMA Awards" – airing live on Wednesday, November 4, at 8|7c on the ABC Television Network – music fans can further connect with the GTGOM campaign and its featured Country and other popular artists on social media sites including Facebook (facebook.com/givethegiftofmusic) and Twitter (twitter.com/agiftofmusic).
Music Biz and the RIAA oversee the GTGOM campaign, which reminds music consumers that they can now give the gift of music in more ways than ever, including physical, online, and mobile options. A variety of industry organizations and more than 80 top musicians support the initiative and have helped spread the gifting message. Artists contribute original anecdotes to the givethegiftofmusic.info website that allow consumers to hear how music gifts have touched the lives of their favorite performers. Visitors can also share their own gifting memories, discover new music gift ideas, and share their music wish list with friends and loved ones all year long. In addition, industry groups have supported the campaign by using the GTGOM logo and website URL on their products, in advertisements, and on their websites.
ABOUT THOMAS RHETT:
PLATINUM-selling Thomas Rhett leads the pack as one of country music's elite new artists with his fourth consecutive No. one hit and the fastest-rising single of his career, "Crash And Burn" from his upcoming sophomore release, TANGLED UP.  Rolling Stone notes "he's discovered the artist he was always meant to be," as the new music follows his debut album IT GOES LIKE THIS (The Valory Music Co.), which spawned three No. one hits, making him Billboard's first male country artist to do so from a debut album in over two decades. The most recent No. one GOLD certified "Make Me Wanna," showcases Thomas Rhett's signature swagger and was named Billboard's "Best Country Songs of 2014." The project also produced the PLATINUM-certified No. one smash "Get Me Some Of That," as well as two Top 15 hits, "Beer With Jesus" and "Something To Do With My Hands." Initially garnering attention as a gifted songwriter with credits including hits by Florida Georgia Line, Jason Aldean and Lee Brice, it is the multi-Platinum artist's "high-energy all the way" (El Paso Times) live show that has "the audience dancing all the way up in the rafters of the stadium" (Billboard) and continues to catch the attention of critics out on the road. He is slated to headline the CMT Tour this fall kicking off Oct. 29 in New York City. For a full list of upcoming tour dates and appearances, visit www.thomasrhett.com.