In-Car Digital and Mobile Audio Is on the Rise but AM/FM Radio Remains on Top, Says LOOP Study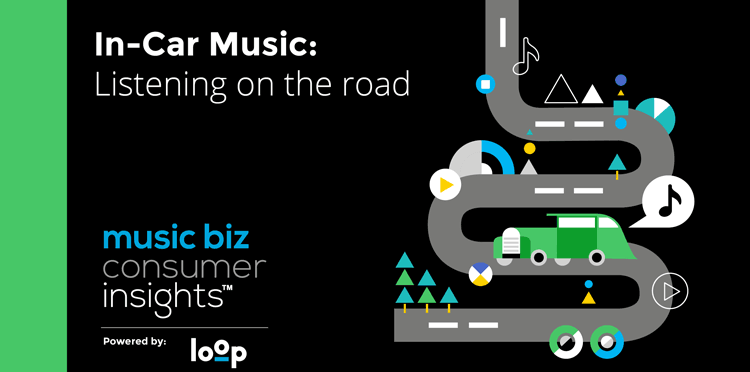 November 14, 2016 – While the younger generation is pushing in-car music listening in increasingly digital directions, traditional AM/FM radio still rules the roost, according to research conducted by LOOP (a product of AudienceNet) and provided to the Music Business Association (Music Biz) for its members. The data comes from the new "In-Car Music: Listening on the Road" Topliner, which will be released on Thursday, November 17, via Music Biz Consumer Insights, the interactive, member-exclusive research portal hosted on www.musicbiz.org.
Based on a survey of 3,014 U.S. respondents, the Topliner shows that drivers and passengers aged 34 and younger are more likely to listen to digital audio in-car, with 28% saying they listened to streaming internet radio in-car over the previous week and 28% saying the same of digital files. These numbers are higher than those for the general population, of which 15% said they had listened to streaming internet radio over the previous week in-car while 18% said the same of digital files.
Meanwhile, more and more car dashboards are being updated with both wired and wireless methods to connect mobile phones, enabling the rise of mobile audio. Currently, 31% of the general population owns a device that enables them to connect and play mobile audio in-car, a number that rises considerably among younger respondents. 43% of respondents aged 34 and younger are able to play mobile audio in their cars, and 55% of users in that age group use it every day, compared to 48% of the general population.
However, traditional AM/FM radio has showed resilience against encroaching digital formats, with three quarters (75%) of all U.S. drivers and passengers saying they had listened to traditional radio in their cars within the previous week. Traditional radio is also eclipsing CD players as the in-car audio format of choice, with only 38% of U.S. drivers and passengers saying they had used a CD player in their vehicle over the same time period. Further, only 23% of in-car CD player owners used them to listen to music every day.
LOOP representatives will discuss the findings during the free Music Biz webinar "In-Car Music: Listening on the Road," which will be held on Thursday, November 17, at 2 p.m. ET. To register for the webinar, click here. Music Biz members who attend the full webinar will receive a complimentary copy of the Topliner. Music Biz members who do not attend can purchase the Topliner for $49.95 via the Music Biz Consumer Insights portal at www.musicbiz.org/resources/tools/music-biz-consumer-insights/consumer-insights-portal. Non-members who would like more information about joining Music Biz and obtaining the Topliner may contact Nicole Hennessey, Music Biz's VP of Communications, at nicole.hennessey@musicbiz.org.
"Outside of their homes, most Americans listen to music in the car, and it's important that we understand their preferences in this unique environment so we can give them a compelling experience," said James Donio, President of Music Biz. "We are happy to see new digital formats gaining ground as auto manufacturers make it easier for drivers to access them, while AM/FM radio maintains such a robust audience in the face of abundant change. Going forward, we must ensure that all in-car formats continue to work together to best satisfy music lovers on the go."
"Our research shows that younger drivers and passengers are embracing digital and mobile in-car audio, which resonates well for the future of in-car music and the industry in general," said David Lewis, CEO/Founder of AudienceNet and Co-Founder of LOOP. "In-car listening is a major yet often overlooked venue for music consumption that will be crucial to the continuing success of the overall industry. The fact that young drivers and passengers are receptive to new audio technology in this space, and that technology's ability to co-exist with older formats, bodes well for music overall."
About the Music Business Association
The Music Business Association (Music Biz) is a membership organization that advances and promotes music commerce — a community committed to the full spectrum of monetization models in the industry. It provides common ground by offering thought leadership, resources and unparalleled networking opportunities, all geared to the specific needs of its membership. Music Biz brings a unique perspective and valuable insight into the trends and changes that innovation brings. Today, we put our collective experience to work across all delivery models: physical, digital, mobile, and more. Music Biz and its members are committed to building the future of music commerce — together.
Music Biz Media Contact
Laurie Jakobsen, Jaybird Communications — laurie@jaybirdcom.com, 646.484.6764