BMI Is Hiring: Director / Sr. Director, Business Development & Account Relations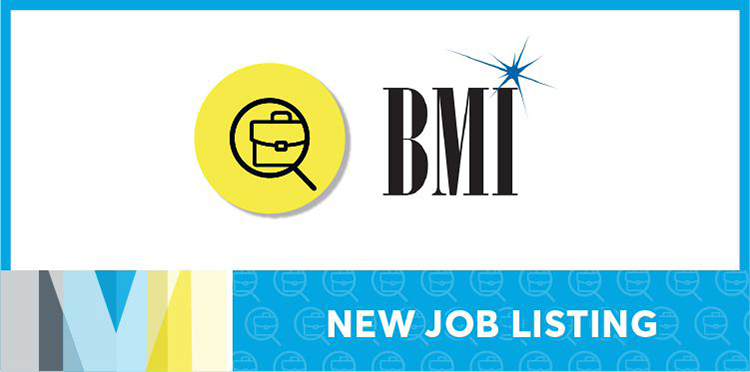 This exciting dual role in BMI's Digital Licensing department is responsible for developing business intelligence and related strategies in order to drive Digital Licensing sales, as well as creating opportunities for BMI songwriters with key digital licensing partners. This role will generate new business opportunities through the targeting of prospective license sources and supporting business intelligence for strategic development. Further, through direct collaboration with BMI's Creative team, the role is responsible for the creation and management of various programs to highlight BMI songwriters/composers on digital services.
Position may be located in Los Angeles, Nashville, or New York


Business Intelligence & Development
Manage the identification, research and validation of prospective licensees and markets, including identifying and analyzing key metrics, digital distribution footprint, monetization models, etc.
Proactively monitor and analyze industry publications, earnings reports & calls, etc.
Manage the intelligence and prioritization of opportunities for the Digital Licensing team to act upon in order to drive new revenue. Create detailed reports that include KPIs, revenues, and music use metrics to determine license approach and appropriate fee structure.
Monitor new licensee trends and adjust research direction for market changes.
Develop strategic direction and manage budget for outside survey sources; evaluating effectiveness, working with appropriate departments for selecting new sources, assuring budget alignment, and making appropriate tradeoffs to accomplish research expectations.
Prepare for and, on occasion, participate in licensee negotiations.


Account & Partnerships Management
Develop strong relationships with key digital licensees (DSPs)
Serve as the internal BMI expert for licensees' services, marketing plans, internal structure, operational procedures, merchandising patterns and overall trends.
Propose and execute campaigns with licensees focused on timely featured positioning for BMI songwriters to maximize performances and exposure. Act as "project manager" from inception through post-execution analysis.
Directly collaborate with BMI Creative and BMI's represented songwriters, composers, and publishers to identify, prioritize and create campaign concepts, then analyze results and relay back to all parties.
Participate in regular business reviews with licensees, preparing insights, analysis and recommendations to improve our mutual businesses.
Create presentations for various audiences.


Other
Regular attendance.
Other duties as assigned.
Support our BMI Core Values and cultivate a culture of diversity and inclusion


Supervisory Responsibilities: Participate in the supervision of the departmental internship program and/or temporary team members. Carries out supervisory responsibilities in accordance with the organization's policies and applicable laws. Responsibilities include interviewing, hiring and training interns; planning, assigning and directing work; appraising performance; rewarding and disciplining interns; addressing complaints and resolving problems.


POSITION QUALIFICATION REQUIREMENTS

Bachelor's degree or greater in a related field. Minimum 5 – 10 years' related experience and/or training; or equivalent combination of education and experience. Industry related experience would include knowledge of copyright laws and/or licensing process; Experience working with key digital markets, including, digital music services, TV/Film OTT services (SVOD, AVOD, FAST), digital fitness, social media, etc.; Marketing, promotions and/or business development experience at a publisher, PRO/CMO, DSP, and/or record label. An eclectic knowledge and appreciation of music genres is essential.

• Strong interpersonal relationship skills
• Effective written and verbal communication skills
• Proficiency with Microsoft products, particularly PowerPoint
• Strong research skills including working experience with the Internet, mobile devices, applications, smart devices and gaming consoles
• Strong knowledge and firsthand use of the varying types of digital services that BMI licenses
• The ability to work both independently and in a team in a fast-paced environment
• Understanding of copyright law, particularly as it pertains to BMI Digital Licensing
• Excellent time management and organizational skills to meet deadlines
• Some management skills preferred; the ability to lead team discussions
• Experience with database management and data entry, Salesforce data base management is a plus
• Experience managing media assets
• Project Management skills a plus


Click here to apply.