Billboard Reveals Change Agents List, Featuring Music Biz President Portia Sabin and Board Member Cameo Carlson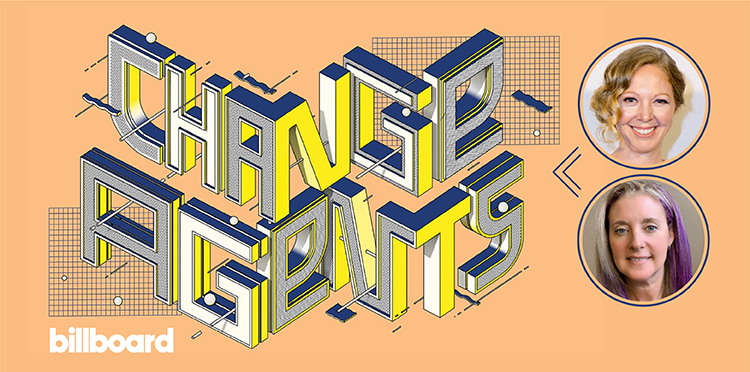 Billboard has published their first-ever Change Agents list, recognizing those figures who have led by example and advocated for major change in our industry throughout the turmoil caused by the pandemic and social justice endeavors of the past year. Music Biz is proud to recognize the inclusion of our President, Portia Sabin, and Board of Directors member Cameo Carlson (mtheory Nashville/Nashville Music Equality) on this year's list, honored for their contributions to diversity, equity and inclusion efforts over the past year.
Congratulations to all who have been recognized, including those who have spoken at past Music Biz event, past Music Biz Award recipients, and those hailing from Music Biz member and partner companies, including:
Kris Ahrend — CEO, Mechanical Licensing Collective (MLC)
Towalame Austin — EVP of Philanthropy & Social Impact, Sony Music Group
Jonathan Azu — Founder & CEO, Culture Collective
Michèle Ballantyne — COO, RIAA
Tunji Balogun — EVP of A&R, RCA Records; Co-Founder, Keep Cool
Rayna Bass — SVP of Marketing, 300 Entertainment
Binta Niambi Brown — Founder & CEO, omalilly projects; Co-founder & Co-Chairman, Black Music Action Coalition (BMAC)
Marian Dicus — VP & Global Co-Head of Music, Spotify
Dayna Frank — Board President, National Independent Venue Association; Owner & CEO, First Avenue Productions
Josh Gruss — Founder & CEO, Round Hill Music
Ethiopia Habtemariam — President, Motown Records; EVP, Capitol Music Group
Jeff Harleston — General Counsel/EVP of Business & Legal Affairs, Universal Music Group;
Interim Chairman & CEO, Def Jam Recordings
Valeisha Butterfield Jones — Chief Diversity, Equity and Inclusion officer, Recording Academy
Kevin Liles — Co-founder & CEO, 300 Entertainment
Melanie McClain — A&R, Secretly Publishing
Ryan Press — President of A&R, U.S., Warner/Chappell Music
Sylvia Rhone — Chairwoman & CEO, Epic Records
Willie "Prophet" Stiggers — CEO, 50/50 Music Group Management; Co-Founder & Co-Chairman, BMAC;
Co-Founder, BreatheWithMeRevolution
Ty Stiklorius — Founder & CEO, Friends at Work
Melissa Thomas — SVP of International Marketing, Columbia/Epic Records
Caron Veazey — Founder & CEO, Something in Common; Co-Founder & Vice Chair, BMAC
Nicole Wyskoarko — EVP & Co-Head of A&R, Interscope Geffen A&M
Click here to read the full list via Billboard.com.