BEM Is Hiring! — Account Manager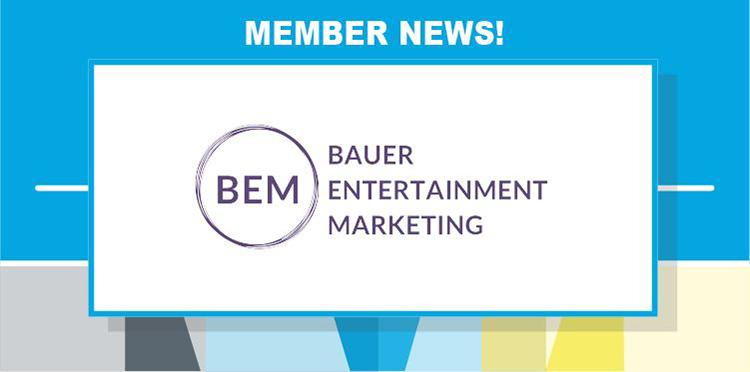 Music Biz Member Bauer Entertainment Marketing is looking for a dynamic professional to implement and maintain data-driven marketing campaigns for music, sports, and entertainment client companies. Daily responsibilities include, but are not limited to, managing project timelines and deliverables, communicating with clients, analyzing data, and executing marketing tactics.
This position reports to the President and will be supported by Account Coordinators and interns. Work will be conducted remotely or from BEM's workspace in East Nashville. The top candidate will be offered a minimum 3-month contract and the potential to earn full-time employment.
Qualifications:
College graduate with a major in business, music, marketing, communication, sociology, or psychology 

3+ years of background in executing marketing campaigns and managing client-facing projects

Experience with marketing and/or entertainment companies
Hard Skills:
Expert-level written and oral communication skills. Preference given to strong copywriters and editors

Able to analyze data, identify actionable takeaways, and deliver clear and concise reports 

Detailed experience with social media including content creation and community management

Accomplished in digital advertising (e.g., Facebook, Instagram, Google, YouTube, etc.) 

Proficient in Microsoft Office (e.g., Word, PowerPoint, Excel) and Google Products (e.g., Doc, Slides, Forms)

Hands-on experience in website development (e.g., WordPress, Squarespace)

Strong aptitude for creating visual content (e.g., Canva, Illustrator, Premiere, Final Cut)

Understanding of and experience with search engine optimization (SEO)

Solid ability to execute email marketing and manage subscriber data (e.g., Mailchimp)
Soft Skills:
Ability to work independently with minimal direction and supervision

Excellent people skills for collaborating with colleagues and clients, in-person and remotely

Highly organized, detail-oriented, efficient, and productive while simultaneously managing multiple tasks 

Needs to be instructed only once, but not afraid to ask for clarification

Capacity to get work done in a fast-paced environment not confined to a typical "9-to-5" day

Confident, mature problem-solver and adept at anticipating opportunities. Handles objections with ease

Seeks, welcomes, and uses constructive criticism to learn, improve, and grow

Builds long-term relationships with clients while anticipating needs and upselling relevant services
This job offers you:
Flexible Scheduling: Work from wherever and whenever you want as long as your deadlines are met, communication is timely and consistent, and clients are happy with results. Unlimited vacation with approval

Hands-on Experience: Working at a startup means you'll have greater access, responsibility and accountability from day one

Networking Opportunities: Meet, engage, and build relationships with a variety of people in the entertainment industry through conferences, events, and membership in Helping Our Music Evolve (HOME)

Professional & Personal Growth: BEM will pay for approved marketing certifications, networking events, and association memberships. Receive a free annual Spotify or Apple Music membership plus $150 "concert cash" to attend an event of your choice every 6 months

Health Benefits: BEM's full-time employees receive access to BlueCross BlueShield medical, dental, and vision group plans not available on the individual-insurance market. We will contribute 50% of the employee rate. 
Please submit your resume and reasons why you're a perfect fit for this position to info@bauerem.com (Emails only. No calls.)
About Bauer Entertainment Marketing (BEM):
Bauer Entertainment Marketing is a full-service marketing agency providing strategic consulting and hands-on campaign management. We're leaders in removing barriers to growth and generating more conversions via leads, sales, awareness, and engagement. We've proudly helped grow 100+ sports, music & entertainment companies including: Country Jam USA, Kanye West, Ryman Auditorium, Music City Bowl, and Uber. BEM was named "Best in Business" by the Nashville Business Journal, plus a "Best Advertising Agency" and "Top Digital Marketing Agency" in Nashville by Expertise.com and UpCity. This is due to our experience, passion, professionalism, and ability to generate quantified, documented results. Learn more at https://www.BauerEM.com.