6 Top Digital Services to Come Together for 1 Full Day of Workshops on Monday, May 15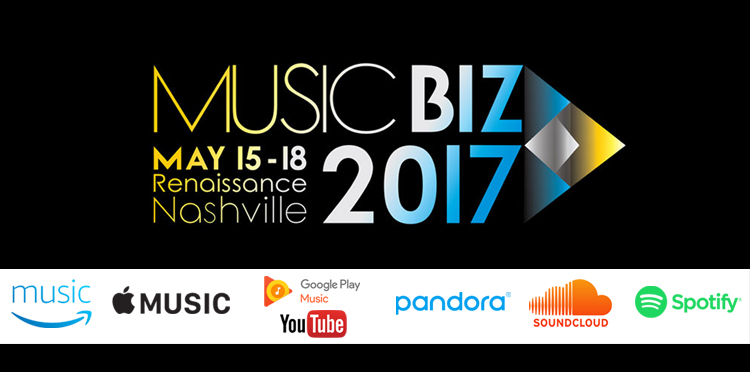 Music Biz 2017 is set to mark an unprecedented first for the music industry — bringing Amazon, Apple, Google/YouTube, Pandora, SoundCloud, and Spotify together in one place for one full-day of digital service workshops. These companies are sending their top team members to Music City for this one-of-a-kind program — packed with information about how to leverage the tools and products that these companies offer to maximize value for artists, labels, managers, creators and the industry at large.
Admission to the Digital Service Workshops is included when purchasing a full Music Biz badge. If you are interested in purchasing a Monday, May 15 day pass to attend these workshops, use code DSPDAY to reveal a special option to do so here for only $199.
We hope that you will join us for these special events on Monday, May 15 before the Music Biz convention program gets into full swing Tuesday, May 16 through Thursday, May 18. See below for details:
9 – 11:30 AM
Apple Music and iTunes Connect Workshop
Learn more about working with Apple to deliver, promote, and analyze your content on Apple Music. In these sessions, you'll learn more about content operations and data analysis using the various tools in iTunes Connect, including Sales and Trends.
This workshop is open to those who currently have an iTunes Connect Apple ID. Please complete this form for approval to attend the workshop. Please complete the form by 11:59 PM PST on Wednesday, May 3. Final approvals will be emailed by Wednesday, May 10.
11AM – 12:50 PM
Google Play & YouTube Music Workshop: Label Tools Overview
Calling all master rightsholders — labels that currently deal directly with Google/YouTube, as well as labels who use distributors — the YouTube and Google Play Music business teams will be on hand to explain what's new with Google Play Music and YouTube Music. The session will include general product updates and more info about product features. There will also be a presentation on YouTube for Artists, including Content Strategy & Audience Development.
While this workshop is open to all, preferential seating will be given to labels, distributors and managers who currently have direct deals with YouTube. Please complete this form so the presenters have an understanding of the types of individuals attending the workshop. Please complete the form by 11:59 PM PST on Tuesday, May 9.
1 – 2:50 PM
Working With Spotify's Creator Services Team
Spotify is charting a new course in its engagement with the Creator community — prioritizing relationships across the community to generate more opportunities for artists and creators to build their careers while adding growth to the overall music industry. To do this, Spotify is focusing on four key pillars: servicing artists, management, and labels equally; artist marketing; developing a collaborative relationship with songwriters; and educating Creators on the value of Spotify. In this workshop, Spotify will discuss their "open for business" policy, how they are leveraging the power of the Spotify platform to maximize value creation for Creators, and how they see their focus developing over the next year. This workshop will take a presentational format with lots of time for Q&A.
3 – 4:50 PM
Pandora Premium: How Context & Connectivity Drive Revenue and Royalties
Join the Pandora team for a detailed look into the marketing opportunities on Pandora Premium, including the self-serve tools on Pandora's Artist Marketing Platform (AMP) and live concert promotion through Ticketfly. Explore the unique revenue opportunities available on Pandora and learn how to connect artists with their fans to make more money.
4 – 5 PM
Amazon Music Unlimited Workshop: The Blue Light Ring That Is Revolutionizing Music Discovery
Amazon Music Unlimited is a music streaming service that puts tens of millions of songs and thousands of expert-programmed playlists and stations not just at the tips of your fingers, but also on the tip of your tongue. Amazon Music is rethinking music listening through intuitive voice controls on Alexa-enabled devices such as the Echo. In this discussion, Amazon Music will give a glimpse behind the curtain — or blue light ring, in this case — demonstrating how they are revolutionizing music listening and discovery through voice, with a Q&A session to follow.
5:15 – 6:15 PM
Amplify: Starting on SoundCloud
SoundCloud is a catalyst for creativity, powered by a connected community of creators, listeners and curators. A powerful tool for artists whether they're just starting out, or on their second world tour — the platform enables creators to build an audience, share their work and create authentic connections between creators and fans. It's the home to a diverse, global audience who are setting the tone for what's hot now, and driving music culture forward. This workshop will help users at every level optimize how they use SoundCloud by sharing best practices, tips on the most important tools for creators and insights into enhancing your presence and reach on SoundCloud.
---
Check out the full Music Biz 2017 schedule here.
Click here to register for Music Biz 2017.