5 Reasons Why You Need To Attend Music Biz's Entertainment & Technology Law Conference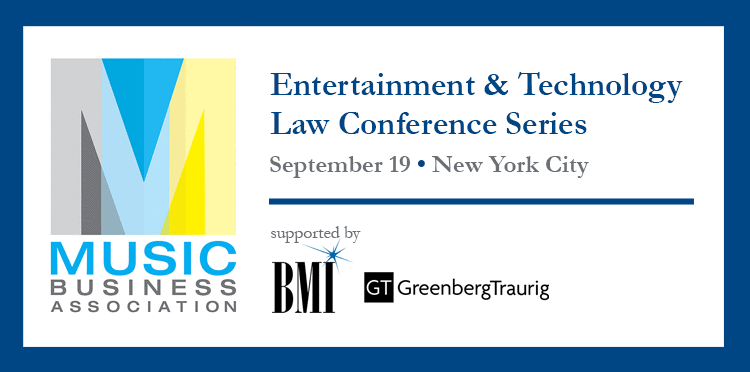 On Tuesday, September 19 at the offices of Greenberg Traurig in New York City, Music Biz will make its triumphant return with the latest installment of its Entertainment & Technology Law Conference. In just two weeks, be there as various sectors of the music business converge and discuss the future of legal issues surrounding the industry. 
Here's why you should be there…
#1 — Full-Day Cutting-Edge Program
No matter your role in the music biz, it's crucial to keep up with legal topics that have powerful ramifications for artists, songwriters, labels, publishers, and the industry at large. This full-day cutting-edge program will offer insights into important industry issues such as handling copyright terminations, recaptures, and reversions; the potential policies of the Trump administration and their implications; the unique needs of musicians' estates; the DMCA; and so much more. The learning opportunities and information offered at the Entertainment & Technology Law Conference are simply priceless.
---
#2 — Focused Networking Opportunities
The conference's intimate, limited-attendance setting will provide for more focused networking opportunities with industry power players from companies already registered to attend such as ASCAP, BMI, Greenberg Traurig, Jaxsta, Pryor Cashman, Redeye, Spotify, Sony/ATV, Sony Music Entertainment, SoundExchange, and many more! Adding your name to the growing list of attendees means creating new business opportunities for you, your company, and your career. 
---
#3 — Expert Insights from Advocates & Influencers
Taking the stage to speak on the issues outlined above will be industry advocates and influencers such as U.S. Congressman Jerrold Nadler (D-NY); Lisa Alter, Alter Kendrick & Baron LLP; Greg Barnes, Digital Media Association (DiMA); Jacqueline Charlesworth, Covington & Burling, LLP; Todd Dupler, The Recording Academy/The GRAMMYs; George Howard, Berklee College of Music; Julia Massimino, SoundExchange; Don Nottingham, Straight No Chaser; Daniel Novick, Savur Threadgold, LLP; Stuart Rosen, BMI; and many more. Where else can you get all of these power players and their wealth of information together in one place for one full day?
---
#4 — Earn Much-Needed CLE Credits
Are you practicing law and looking for ways to earn more much-needed CLE credits? Well, look no further as 6 (six) continuing legal education credits have been applied for through the New York State Continuing Legal Education Board for this event. Lawyers based outside of New York can apply for credits according to their state's regulations and guidelines. Not only does this event come with a premier lineup of panels and speakers — but this added "prize" awaits you at the end!
---
#5 — Attend WHO KNEW for FREE
At no additional cost, Entertainment & Technology Law Conference attendees can attend WHO KNEW — the popular Nashville networking event making its way to the Big Apple for the first time! Like all WHO KNEW events, the program will include an impressive slate of highly accomplished music industry execs sharing their wisdom and stories in an intimate "TED Talk" style presentation. Expect 30 year veterans sitting amongst students, current, label execs, artist managers, attorneys, working musicians, publishing execs, and more. You name it, they're there. Head on over to WHO KNEW at the conclusion of the law conference for drinks and even more networking opportunities! Click here for speakers and additional details for WHO KNEW.